Zelenskyy Accuses Putin of War Crimes During U.N. Speech
Ukrainian President Volodymyr Zelenskyy accused Russian troops of gruesome atrocities in Ukraine and told the U.N. Security Council during an address on Tuesday that those responsible should "immediately be brought up on war crimes charges in front of a tribunal like the one established at Nuremberg after World War II".
Appearing remotely on video from Ukraine, Zelenskyy said that civilians had been tortured, shot in the back of the head, thrown down wells, blown up with grenades in their apartments, and crushed to death by tanks while in cars. Moscow's U.N. ambassador, Vassily Nebenzia, said that while Bucha was under Russian control, "not a single local person has suffered from any violent action." Reiterating what the Kremlin has contended for days, he said that video footage of bodies in the streets was "a crude forgery staged by the Ukrainians".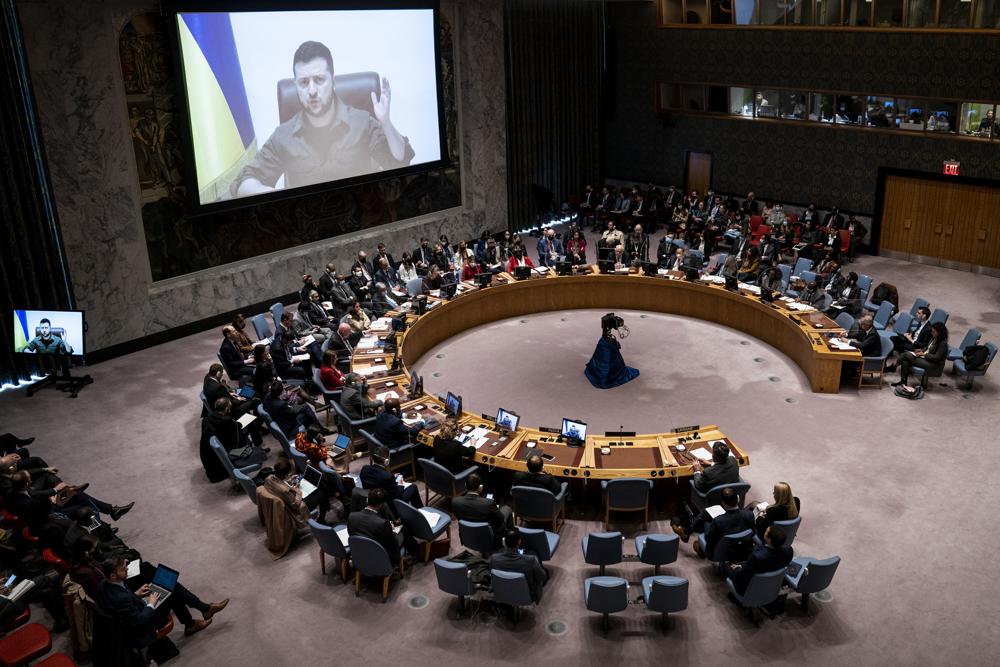 Over the past few days, shocking images of what appeared to be civilian massacres carried out by Russian forces in Bucha before they withdrew from the outskirts of Kyiv have caused a global outcry and led Western nations to expel scores of Moscow's diplomats and propose further sanctions, including a ban on coal imports from Russia. The chief prosecutor for the International Criminal Court at The Hague opened an investigation a month ago into possible war crimes in Ukraine.
Ukraine's ambassador to the UN, Sergiy Kyslytsya, responded to Russia's claims that Ukraine staged attacks in Bucha by accusing the Russian gov't of "acting like Nazis".

🔴 LIVE updates: https://t.co/eSfRpmql8E pic.twitter.com/TKoteRveIM

— Al Jazeera English (@AJEnglish) April 5, 2022
President Joe Biden made similar statements to the press line that greeted him at the White House on Monday.
BREAKING: Pres. Biden: "You may remember I got criticized for calling Putin a war criminal. Well, the truth of the matter—you saw what happened in Bucha…He is a war criminal. But we have to gather the information." https://t.co/qtLQYl7thr pic.twitter.com/mmFJDHBekH

— ABC News (@ABC) April 4, 2022
Both the Associated Press and the PBS series "Frontline" have jointly verified at least 90 incidents during the war that appear to violate international law. The War Crimes Watch Ukraine project is looking into apparent targeted attacks as well as indiscriminate ones. U.S. Secretary of State Antony Blinken said the images from Bucha revealed "not the random act of a rogue unit" but "a deliberate campaign to kill, to torture, to rape, to commit atrocities." He said the reports of atrocities were "more than credible."
⚡️ Truss: 'We won't stop until Putin fails.'

British Foreign Secretary Liz Truss wrote in a column for European Pravda news outlet that "those who finance (Russia's) war must be dealt with as soon as possible."

Truss added that the U.K. won't stop "until Ukraine wins."

— The Kyiv Independent (@KyivIndependent) April 5, 2022
While both Ukrainian and Russian representatives sent optimistic signals following their latest round of talks a week ago, Russian Foreign Minister Sergey Lavrov said Moscow won't accept a Ukrainian demand that a prospective peace deal must include an immediate pullout of troops followed by a Ukrainian referendum on the agreement.
Zelenskiy told the UN Security Council Tuesday that Russia's military must be brought to justice for committing the worst atrocities in Ukraine since World War II https://t.co/7sjvc4LlPN pic.twitter.com/zBu0bzceRa

— Bloomberg Quicktake (@Quicktake) April 5, 2022