WNBA All-Star Brittney Griner Has Been Detained in Russia For Nearly A Month
https://twitter.com/rgay/status/1500161619871076357
https://twitter.com/AlexUlrichh/status/1500151445764538368
Phoenix Mercury All-Star and two-time Olympic gold medalist Brittney Griner has reportedly been detained in Russia for the last three weeks on drug charges.
The New York Times first reported that the Russian Federal Customs Service detained "an American basketball player" at Sheremetyevo Airport near Moscow after finding hashish oil vape cartridges in her luggage. The Customs Service didn't identify who was arrested, saying only that she'd won two Olympic gold medals. But Russian news service TASS identified the player as Griner, and a security video viewed by the Times shows a player that appears to be her. In the video, Griner is going through security wearing a sweatshirt and face mask, and then it shows someone, presumably a customs employee, removing something from her bag.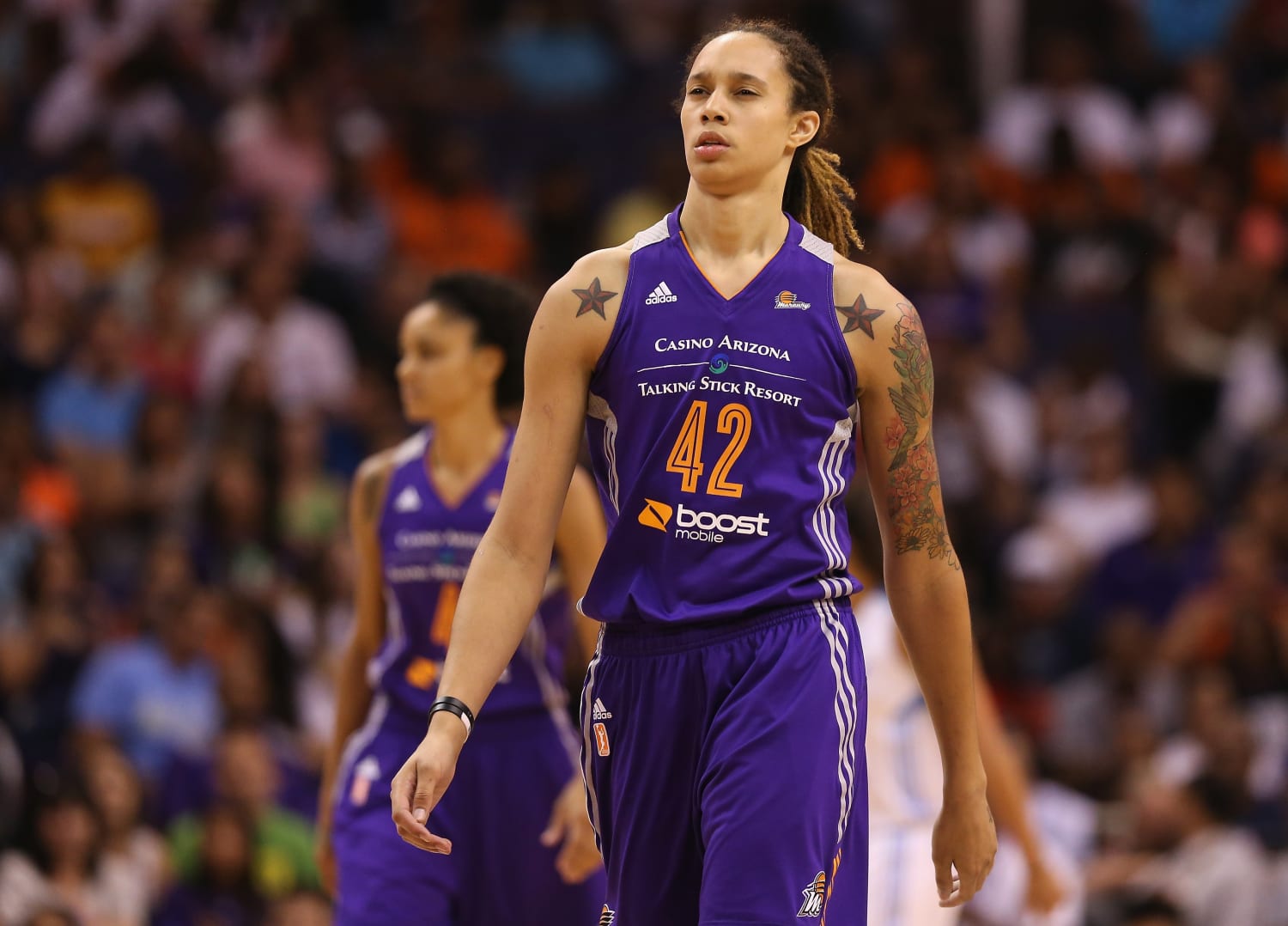 Griner, who is Black and identifies as gay as well as gender-non conforming, has played in Russia during the offseason since 2015, where salaries are higher for WNBA players. She currently plays for the Russian team, UMMC Ekaterinburg, whom she has played for since 2015 during the WNBA offseason. In five games this season, she is averaging 13.2 points and 4.2 rebounds per game. Griner is also a two-time medalist at the FIBA Women's Basketball World Championship with Team USA.
Former CIA veteran on the importance of publicizing Brittney Griner's case. pic.twitter.com/Gmx5jwTaYU

— MSNBC Reports: Weekends (@MSNBCweekends) March 5, 2022
Her reported arrest came several weeks before Russia's invasion of Ukraine, though Americans playing in Russia had not been advised to leave the country, with the WNBA continuing to "closely monitor the situation."
USA Basketball is aware of and closely monitoring the legal situation facing Brittney Griner in Russia. Brittney has always handled herself with the utmost professionalism during her long tenure with USA Basketball and her safety and wellbeing are our primary concerns.

— USA Basketball (@usabasketball) March 5, 2022
According to the Russian Federal Customs statement, a criminal case has been opened into the large-scale transportation of drugs, which can carry a sentence of up to 10 years behind bars in Russia. The basketball player was taken into custody while the investigation was ongoing, the officials said.
"Even though people have been told to leave Russia, we don't know how much the Russian government is going to make that an easy process." @DrJasonJohnson on the breaking news that WNBA player Brittney Griner has been arrested at a Russian airport #CrossConnection pic.twitter.com/EVAgwiLJ19

— The Cross Connection with Tiffany Cross (@CrossConnection) March 5, 2022
Twitter users were aghast not only at the detention, but they also expressed their anger that the news hadn't reached America for three whole weeks as "#FreeBrittney" began trending.
It taking three weeks for Brittney Griner's detention in Russia to hit the news here is absurd and horrifying in a way that's difficult to comprehend.

Russia has some of the most anti-LGBTQ laws among major nations.

It cannot be overstated the danger she's in right now.

See Also

— Charlotte Clymer 🏳️‍⚧️🇺🇦 (@cmclymer) March 5, 2022
🤯 Brittney Griner has been in 🇷🇺custody for THREE WEEKS and we're just hearing of it.

Russian laws & mainstream attitudes are very harsh toward LGBT people. This is extremely worrisome.

DO NOT mistake our power influence or authority over this matter.

We have none 🥺 https://t.co/LnJwI0UWpr

— Monyka (@Monyka) March 5, 2022
[This is a developing and continuing story, please check back for updates]