Wife of SCOTUS Justice Deleted Facebook Posts After Capitol Insurrection
Virginia Thomas, an attorney and the wife of U.S. Supreme Court Justice Clarence Thomas, received so much criticism for her role in promoting Donald Trump's "Stop the Steal" rally in Washington, D.C. that she deleted incriminating Facebook posts about her involvement in the insurrection that resulted in the siege on the U.S. Capitol Complex on January 6th, resulting in eight deaths.
Thomas, who goes by "Ginni", is widely known to be a member of the far-right movement and developed a "goodwill relationship" with the Trump administration. In May 2020, Trump appointed Thomas a member of the Library of Congress Trust Fund Board, according to Fox News. Thomas is also a vociferous opponent of the Black Lives Matter movement, despite being married to a Black man.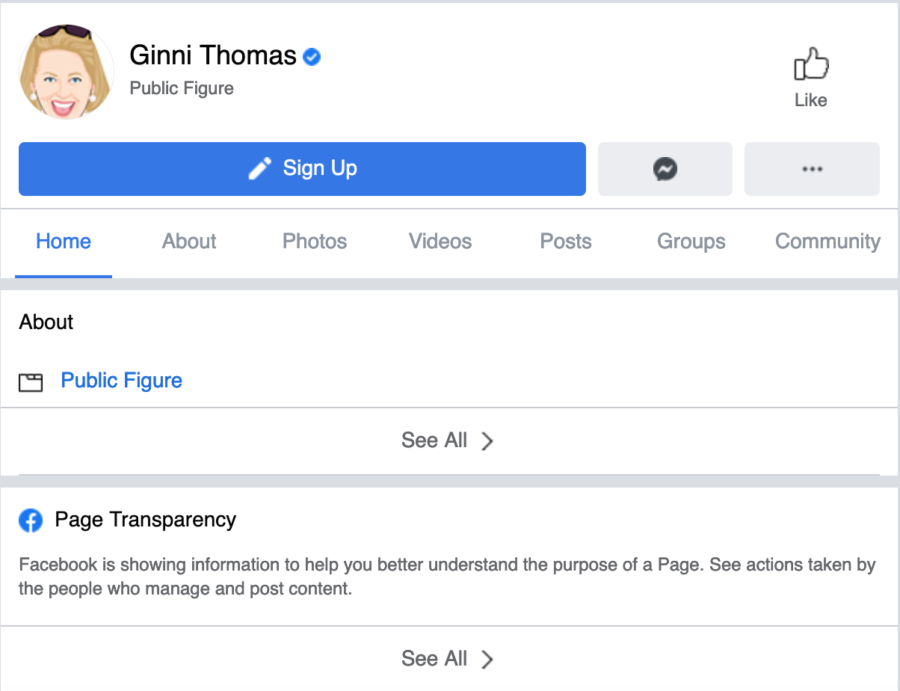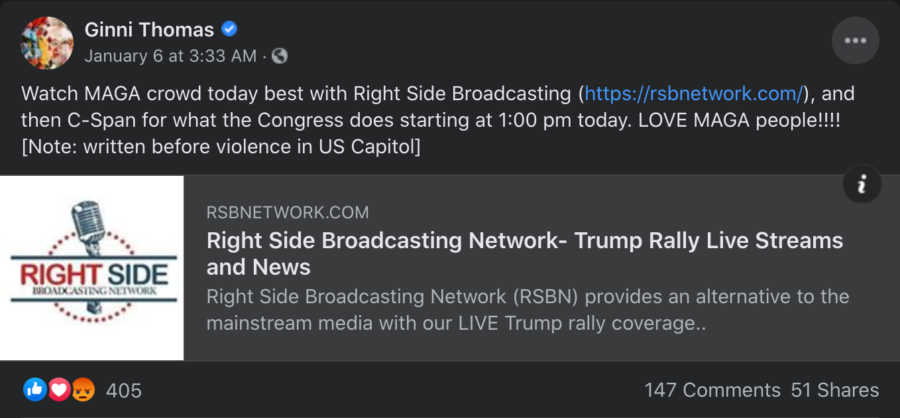 Those two messages, roughly 15 minutes apart, were posted during the early morning hours before the rally. Interspersed between those two supportive messages was an apparently indirect show of solidarity by way of a quote from Ronald Reagan's famous "A Time for Choosing" speech.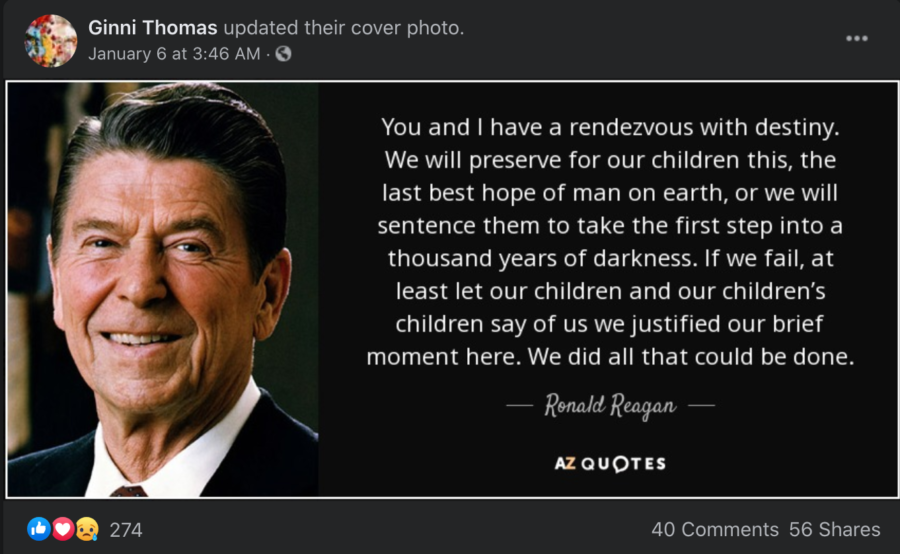 After the crowd of QAnons and MAGA turned violent and overtook the U.S. Capitol Complex on Wednesday, however, Thomas has kept her posting to a minimum–only chiming in to edit her two status updates with the following: "[Note: written before violence in US Capitol]" and "[Note: written before the violence in the US Capitol]." Thomas is a verified Facebook "Public Figure," though it was unclear whether those specific messages were deleted, whether her overall profile was deleted, whether she simply changed the privacy settings for her social media account, or whether Facebook itself took down Thomas's page.
Thomas frequently promoted baseless conspiracy theories about a "coup" against Trump led by Jewish philanthropist George Soros, a frequent target of anti-Semitic hate. Thomas draws many of these theories from fringe corners of the internet, including an anti-vax Facebook group that claimed Bill Gates would use the COVID vaccine to kill people. In recent months, she also amplified unsubstantiated corruption claims against Joe Biden while insisting, falsely, that the Obama administration illegally spied on Trump's 2016 campaign, then tried to rig the election against him.
On the morning of Jan. 6, Ginni Thomas—wife of Supreme Court Justice Clarence Thomas—endorsed the protest demanding that Congress overturn the election, then sent her "LOVE" to the demonstrators, who violently overtook the Capitol several hours later. She has not posted since. pic.twitter.com/378CHMkFN5

— Mark Joseph Stern (@mjs_DC) January 8, 2021
Thomas' involvement doesn't just impact her, but her husband as well, and legal experts are calling for Justice Thomas to recuse himself from any cases where she has any involvement.
To the mob pushing Congress to overturn the election, wife of SCOTUS Justice Thomas wrote: "GOD BLESS EACH OF YOU STANDING UP or PRAYING!" He must recuse from all cases where she has lobbied or resign.https://t.co/cjOaU54amA via @slate

— Jill Wine-Banks (@JillWineBanks) January 29, 2021
Federal law requires justices to recuse themselves from any proceeding in which their "impartiality might reasonably be questioned." It also compels justices to recuse if their spouse has "an interest that could be substantially affected by the outcome" of the case. In the coming months and years, Democrats will likely pressure Clarence Thomas to recuse himself from high-profile cases or to resign altogether. If Thomas steps down under Biden, progressives can restore a 5–4 divide on the Supreme Court, giving Chief Justice John Roberts control once again. Given Thomas' staunch refusal to recuse thus far, though, there is little chance that he will take any steps to remediate his conflicts of interest.