'We've Made It, All Of Us': Ketanji Brown Jackson Draws Cheers at White House Ceremony
Judge Ketanji Brown Jackson delivered emotional remarks from the White House South Lawn on Friday, one day after the Senate approved her nomination, saying it was a development the entire country could be proud of. The first Black woman confirmed to the Supreme Court declared ″We've made it — all of us."
President Joe Biden, who made his own history by nominating her, stood by her side for Friday's event, celebrating her confirmation as "a moment of real change in American history." On Judge Jackson's other side stood Vice President Kamala Harris, the first Black woman to attain her high office.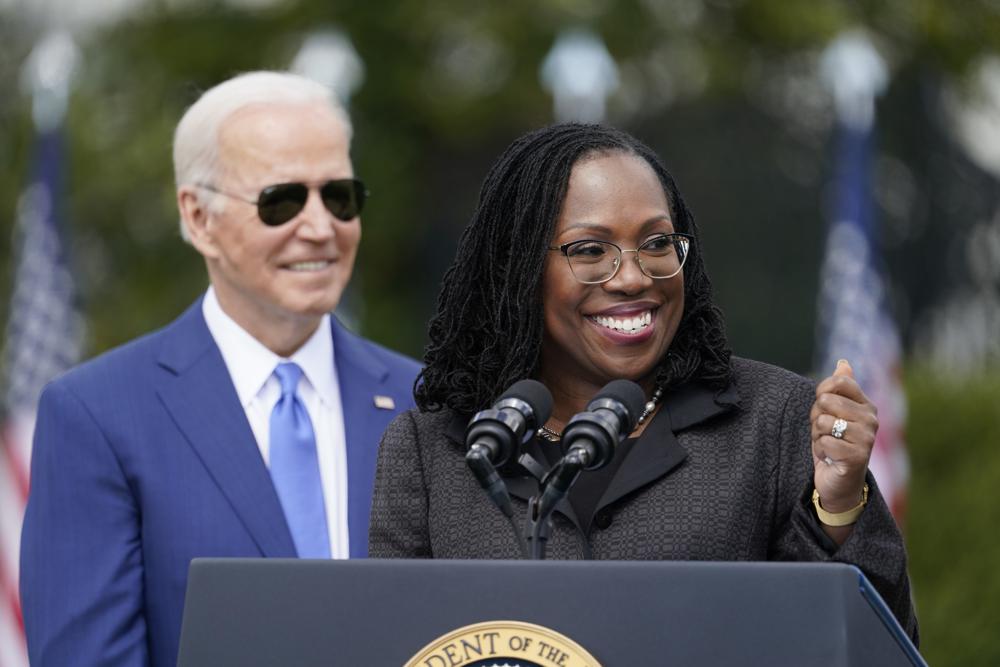 Judge Jackson said her confirmation showed "the progress of America", calling back to something she spoke to during the 24 hours of hearings she endured. "We have come a long way toward perfecting our union," she said. "In my family, it took just one generation to go from segregation to the Supreme Court of the United States."
I can't stop watching this six second video of Ketanji Brown Jackson moments after her history-making confirmation to the US Supreme Court pic.twitter.com/MYMjiCwJXQ

— Jarett Wieselman (@JarettSays) April 8, 2022
Judge Jackson's moving remarks at the White House might be the last the public hears from her for quite some time. She won't formally join the court until early summer, when her former boss, Justice Stephen Breyer, retires. The justices won't hear cases again until October, and Supreme Court justices tend to duck the spotlight in their early years on the court, though some have made public appearances and several have done speaking tours to pitch memoirs or their books about the law.
Congrats to soon-to-be Justice Ketanji Brown Jackson. Pretty sure her husband will never plot a coup to overturn an election.

— Al Franken (@alfranken) April 8, 2022
The mood on the White House lawn remained festive throughout the ceremony on Friday, with President Biden saying, "I could see it as a day of hope, a day of promise, a day of progress, a day when once again the moral arc of the universe — as Barack (Obama) used to quote all the time — bends a little more toward justice," the President told the boisterous crowd on the South Lawn. "I believe so strongly that we needed a court that looks like America."
Today is a good day for America. A day that history will remember. Tune in as the Vice President, Judge Ketanji Brown Jackson, and I deliver remarks on the Senate's historic, bipartisan confirmation. https://t.co/sRxo0MpkcX

— President Biden (@POTUS) April 8, 2022