[WATCH] Uvalde Surveillance Footage Disproves 'Good Guy With a Gun' Myth, Says Sen. Chris Murphy
Chilling and often maddening surveillance video of law enforcement's lack of a response during the Robb Elementary School massacre in Uvalde, Texas, gives the clearest account yet of how officers waited outside an elementary classroom, often looking at their phones, as the gunman continued firing, killing 19 students and two teachers on May 24th.
Published by the Austin American-Statesman newspaper on Tuesday in a decision that enraged families of the victims who had yet to see it for themselves, the footage shows responding officers approaching the door of the classroom within minutes of the shooter entering, yet retreating after the gunman opened fire at them.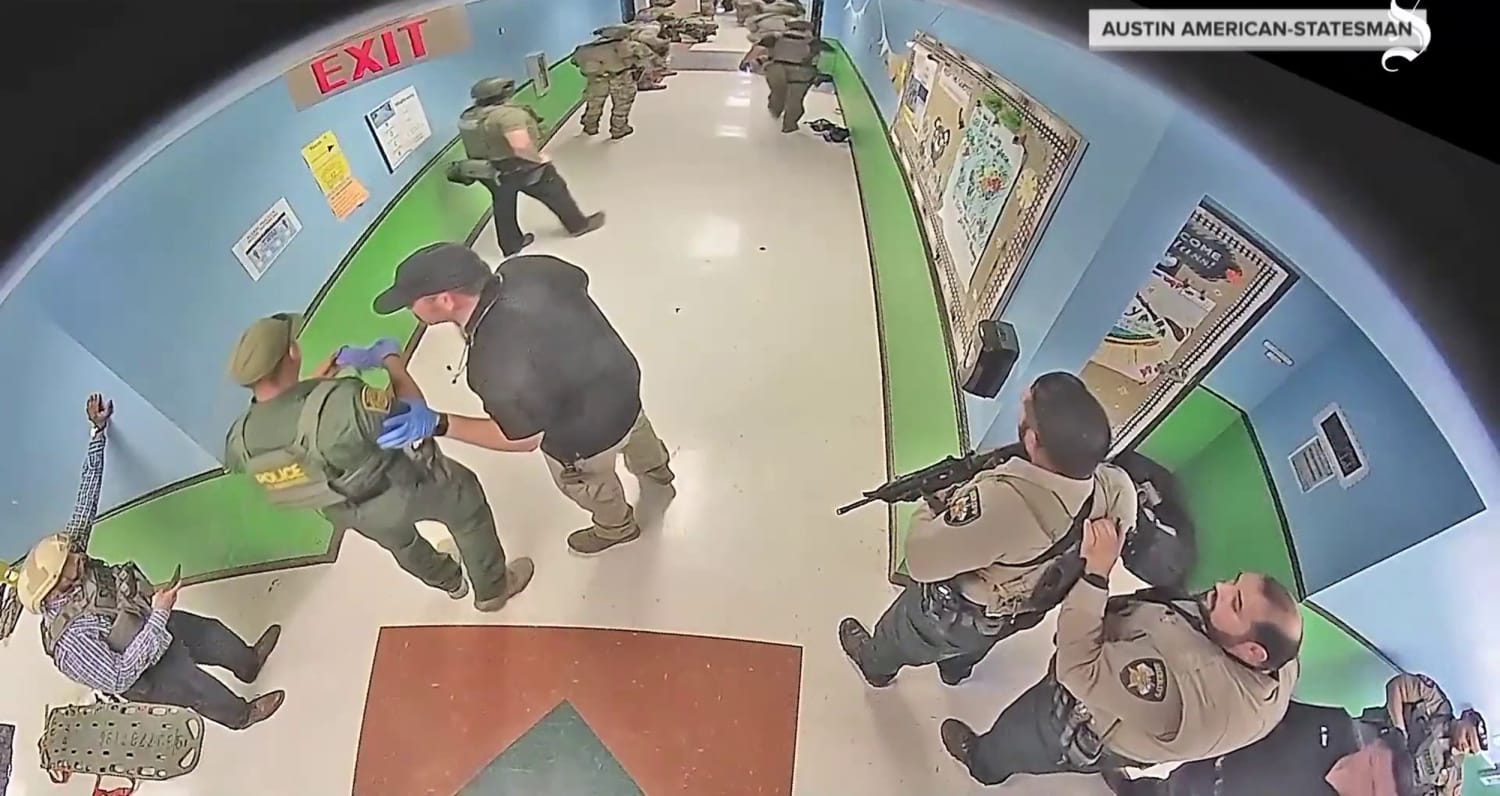 The video, lightly edited by the American-Statesman to blur at least one child's identity and to remove the sound of children screaming, still leaves some questions unanswered. But the biggest question no one seems able to answer is why the law enforcement response was so delayed and disorganized.
Uvalde cop checks phone with tough-guy punisher skull background while kids are being murdered a few rooms over. I wonder why Uvalde PD thought this footage would be embarrassing? pic.twitter.com/79ur5QxdVy

— whoffster (@WhiffWhaffWhoff) July 12, 2022
The Texas Department of Public Safety had many of its officers on site, yet did not take control of the situation. The state agency has consistently pointed to Pedro "Pete" Arredondo, the Uvalde school district police chief, as the on-scene commander during the attack. Arredondo claimed he had no idea he was in charge, and also recently stepped down from his role on the city council.
(warning: distressing)

'I want you to picture my face, my husband's face, as we read our daughter's death certificate' — Kimberly Rubio, the mother of 10-yr-old Lexi who was killed in the Uvalde school shooting, shared a heartbreaking message & pleaded for an assault weapons ban pic.twitter.com/mYbosFZ9yz

— NowThis (@nowthisnews) July 13, 2022
Aside from angering parents and frustrating investigators, the footage also disproves that the police, or other "good guys with guns" are the solution to mass shootings in this country, particularly school shootings, says Sen. Chris Murphy (D-CT), who has fought for stricter gun laws since the Sandy Hook Elementary massacre in his state in 2012. "It's hard to watch but it is proof that this myth perpetuated in the country for 30 years, that the only way to stop a bad guy with a gun is good guys with a gun, was a gun industry fiction created to sell more weapons," says Murphy of the "jaw-dropping" footage.
The Uvalde video is extremely upsetting – but this cop taking the time to put sanitizer on his hands as kids are being murdered 20 feet away really puts a bow on the nightmare. pic.twitter.com/5ZUHCzEFyT

— The Tennessee Holler (@TheTNHoller) July 12, 2022
"If one teenager with a high-powered weapon is so scary as to prevent all of those highly trained adults from going in and saving lives," Sen Murphy said, "maybe we should try to stop those teenagers from having those kinds of guns in the first place, because clearly, we can never have enough good guys with guns."