[WATCH] Tucker Carlson Tries to Backtrack After Pushing White Replacement Theory
Tucker Carlson is a racist. And we know this because he's told us so, more than once.
The Fox News host has pushed the racist "great replacement theory," also known as "White Replacement Theory," on his show more than 400 times. But after the conspiracy theory was cited in an online "manifesto" by the white supremacist who slaughtered 10 Black people in a Buffalo grocery store, Carlson is now insisting that he does not know what the conspiracy is and that "the left" is responsible for pushing it. OK, white guy.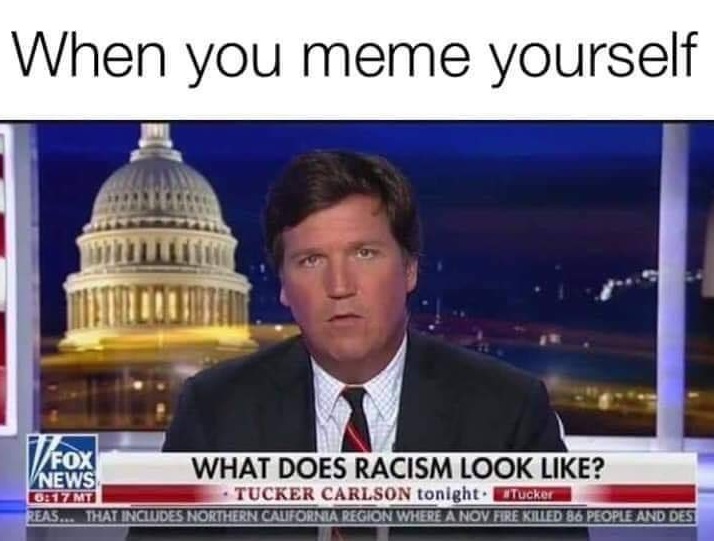 It might be funny if it wasn't so dangerous. Carlson's show reaches millions of impressionable viewers, just like the young white guy who decided it would be cool to Livestream a massacre of Black grandmothers and fathers and sisters who stopped by the store that day because it was the only grocery store in their predominantly Black neighborhood. And the racist murderer knew who might be there at any given time, because he had done some recon.
Democrats should put a bill on the floor to condemn White Replacement Theory and get every lawmaker on the record.

— MeidasTouch.com (@MeidasTouch) May 16, 2022
To pick apart the systemic racism in America that dates back to the first white Eurotrash guy to take something from an indigenous person would take the entire internet. The TL;DR of this particular time in our lives is that young white men are being radicalized by internet propaganda and hate speech like what they hear from the Tuckermouth. They saw Kyle Rittenhouse get away with killing people, they think they'll get the same treatment. And why shouldn't they? Payton Gendron is a coward who protected himself with body armor and was taken into police custody without incident because he was white. And he knew that because Tucker Carlson and others just like him told him that he was being replaced and he needed to do something about it.
On the surface, you'll see the rhetoric of a "white replacement theory" spewed by the likes of Tucker Carlson on FOX News. It's just "memes" on the internet, until an 18 year old in full body armor with a military grade rifle is being charged for a hate crime. Now it's too late.

— Big Boss (@LordBalvin) May 14, 2022
Ari Melber devoted a segment of "The Beat" to calling Carlson out for his hypocrisy, pointing to footage from Carlson's own show as evidence, and highlights the double standard in his reporting of incidents of gun violence.