[WATCH] Trump Will Host Saudi-Back LIV Golf Events At His Golf Clubs in NJ and Florida Amid Various Investigations
Welcome back my friends, to the Trump Clown Show that never ends, be careful as you pass!
As Donald Trump pretends the walls haven't already closed in on him at MAGA-Lago, he's still making sure the grifts keep going even while he's busy canceling rallies to make time for depositions and making his own phone calls to engage in a little light witness tampering.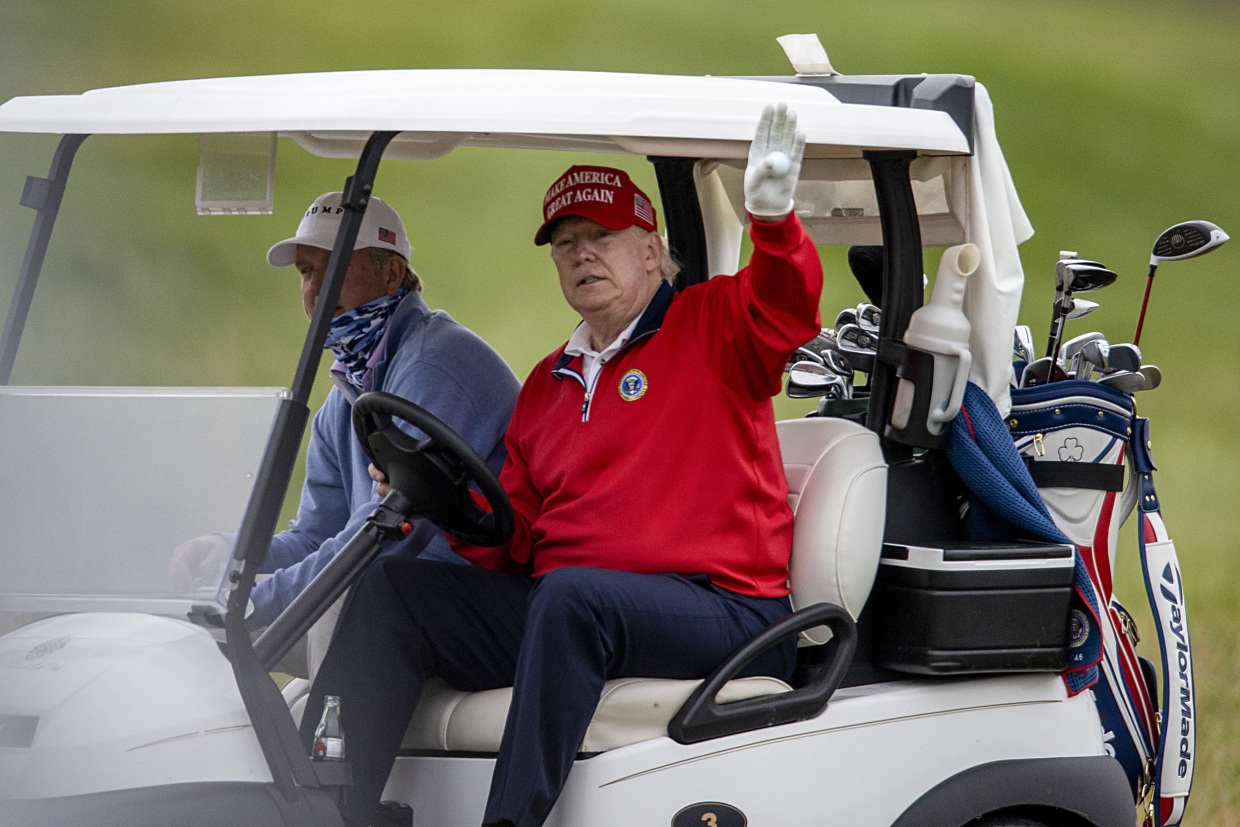 Trump also has a long history of hanging out with the worst people, and while we could be here listing all of his terrible connections, for now, we're just focusing on his willingness to host two events for the Saudi-back LIV Golf tournament at his Bedminster and Doral golf properties, because blood money is still green once it's properly laundered.
Nine: That's how many golfers in the sport's top 40 rankings.

On the eve of the British Open, the last major of the 2022 that starts Thursday, here's how LIV Golf has upended the sport since it stormed onto the scene earlier this year—in six numbers: https://t.co/ruqa9GblAy pic.twitter.com/TeFf0kHY7B

— Forbes (@Forbes) July 9, 2022
Trump has notoriously buddied up with Mohammed Bin-Salman and his immediate orbit of shady characters, and we're all pretty positive he and Jared Kushner have knowledge regarding the brutal murder of journalist Jamal Khashoggi.
.@TigerWoods hammers Greg Norman's new Saudi-funded LIV Golf series as not being in golf's best interests. He says players who couldn't resist the money had "turned their back" on the very tour that made them famous: https://t.co/aCpMaIYN4c pic.twitter.com/FWeyX4gMqv

— AP Sports (@AP_Sports) July 12, 2022
LIV Golf has been controversial from its beginnings, with many professional golfers going out of their way to distance themselves from the tournament and calling out other players for their greed (the purse is a whopping $50 million, so greed < conscience for some, I guess). It recently lost Mastercard as a major sponsor, and others have been dropping their partnerships as well.
LIV Golf events have seen their share of protests, which are often led by the families of victims of 9/11, most recently at a course outside Portland, Oregon. The families had called on Trump to unseal records related to the attacks on the World Trade Center that would show the direct involvement of the Saudi Arabian government. President Joe Biden unsealed documents in September 2021 ahead of the 20th Anniversary memorials he was scheduled to attend.
Saudi-backed LIV Golf series faces 9/11 protest as it begins first tournament on US soil: The Saudi-backed LIV Golf Invitational Series arrived in Oregon for its first tournament on US soil Thursday and faced protests from 9/11 survivors and victims'… https://t.co/zTAE7Bl2TI pic.twitter.com/33AZ8ibJFe

— Woody (@Knewz_Currently) July 1, 2022
Trump will take in an undisclosed amount estimated to be in the millions. Which is fine for someone who intimidated a federal witness and committed election fraud in Georgia and is being deposed by the New York Attorney General. It's all just fine.