[WATCH] 'This is PetSmart': Kari Lake Supporter Ethan Schmidt Gets His Nose Rubbed In His Own Idiocy In Viral Video
DISCLAIMER: We never have to be nice to Nazis, and Ethan Schmidt is a Nazi.
He's a fragile Arizona Nazi with a stupid mustache that makes him look like he's the biggest closeted pirate on all of the high Nazis. Ethan is easily triggered by the sight of wigs for cancer patients, anyone getting vaccinated against a deadly virus, and people who have tolerance for others. He's full-on QAnon Qrazy and hangs out with Nazi homophobe Kari Lake, so I think I've painted the right picture of this chode so far.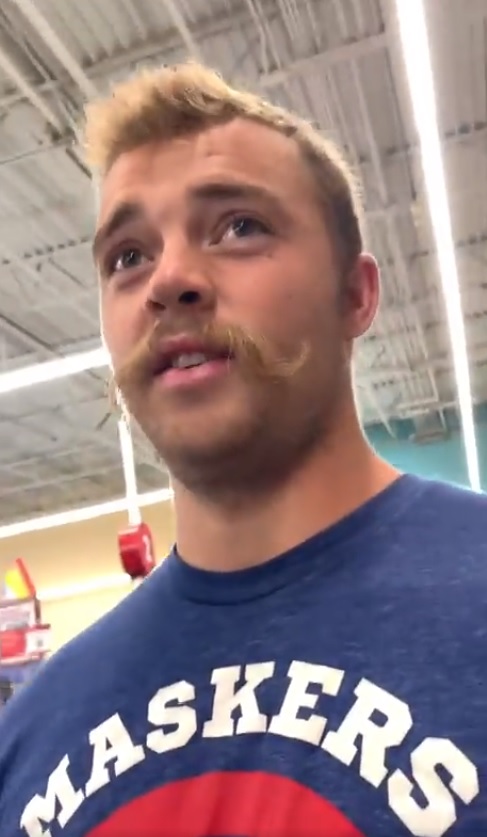 What a douche.
But you really can't grasp the parenting failure that is Ethan Schmidt until you hear him speak, and I'm sorry that sometimes it comes to this. It can make your brain cry to hear the kind of insane conspiracies full of misinformation and hate, but his stunts are important to share because he's just one of many dangerous Bad Actors out there spreading this kind of crap. It's just that he chose a PetSmart. And he chose the wrong PetSmart, as you'll see.
PetSmart manager stands up to Kari Lake supporter Ethan Schmidt, kicks him out of the store for harassing employees over a pride flag. pic.twitter.com/YGvFMG4cU9

— PatriotTakes 🇺🇸 (@patriottakes) July 22, 2022
"That's Satan's rainbow." Ok Qrazy.
This is your regular reminder that religion has no place in politics.

— The Church Of Satan (@ChurchofSatan) June 25, 2022
It's okay if your fist ended up in your mouth while watching that, or maybe you had to hold it back so you didn't punch the screen. Either way, I get it. Ethan is the kind of terrible that brings out all of your inner "Inglorious Basterds" memes.
Wearing a "Heil Fauci" shirt, Kari Lake supporter Ethan Schmidt says he is "bringing back Jew hunting" in Phoenix to celebrate "white history."

Kari Lake has appeared in an Ethan Schmidt promotional video and refuses to denounce him. pic.twitter.com/lGNU7f0GTw

— PatriotTakes 🇺🇸 (@patriottakes) July 13, 2022
I know. I KNOW.
Today, while @KariLake spoke at the Charlie Kirk Festival & Rap Hoedown (I'm serious) she posed for an "America First" video with antisemitic groyper Greyson Arnold & Covid conspiracy theorist Ethan Schmidt, who's known for harassing people in masks and targeting cancer patients. pic.twitter.com/ibHDzN0hPW

— AZ Right Wing Watch (@az_rww) August 29, 2021
Revenge feels like the only way you can feel satisfied when you encounter people like that. Now, the last line is a work of art, so there's that to cling to. You can't drag Ethan on Twitter because he and his stupid Nazi mustache face have been rightfully banned. But that didn't stop users from praising PetSmart and the employees who kept their calm while Ethan went on his Qrazy rant of ridiculousness.
Hey @PetSmart, give these employees a raise. https://t.co/0WDFvvq9m6

— devon sawa (@DevonESawa) July 22, 2022
As much as I enjoy the convenience of buying pet supplies online, I'll be giving PetSmart all my business for the foreseeable future.

You either stand for something or you don't, and it's clear Kari Lake stands with a punk who should be locked up for harassment. #LoveIsLove

— Shelby Kent-Stewart ™ (@ShelbyKStewart) July 22, 2022
How much free time do you have to worry about the Pride flags in PetSmart.

Me walking into #PetSmart tomorrow. pic.twitter.com/FsWAAzeadr

— clockoutwars (@clockoutwars) July 22, 2022