[WATCH] Super Brave Patriot Front Marches Through Boston With Their Faces Covered
This time, they came on foot instead of in U-Hauls.
Patriot Front, aka the Not-As-Proud Boys, marched through the streets of Boston on Saturday carrying flags supporting fascism and the KKK. Tricked out in a look that can be best described as "Playing White Knights of the Round Table In My Mom's Backyard," they tried to be all intimidating while covering their faces because they didn't want anyone to recognize them when they went back to work picking up trash on the freeways or emptying the porta-potties from marches like this one.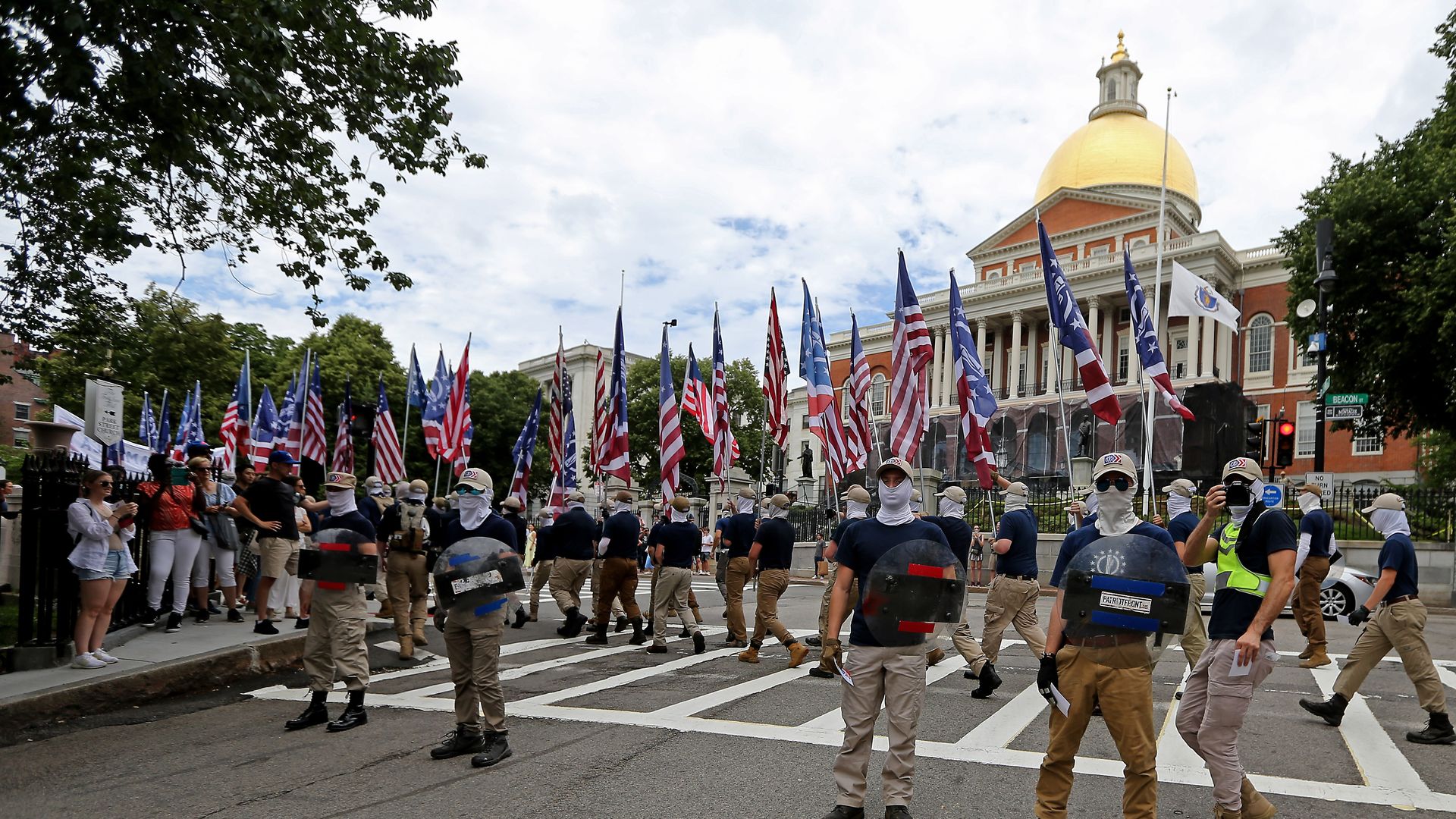 I bet those shields double as flying saucers for when they go sledding with their mommies in the winter. They have no idea how dumb they all look, it's hilarious. BTW the whole "Reclaim America" thing is kind of extra hilarious since white people aren't the ones with any original claims to this land, Whitey McWhitersons.
Patriot Front practicing.

Parents, come get your boys before they hurt themselves.
😂☠️ pic.twitter.com/nY909Xk0xQ

— Christopher 🇺🇸 Is Pro-Choice (@cwebbonline) July 3, 2022
While Twitter teases them, Patriot Front is still dangerous and its members are only going to get more emboldened the closer we get to November. Intimidation is their favorite weapon, and I guarantee they're going to try to keep people away from the polls. White Republican Christian nationalism is a blight on this country, and organized cult groups like Patriot Front are a real threat.
The disgusting hate of white supremacists has no place here. Esp when so many of our rights are under attack, we will not normalize intimidation by bigots.

As we mark Boston's legacy as the cradle of liberty, we celebrate the continued fight to expand those liberties for all.

— Mayor Michelle Wu 吳弭 (@MayorWu) July 2, 2022
There's a reason certain members of the Oath Keepers and Proud Boys have been charged with seditious conspiracy. They're trying to start a Civil War that won't be civil in any way. Maybe the Uncivil Race War is a better name for what they want.
Can we stop calling them the "Patriot Front" and start calling them Nazis?

— Uncovering The Truth (@UncvrngTheTruth) July 3, 2022
The Boston Police Department is conducting a civil rights investigation into the incident and no arrests have yet been made. I'm sure we'll see these doofuses again soon, maybe outside a pre-school where kids are being taught the English alphabet instead of the German one.