[WATCH] State Dept Spokeman Says Putin is 'Losing the Propaganda War' in Russia
Protests are continuing across Russia as citizens of all ages take to the streets to speak out against a military conflict ordered by their President a decision in which, they claim, they had no say. But the public display against Vladimir Putin's decision to invade Ukraine comes with a price as demonstrators defied government warnings and battled with police, resulting in arrests.
Russian authorities are intent on shutting down any public dissent against the attack on Ukraine. Police in St. Petersburg arrested at least 350 anti-war protesters on Wednesday, taking the total number of protesters detained or arrested to 7,624 since the invasion began, according to an independent organization that tracks human rights violations in Russia.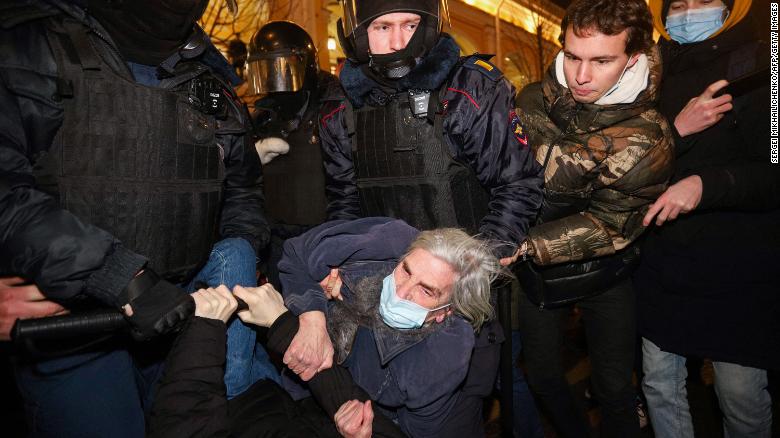 Members of Russia's "intelligentsia" — academics, writers, journalists, and others — have issued public appeals decrying the war, including a rare "open letter" to Putin signed by 1,200 students, faculty, and staff of MGIMO University, the prestigious Moscow State Institute of International Relations, affiliated with the Ministry of Foreign Affairs, which produces most of Russia's government and foreign service elite.
The signers proclaim they are "categorically against the Russian Federation's military actions in Ukraine."
Zelensky to Putin: "Good Lord, what do you want? Leave our land. If you don't want to leave now, sit down with me at the negotiating table. But not from 30 meters away, like with Macron and Scholz. Sit down with me and talk. What are you afraid of? We're no threat to anyone." pic.twitter.com/CNsLj2yQ1N

— max seddon (@maxseddon) March 3, 2022
Diplomacy experts suggest that Putin has been caught off-guard by the unilateral lack of support from his own people, resulting in the kind of distraction that usually wouldn't ruffle the Russian leader. But Putin's unpopularity may only be matched by the popularity of Ukraine's President Volodymyr Zelensky, who has gained global respect for putting on military garb and standing up to his enemy despite three assassination attempts.
"Europe needs to wake up": Ukraine President Zelensky issues a dire plea to world powers as Europe's largest nuclear power plant is on fire from Russian shelling. https://t.co/d65nO2gugZ pic.twitter.com/rRUgWFrIsJ

— CBS News (@CBSNews) March 4, 2022
Surprisingly, many Russians, in fact, do not fully know what is happening in Ukraine. State-controlled television shows almost no reports of Russian bombing and shelling in Kyiv and other Ukrainian cities, instead it focuses on so-called Ukrainian "nationalists" and "neo-fascists." But young people and other activists have been watching coverage on the internet and have been sharing messages of hope with their neighbors in Ukraine to let them know that their President has chosen this, not the people.
And Zelensky's video message here:https://t.co/UfEgtKZ7il

— Brian J. Karem (@BrianKarem) March 4, 2022
State Department Spokesman Ned Price expanded on Secretary of State Tony Blinken's warning of the dark days ahead in the Russian invasion of Ukraine, saying the Russian people have made clear this is not a war they support. However, that doesn't seem to be deterring Putin from his mission. Watch Price's appearance on "Deadline: White House," below.