[WATCH] Senate Rebukes Russia By Backing Finland in NATO Vote
U.S. Senators delivered their overwhelming–read: bipartisan–approval to NATO membership for Finland and Sweden on Wednesday, calling expansion of the Western defensive bloc a "slam-dunk" for U.S. national security and "a day of reckoning" for Russian President Vladimir Putin over his invasion of Ukraine.
Wednesday's 95-1 vote for the candidacy of two Western European nations that had long avoided military alliances–until Russia's war against Ukraine–marks a crucial step toward expansion of the North Atlantic Treaty Organization and its 73-year-old pact of mutual defense among the United States and democratic allies in Europe. Senate Majority Leader Chuck Schumer (D-NY) invited ambassadors of the two nations to the chamber gallery to witness the vote, where Sen. Josh Hawley (R-MO) was the lone "No."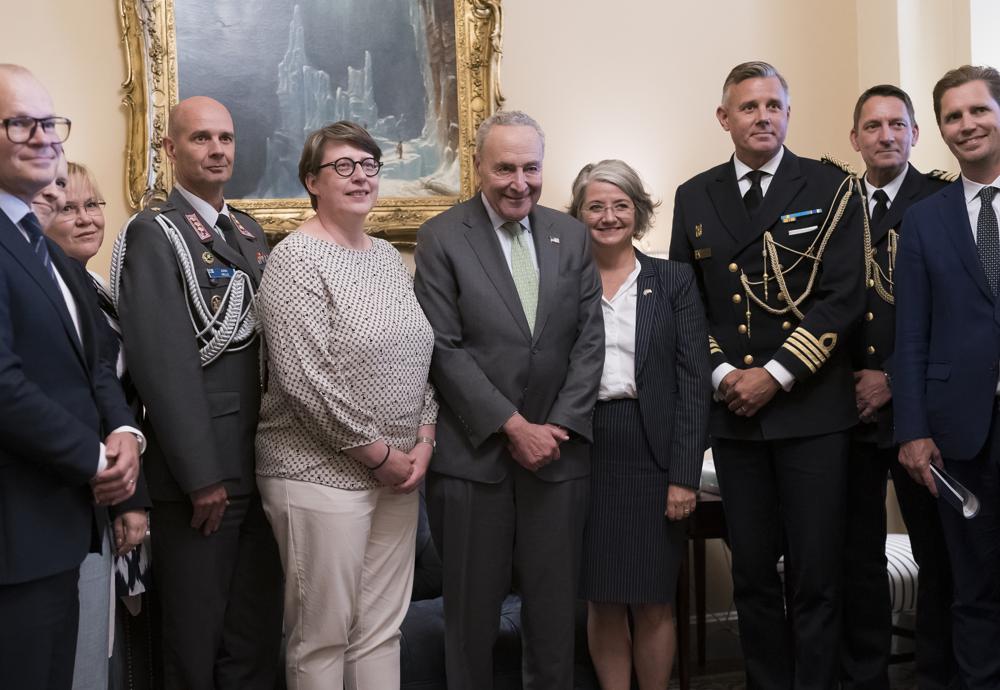 The candidacies of the two prosperous Northern European nations have won ratification from more than half of the NATO member nations in the roughly three months since the two applied. It's a purposely rapid pace meant to send a message to Russia over its six-month-old war against Ukraine's West-looking government. Approval from all 30 current member nations is required.
Breaking:

The Senate has voted 95-1to ratify Finland's and Sweden's applications to join NATO.

Josh Hawley was the lone 'no' vote.

— Kyle Griffin (@kylegriffin1) August 3, 2022
President Joe Biden, who has been the principal player rallying global economic and material support for Ukraine, has sought quick entry for the two previously non-militarily aligned northern European nations. And Senate Minority Leader Mitch McConnell, who visited Kyiv earlier this year, urged unanimous approval. Speaking to the Senate, McConnell cited Finland's and Sweden's well-funded, modernizing militaries and their experience working with U.S. forces and weapons systems, calling it a "slam-dunk for national security" of the United States. "Their accession will make NATO stronger and America more secure. If any senator is looking for a defensible excuse to vote no, I wish them good luck," McConnell said.
Oooof — McConnell with a not-so-subtle dig at Hawley, who is voting no on Finland/Sweden joining NATO.

"If any senator is looking for a defensible excuse to vote no, I wish them good luck. This is a slam dunk for national security that deserves unanimous bipartisan support."

— Andrew Desiderio (@AndrewDesiderio) August 3, 2022
Sen. Hawley, who often aligns his positions with those who still support Donald Trump, took the Senate floor to call European security alliances a distraction from what he called the United States' chief rival — China, not Russia. "We can do more in Europe … devote more resources, more firepower … or do what we need to do to deter Asia and China. We cannot do both," Hawley said, calling his a "classic nationalist approach" to foreign policy. Sen. Rand Paul (R-KY) voted "Present."
95-1-1: Senate votes to approve a resolution in favor of Finland and Sweden joining NATO.

Sen. Josh Hawley (R-MO) was the lone 'no' vote.

Sen. Rand Paul (R-KY) voted present. pic.twitter.com/MjcmcZ2PWG

— The Recount (@therecount) August 3, 2022
The U.S. and its European allies have rallied with newfound partnership in the face of Russian President Vladimir Putin's aggression, strengthening the NATO alliance first formed after World War II. "Enlarging NATO is exactly the opposite of what Putin envisioned when he ordered his tanks to invade Ukraine," Sen. Bob Menendez (D-NJ), Chairman of the Senate Foreign Relations Committee, said Wednesday, adding that the West could not allow Russia to "launch invasions of countries."