[COMMENTARY] Marjorie Taylor Greene (Who Spoke at White Nationalist Event)…Complains Rachel Maddow Called Her A Nazi
*Updated: Congresswoman Greene has never called herself a "White Nationalist." She spoke at an event organized by alleged 'White Nationalist' Nick Fuentes. We apologize for any misunderstanding.
Let's none of us pretend we don't know what someone means when they call themselves a "nationalist." A person who is proud of their country and does their civic duty, like voting, and abides by the law of the land is called a "patriot" or sometimes "just a good citizen." A "nationalist" is someone who wants the ability to infringe their narrow belief system on the entire nation, which would of course require the removal of any human obstacles which could then be replaced with more compliant (and white) ones. Now add the Fake Christians and their hypocrisy, and you have a new perfect storm of Don't Look Away.
We are witnessing an emboldened White Christian Nationalist movement in this country, so just imagine if "The Handmaid's Tale" and "Schindler's List" were combined and you'll have an idea of what the GOP envisions for America's near future. This new Nazi movement is super proud of being super terrible, and the rebranding is that White Power crap thinly disguised by false rhetoric: "What's so wrong with loving my country?" they'll ask with a knowing smirk. "What's so wrong with loving my God?" What's wrong is that this isn't about love. It's about hate. Hate of The Other, the threat from those who are maybe genetically predisposed to being physically stronger, with some added melanin to make them extra scary.
The only difference between saying "Nazi" and saying "White Nationalist" is that the second one is two words instead of one.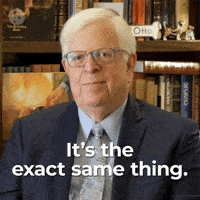 "Marjorie Nazi Greene" has a long history of doing all of the Antisemitisms, not learning anything about the Holocaust even after touring the Holocaust Museum (I imagine she walked through it while the University of Georgia Fight Song just playing on an endless loop in her otherwise empty head), and bragging about hanging out with Nazis. She just calls them by special nicknames instead.
My Alex? Collecting more men for your fake Christian, family values? 🤦‍♀️

— Meidas_Linda (@Meidas_Linda) July 24, 2022
It's just odd that Marjorie was bragging about how proud she is proud to have spoken at the Fuentes event and how the GOP is the White Nationalist party and that America should be a White Christian nation, but now she's complaining that Rachel Maddow–who is Jewish–did a segment all about the Nazis in the GOP.
Rachel Maddow shows what Marjorie Taylor Greene and Doug Mastriano mean by Christian Nationalism. Maddow talked about the "virulent violent" racism and antisemitism at the core of the movement. pic.twitter.com/ojCqXPvGq4

— Sarah Reese Jones (@PoliticusSarah) July 26, 2022
Pick a lane, Marge. You can't put all of your White Nationalism front and center and then cry when people talk about it. You also can try to pretend they don't mean the same thing, but we both know that's a lie.
Twitter certainly had no problem telling Marjorie Nazi Greene that she's a Nazi. Because she's a NAZI.
Let's all take a moment to tell Marjorie Taylor Greene that she is a Nazi @RepMTG https://t.co/Sc93mBskxU

— Tara Dublin (@taradublinrocks) July 20, 2022
Hey , if you hate being called a Nazi stop being one .

— ✌🏼rosanna arquette (@RoArquette) July 26, 2022
.@glennkirschner2 .@JudyPete .@BadBradRSR .@CheriJacobus TPUSA which is America's own Hitler youth had a convention where people flying Nazi flags showed up for support. Also showing up to ensure these youth will answer the Trumplovian dog whistle were our chief hate mongers. pic.twitter.com/mCzGpxegTP

— ChattJazz 🇺🇦 ☮️ 🌻 (@ChattJazz) July 26, 2022