[WATCH] Russian Missiles Hit Mall in Ukraine With At Least 1000 Civilians Inside
A Russian long-range missile struck a crowded shopping mall in Ukraine's central city of Kremenchuk on Monday, raising fears of what President Volodymyr Zelenskyy called an "unimaginable" number of victims in "one of the most daring terrorist attacks in European history."
Zelenskyy said more than 1,000 civilians were inside the mall, with many managing to escape. Images from the scene showed giant plumes of black smoke, dust, and orange flames, with emergency crews rushing in to search broken metal and concrete for victims and put out fires as onlookers watched in distress. The casualty figures were difficult to determine as rescuers searched the smoldering rubble. Zelenskyy said the mall presented "no threat to the Russian army" and had "no strategic value." He accused Russia of sabotaging "people's attempts to live a normal life, which make the occupiers so angry."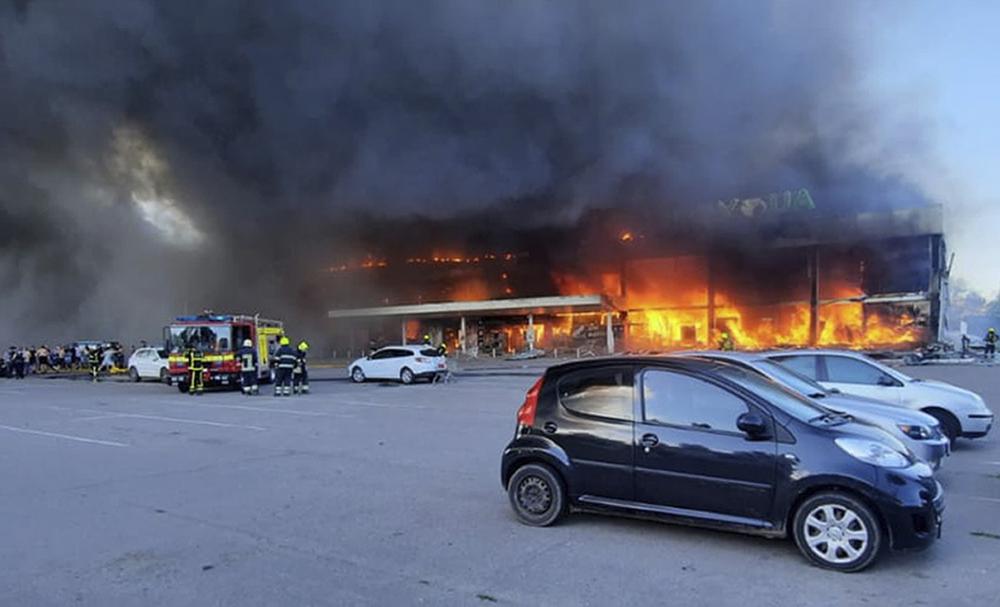 It was the second such display of Russian military force in as many days to show Western leaders at the G7 conference that Putin isn't backing off of his continued reign of terror on Ukraine. The conference attendees pledged their continued support for Ukraine, and the world's major economies prepared new sanctions against Russia, including a price cap on oil and higher tariffs on goods. Meanwhile, the U.S. appeared ready to respond to Zelenskyy's call for more air defense systems, and NATO planned to increase the size of its rapid-reaction forces nearly eightfold — to 300,000 troops.
This is the scene at the shopping mall in Kremenchuk, Ukraine this evening after missiles hit…The @WCKitchen #FoodFighters are continuing to serve firefighters & rescue teams! We setup a dining tent and have hot meals, water & sandwiches. You can see fires still burning… 💔🇺🇦 pic.twitter.com/k27YYzXs25

— José Andrés (@chefjoseandres) June 27, 2022
The regional governor, Dmytro Lunin, said at least 13 people were dead and more than 40 wounded. At Ukraine's request, the U.N. Security Council scheduled an emergency meeting in New York on Tuesday to discuss the attack.