[WATCH] President Biden Calls For More Pro-Roe Lawmakers On Call With Democratic Governors
The only way to codify Roe v Wade into law is to abolish the filibuster so that the Democratic Congressional majority can vote on it. Thanks to two Democratic Senators, the filibuster isn't going anywhere, which means Republicans will have free reign to keep chipping away at not just abortion rights, but other government protections–such as gay marriage–as well.
President Joe Biden is clearly frustrated with the stonewalling and pushback from centrist Democrats Joe Manchin and Kyrsten Sinema, though he never calls them out by name. During a call with Democratic Governors on Friday, President Biden warned them about the dangers of a Republican-controlled Congress, which would try to pass a national ban on abortion, reiterating his push to make abortion an election issue in the November midterms. "I predict — if we don't keep the Senate and increase [Democratic control] in the House, we're going to be in a situation where the Republicans are going to pass a nationwide prohibition, consistent with what the Supreme Court ruled," Biden said during a discussion with the nine Democratic governors.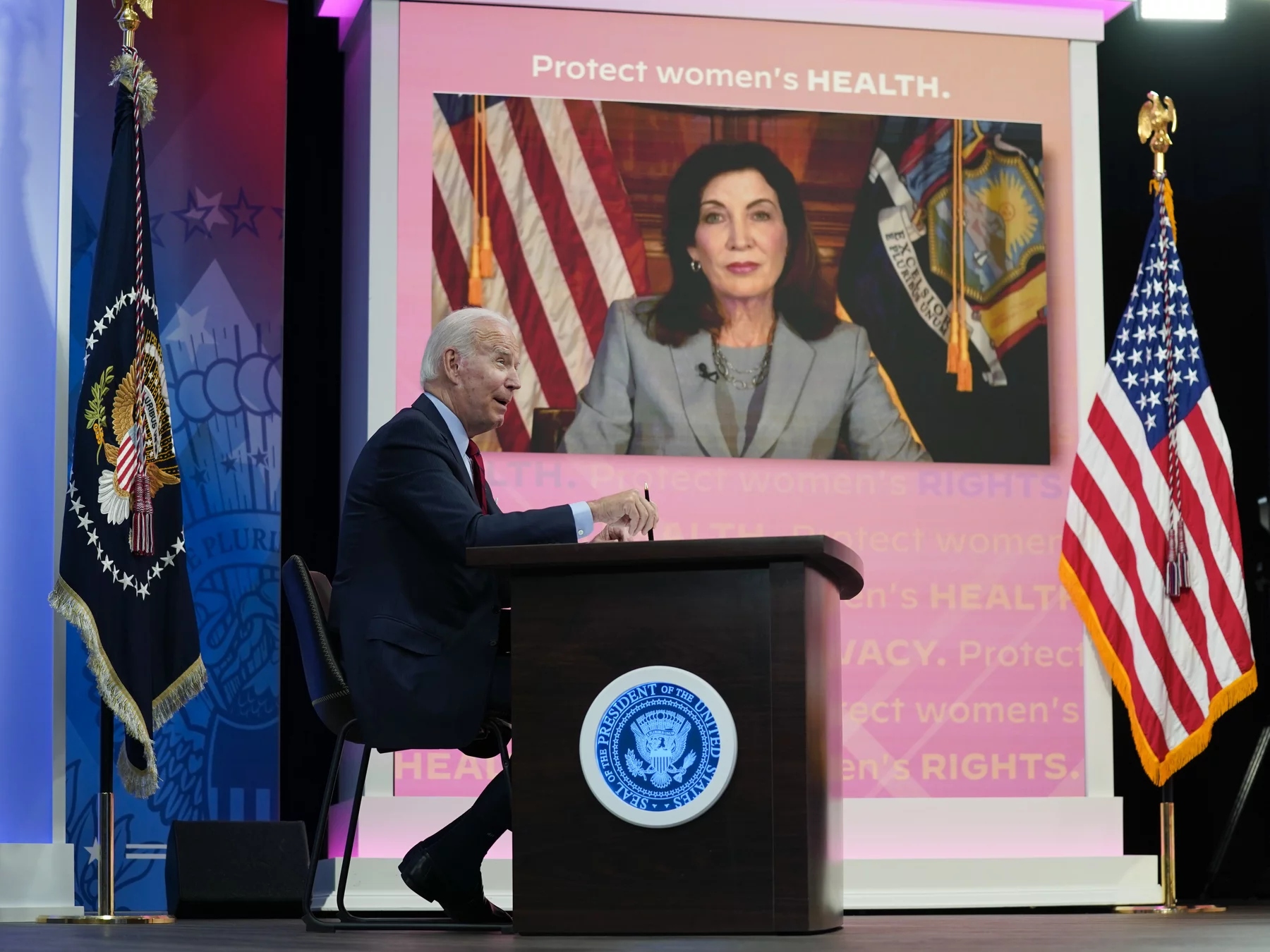 The President told the governors he wants to find new ways to protect abortion rights and access after the Supreme Court overturned Roe v. Wade one week ago. "I share the public outrage of this extremist court that's committed to moving America backward, with fewer rights and less autonomy," President Biden said in his opening comments. He also reiterated that the Attorney General's office will work to protect the ability to cross state lines for abortion services and protect access to contraceptives and abortion medication.
The Supreme Court's reversal of Roe v. Wade will upend the lives and impact the health of millions of women.

As I've said, this isn't over. In addition to my actions to protect women's right to travel for care and access FDA-approved medication, these Governors are stepping up: pic.twitter.com/gP98mTg1vZ

— President Biden (@POTUS) July 2, 2022
Joining the President for the roundtable were New York's Kathy Hochul, New Mexico's Michelle Lujan Grisham, Illinois' JB Pritzker, Colorado's Jared Polis, Connecticut's Ned Lamont, North Carolina's Roy Cooper, Oregon's Kate Brown, Rhode Island's Daniel McKee, and Washington's Jay Inslee — many whose states border others that have trigger laws going into effect this summer that limit or outlaw abortion after the Supreme Court's action.