[WATCH] Massive Protests In Sri Lanka Lead to Resignations of President and Prime Minister
After the country's most chaotic day in months of political turmoil, with protesters storming both officials' homes and setting fire to one of the buildings in a rage over the nation's severe economic crisis, Sri Lanka's President and Prime Minister both agreed to resign on Saturday.
Police had attempted to block promised protests with a curfew, then lifted it as lawyers and opposition politicians denounced it as illegal. Thousands of protesters entered the capital, Colombo, and swarmed into President Gotabaya Rajapaksa's fortified residence. Video images showed jubilant crowds taking a dip in the garden pool. Some people lay on the home's beds, while others made tea and issued statements from a conference room demanding that the President and Prime Minister go. Prime Minister Ranil Wickremesinghe said he will leave office once a new government is in place, and hours later the speaker of Parliament said President Rajapaksa would step down Wednesday.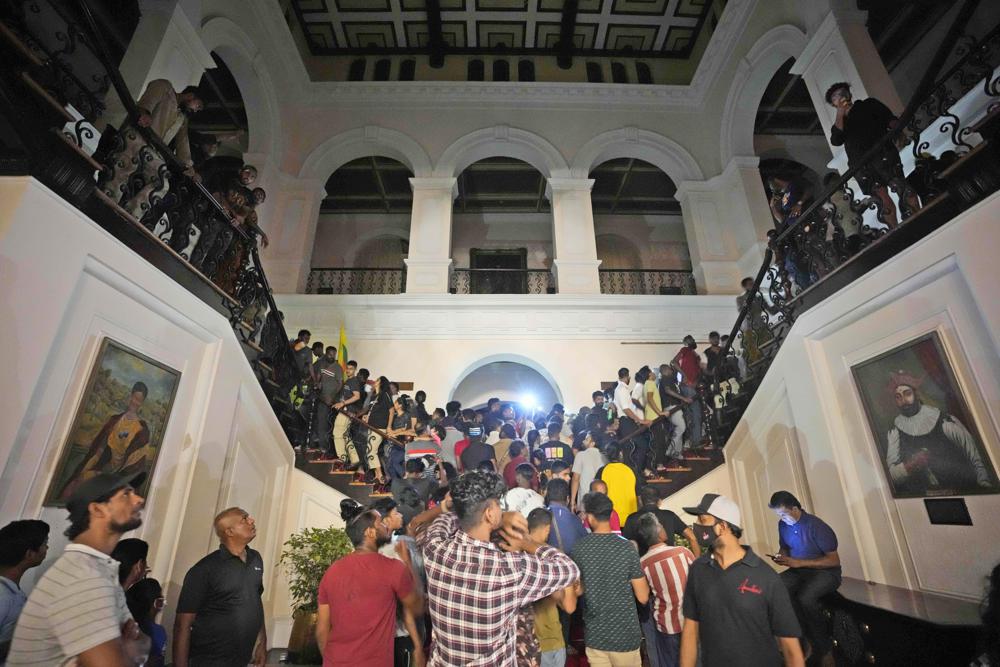 Months of demonstrations have all but dismantled the Rajapaksa political dynasty, which has ruled Sri Lanka for most of the past two decades. But the family has long been accused by protesters of mismanagement and corruption, with the public growing increasingly intolerant of their actions. The president's older brother resigned as prime minister in May after violent protests saw him seek safety at a naval base.
Colombo, Sri Lanka right now. The Presidential Palace has been stormed, President Gotabaya Rajapaksa is said to have fled. Unbelievable scenes. Live reports on @IndiaToday: https://t.co/p6JV6FzCub pic.twitter.com/8zlJdBfN2P

— Shiv Aroor (@ShivAroor) July 9, 2022
Images of the Sri Lankan protesters overrunning the President's home were shared on social media, with many users calling him a dictator and celebrating his removal from power. Protest and religious leaders said Rajapaksa has lost his mandate and it is time for him to go.
Protesters enjoying Sri Lanka's absconding President's swimming pool! No dictator should remain in illusion that the power is for ever, and when the end comes, it is always violent and nasty. pic.twitter.com/T3ePbkA0gM

— Ashok Swain (@ashoswai) July 9, 2022
Some of the imagery reminded American Twitter users of the January 6th insurrection, although the circumstances in Sri Lanka are clearly quite different.
Let me clear this up…

I simply meant the visual of people storming the President's residence in Sri Lanka. I know little about the political circumstances the country is facing.

I never meant to imply the people of Sri Lanka weren't justified in their actions. 💯

— Ryan Shead (@RyanShead) July 9, 2022
U.S. Ambassador to Sri Lanka Julie Chung asked people on Friday to "protest peacefully" and called for the military and police "to grant peaceful protesters the space and security to do so."
Violence is not an answer. If you are going to protest, please do so peacefully. And reminding military & police to grant peaceful protesters the space and security to do so. Chaos & force will not fix the economy or bring the political stability that Sri Lankans need right now.

— Ambassador Julie Chung (@USAmbSL) July 8, 2022
The protests, which began in response to Sri Lanka's collapsed economy as people's patience wore thin due to shortages of fuel, medicine, and cooking gas, only increased and oil reserves ran dry. The country is currently relying on aid from India and other nations as leaders try to negotiate a bailout with the International Monetary Fund.