[WATCH] March For Our Lives 2022: 1000s Pack National Mall While Millions of Others Take Part in Local Protests Across U.S.
Thousands of people gathered on the National Mall as other nationwide demonstrations took place on Saturday marking a renewed call for stricter gun control legislation after recent mass shootings from Uvalde, Texas, to Buffalo, New York, that activists say should compel Congress to act.
Organizers hoped the second March for Our Lives rally would draw as many as 50,000 people to the Washington Monument. While that would be far less than the original 2018 march that filled downtown Washington with more than 200,000 people, they decided to focus this time on smaller marches at an estimated 300 locations. "We want to make sure that this work is happening across the country," said Daud Mumin, co-chairman of the march's board of directors and a recent graduate of Westminster College in Salt Lake City. "This work is not just about D.C., it's not just about senators."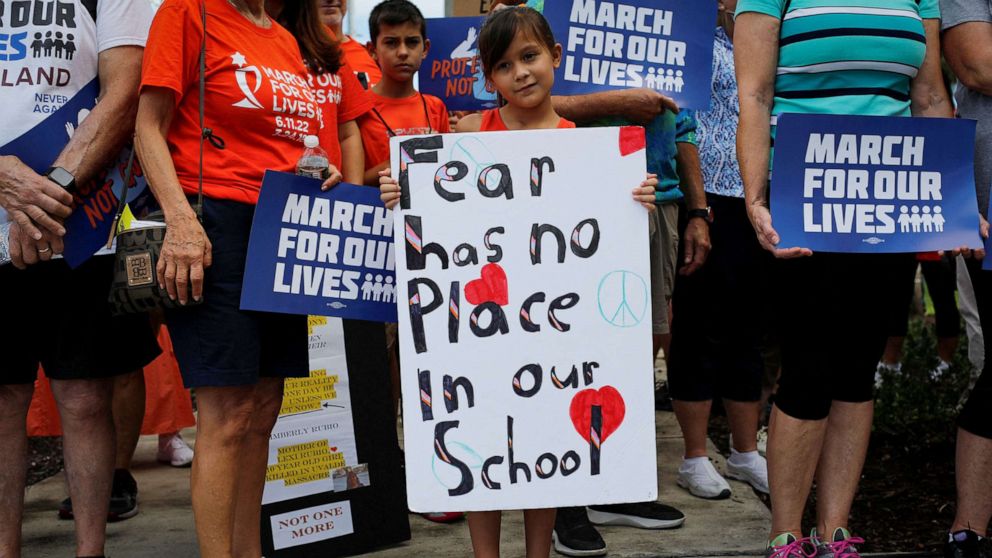 Despite rain in the nation's capital, scores turned out on the monument grounds well before the rally began, holding up signs, including one that said "Children aren't replaceable, senators are. Vote." One young girl carried a sign that said, "I want to feel safe at school."
The first march followed the February 14, 2018, killings of 14 students and three staff members by a former student at Marjory Stoneman Douglas High School in Parkland, Florida. That massacre sparked the creation of the youth-led March For Our Lives movement, which successfully pressured the Republican-dominated Florida state government to enact sweeping gun control reforms.
On the National Mall ahead of the second March for Our Lives, white and orange flowers form a sprawling memorial commissioned by Gabby Giffords. A sign explains there are around 45,000 flowers here, marking the number of Americans who die annually from gun violence. pic.twitter.com/oSIO4AZqWl

— Alejandro Alvarez (@aletweetsnews) June 11, 2022
The Parkland students then took aim at gun laws in other states and nationally, launching March for Our Lives and holding a big rally in Washington on March 24, 2018. While this march didn't draw the same numbers of people in person, the social media movement has grown exponentially in the four years since the Parkland survivors led the first march.
Mayor of D.C. Muriel Bowers is calling for gun reform and statehood for Washington, D.C. at the March for Our Lives protests.

"It is common sense to ban assault rifles in our country." https://t.co/PqOwvb6OyL pic.twitter.com/91rmfl19Ih

— ABC News (@ABC) June 11, 2022
With another string of mass shootings bringing gun control back into the national conversation, organizers of this weekend's events say the time is right to renew their push for a national overhaul. "Right now we are angry," said Mariah Cooley, a March For Our Lives board member and a senior at Washington's Howard University. "This will be a demonstration to show that us as Americans, we're not stopping anytime soon until Congress does their jobs. And if not, we'll be voting them out."
I know that there are many people who support and march with us but were too afraid to come out because of the state of violence in our country if you would like to watch the live stream you can do so herehttps://t.co/PxsMwXgd3N

— David Hogg ☮️ (@davidhogg111) June 11, 2022