[WATCH] 'I'm Terrified I Might Be Here Forever,' Brittney Griner Writes POTUS From Russian Prison
Brittney Griner, the Phoenix Mercury star who has played in Russia during the WNBA's offseason, was arrested on February 17th at a Moscow airport, a week before Russia invaded Ukraine. Russian authorities claimed she had cannabis oil in her luggage and accused her of smuggling significant amounts of a narcotic substance, an offense punishable by up to 10 years in prison. She went on trial at a court near Moscow on Friday on drug smuggling charges. Griner's supporters and U.S. officials all say she has been wrongfully detained and have called for her release as fears mount that she is being used as a political pawn amid rising tensions between Russia and the US.
Griner's wife, Cherelle, has made multiple TV appearances to plea for her release, and many celebrities and politicians have advocated for her release. Now Griner has written a heartbreaking appeal to President Joe Biden to not forget about her and other Americans wrongfully detained by the Russians.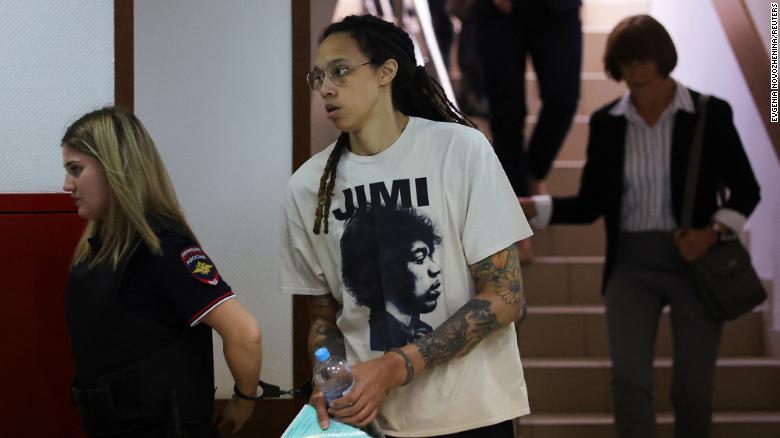 The letter was delivered to President Biden on Monday morning, intentionally meant to be read on Independence Day. "(As) I sit here in a Russian prison, alone with my thoughts and without the protection of my wife, family, friends, Olympic jersey, or any accomplishments, I'm terrified I might be here forever," Griner wrote, according to a statement released by the communications company representing the Griner family.
NEW: A letter from Brittney Griner was sent to the White House today, making a direct appeal to President Biden for her freedom. Representatives shared the following excerpts: pic.twitter.com/pvh4IpOfou

— T.J. Quinn (@TJQuinnESPN) July 4, 2022
The House of Representatives passed a bipartisan resolution last month calling on the Russian government to immediately release the WNBA star. "Not a day goes by that we aren't thinking of Brittney and working to get her home," Democratic Rep. Greg Stanton of Arizona, who sponsored the resolution, said in a statement. "We will continue to push for her release and make sure that she is not forgotten." But Cherelle Griner says that's just not good enough.