[WATCH] House Speaker Nancy Pelosi Makes Surprise Trip to Kyiv to Meet With President Zelenskyy
House Speaker Nancy Pelosi surprised everyone on Sunday when it was announced she had led a congressional delegation to meet with Ukrainian President Volodymyr Zelenskyy in Kyiv. The trip makes the Speaker the highest-ranking U.S. official to visit Ukraine during the war, with the surprise visit adding to the growing momentum behind the West's support for the country's fight against Russia. Vice President Kamala Harris had made a prescient warning about the war when she visited just days before Putin's invasion began.
With both sides appearing to be settling in for a prolonged conflict, the delegation's trip comes as Putin's refocused military campaign in Ukraine's east is struggling to make significant gains while the U.S. and Western allies have stepped up with increased military supplies and other assistance.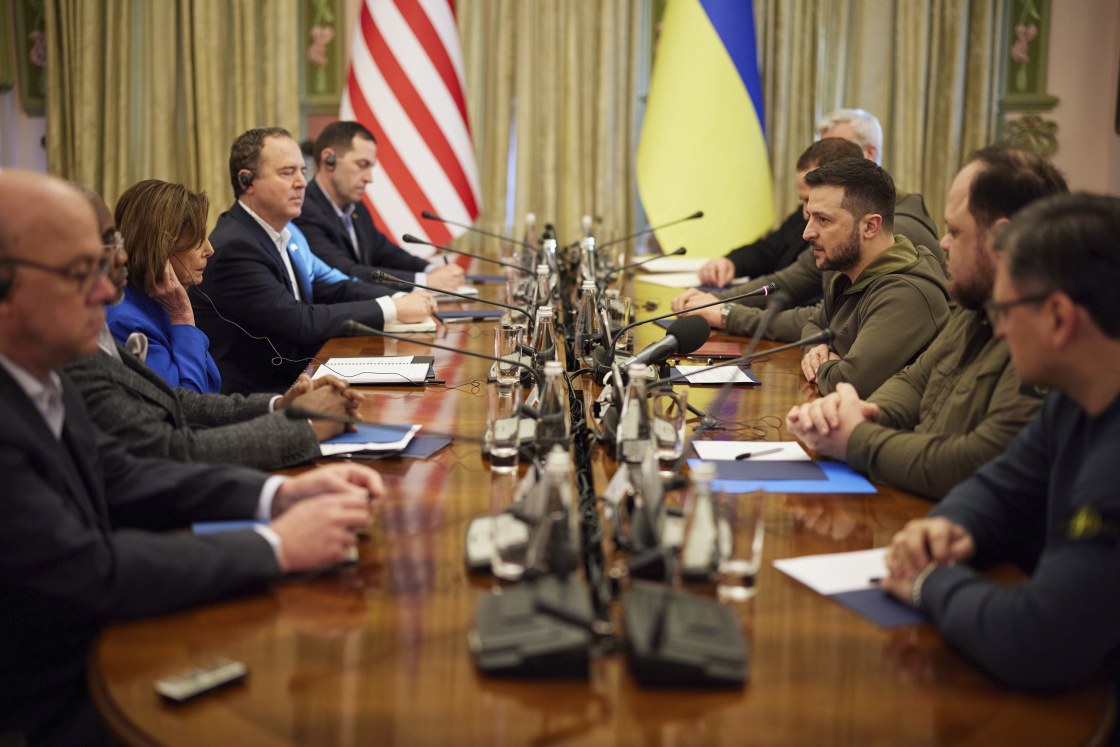 In a statement posted to Speaker Pelosi's website, she made it clear that the trip was meant "to send an unmistakable and resounding message to the entire world: America stands firmly with Ukraine."
WOW! Speaker Pelosi just met with President Zelenskyy! pic.twitter.com/NLBuysTrbF

— MeidasTouch.com (@MeidasTouch) May 1, 2022
"We are visiting you to say thank you for your fight for freedom," Speaker Pelosi said during a meeting with Ukrainian officials, according to a video posted to Zelenskyy's official Telegram account early Sunday. "Your fight is a fight for everyone, and so our commitment is to be there for you until the fight is done."
Just to be very clear, Speaker Nancy Pelosi went to Kyiv to meet with hero President Zelenskyy whilst Kevin McCarthy won't even control all the white supremacists in his caucus due to all of them being part of sedition. She's a badass, he's a treasonous cowardly piece of shit.

— Ricky Davila (@TheRickyDavila) May 1, 2022
During their meeting, President Zelenskyy "conveyed the clear need for continued security, economic and humanitarian assistance from the United States to address the devastating human toll taken on the Ukrainian people by Putin's diabolic invasion," Speaker Pelosi said. "Our delegation proudly delivered the message that additional American support is on the way as we work to transform President Biden's strong funding request into a legislative package."
House Speaker Nancy Pelosi is in Kyiv meeting with President Volodymyr Zelensky.

A week prior, State Secretary Antony Blinken and Defense Secretary Lloyd Austin stopped by.

📸: President's Office pic.twitter.com/vBbyKU4N37

— Oleksiy Sorokin (@mrsorokaa) May 1, 2022
President Zelenskyy told reporters afterward that the visit only strengthened the relationship between the two allies, saying the visit "shows that the United States today is a leader in strong support for Ukraine during the war against the aggression of the Russian Federation."