[WATCH] House Democrat Has a Plan to Revamp Bill to Finally Codify Abortion Rights
Never say Rep. Judy Chu (D-CA) isn't passionate about healthcare rights.
Rep. Chu was among the more than 100 people arrested at an abortion rights protest in Washington, DC,  on June 30th according to a statement from her office. Abortion rights protesters marched to the US Supreme Court, holding signs, singing, and chanting slogans, including: "We won't go back, we won't go back, our human rights are under attack."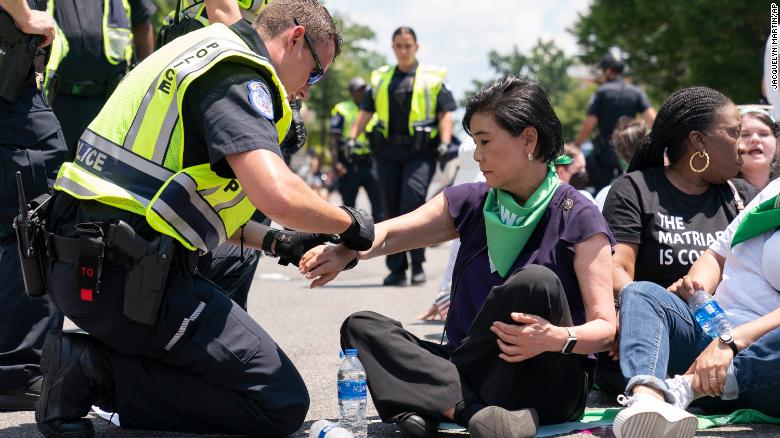 According to her statement, when Rep. Chu first heard Roe v Wade had been overturned, she "immediately thought of who would be most harmed by this decision: a young girl who is a survivor of rape, a woman who cannot afford to travel to another state to access critical care, an expecting mother with an ectopic pregnancy whose life is in danger because she cannot have an abortion," the Democratic congresswoman said. "So, when I think of all these women — and more — the decision to join in a peaceful demonstration to make clear we will not allow the clock to be rolled back on abortion rights was easy."
It was an honor to be arrested alongside these young women who are fighting tirelessly to protect our right to abortion. It's going to take all of us, but we will prevail!#FightBackForFreedom pic.twitter.com/5yb95YCqBR

— Judy Chu (@RepJudyChu) June 30, 2022
In the wake of the court's overruling of Roe and Casey, calls for bipartisan efforts to codify Roe may signal increased willingness to pass federal legislation to protect abortion access. But some Republicans in Congress are already calling for federal legislation to do exactly the opposite.
I'm not backing down—not now, not ever.#FightBackForFreedom pic.twitter.com/MECMNt7IkV

— Judy Chu (@RepJudyChu) June 30, 2022
Rep. Chu is working to update the language in the Women's Health Protection Act, the bill she helped write, in order to finally codify abortion rights to keep the medical procedure safe, legal, and once again, a private decision made between a patient and their health care provider.
.@RepJudyChu says House leaders are teeing up another vote on the Women's Health Protection Act, which would codify abortion rights: "It's so important to send a message to the women of America right now that their congress-members stand behind them." pic.twitter.com/ddVT4FHzKz

— Zerlina on Peacock (@ZerlinaShow) July 7, 2022
Rep. Chu appeared on Zerlina Maxwell's Peacock show to discuss the revamped bill and the urgency to get it passed.