[WATCH] Hateful Hawley Humiliated By Law Professor For Transphobic Comments During Senate Committee Hearing
Sen. Josh Hawley (R-MO via VA where he actually lives) sure has a problem being respectful to educated Black women during Senate hearings. You might recall the seditious sympathizer and his fellow racist misogynist obstructors giving then-Supreme Court nominee Ketanji Brown Jackson a ridiculous grilling during her hearings where they seemed oddly fixated on the cases she'd presided over that involved child abuse and pornography.
Now Hawley has gone and done it again with University of California law professor Khiara Bridges, who was testifying at a Senate Judiciary Committee hearing about the legal consequences of the Supreme Court's decision that overturned Roe v. Wade and ended the federal right to an abortion in the U.S. Like all of the other terrible Republicans, Hawley enjoys being terrible for the sake of being terrible, and they're all having a super fun time with transphobia right now.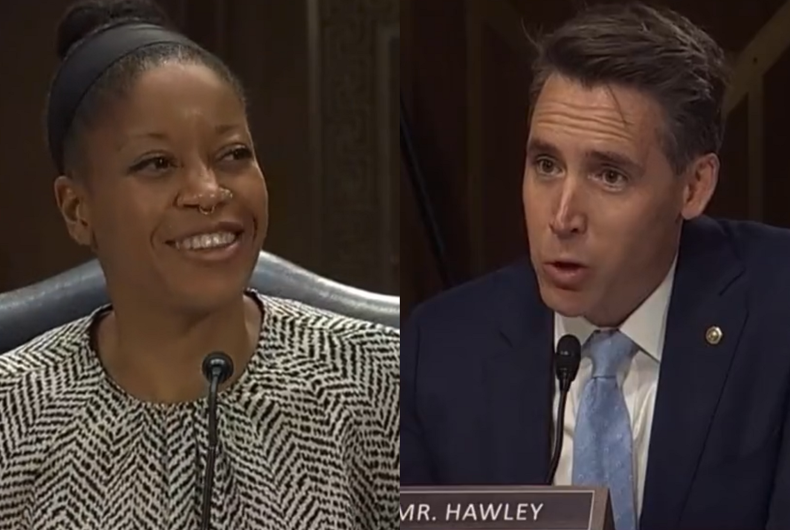 Andy Biggs, who committed treason and begged for a pardon, is on Twitter saying stuff like "Men can't get pregnant" and "Abortion isn't healthcare," so that's the mentality of our Senate Republican body at the moment. These repressed weirdos can't move past their obsession with the Other, and while nobody better dare overstep the steakhouse privilege of Brett Kavanaugh, it's fine for them to mock transgender Americans as well as everyone's equal right to privacy. Bodily autonomy for Josh Hawley and his poor wife, whose Google search history probably includes several online visits to SheBop (I hope).

Eww.
ANYWAY, in her remarks, Professor Bridges referred to "people with a capacity for pregnancy." As she was there to discuss the legal impacts of the decision on everyone who can get pregnant, she employed trans-inclusive language while using most of her time to focus on the impacts of the SCOTUS decision on Black people. But Horrible Hawley jumped on the whole pronoun issue (again, it's just beyond the GOP to make respectful space for others and acknowledge they're seen) and was quickly corrected.
Bridges to Hawley: I want to recognize that your line of questioning is transphobic pic.twitter.com/rCeVaB3XJY

— Acyn (@Acyn) July 12, 2022
I'm forever here to watch Black women shame mediocre white men to filth. Let's watch it again.