[WATCH] GOP Senators Get Dragged By Jon Stewart and All Of Twitter For Fist Bump Celebrating Blocking Veterans Bill
People might complain that famous people should stay out of politics, but those people need to never say that again now that Donald Trump turned the White House into a tacky staged set for "The Celebrity Apprentice: The White House." There are so many important causes out there in the world that would most likely go unfunded without the help of someone who can get the media attention they need to get the government's attention. Unfortunately, the current culture has entirely erased respectful political discourse, which is how you get sitting members of Congress harassing American citizens or getting into flame wars on Twitter.
Jon Stewart, who used to host "The Daily Show" and currently has a show on Apple TV, backs one of the most worthy causes you can think of: getting better healthcare benefits for American military veterans, particularly those who have suffered illnesses due to exposure to burn pits while on active duty. This country proudly sends its best and brightest off to serve, but they do eff-all when those brave and selfless Americans return home. Our veterans often get very little more than lip service. The PACT Act would have expanded medical coverage for millions.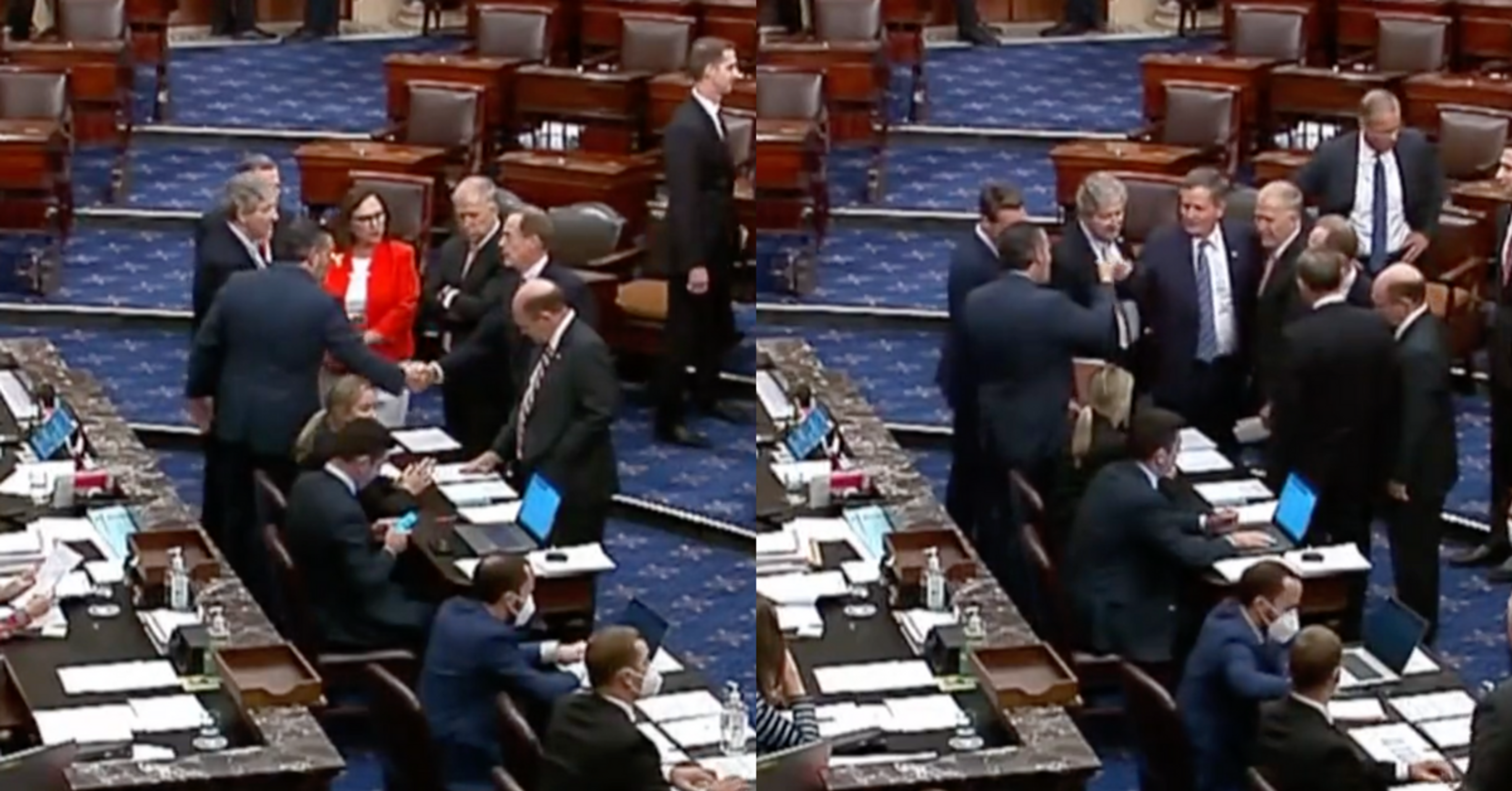 When Stewart shows up in Washington to advocate for a bill that should pass with flying colors but was blocked by Senate Republicans for *checks notes* for the sake of being obstructive jerks, the GOP thinks it's a stunt. Yes, the same GOP who changed their vote because they *checks notes again* really just want to be obstructive jerks. Who fist bump each other to celebrate keeping sick veterans sick. Yaaay.
25 senators changed their votes and no longer support toxic-exposed veterans. No more delays! No more games! Tell your senators to #PASSTHEPACTACT! https://t.co/8bxgIhgoTT pic.twitter.com/VB6jg2jamX

— VFW National HQ (@VFWHQ) July 30, 2022
Jon Stewart is just one celebrity activist doing the work Republicans refuse to do because they care more about obstructing Joe Biden and the Democrats than anything else. Stewart's rant against Republicans Ted Cruz and Pat Toomey, among others, has gone super viral, as the only thing that can erase the disgust of watching Republicans fist bump over voting against veterans is Stewart owning them. Cruz said while he supports the PACT Act, the dispute is over Democrats "playing a budgetry trick," by taking "$400 billion in discretionary spending and shifted it to mandatory spending." Stewart replied by pointing out that "it's no trick."
A Message to and from Mister Senator Ted Cruz…Attorney at Law#PassthePactact pic.twitter.com/QjGRGdPmq4

— Jon Stewart (@jonstewart) July 29, 2022
Also, Ted Cruz is a pathetic starf*cker.
Shut up. First we talked about this pic.twitter.com/au05YpqDHM

— 𝕋𝕠𝕞 ℝ𝕖𝕤𝕚𝕤𝕥𝕤 𝔽𝕒𝕤𝕔𝕚𝕤𝕞! 🇺🇸 🌊🌊 (@tom_wellborn3) July 30, 2022
Dragging Ted Cruz while advocating for veterans is always worth making space for.
While our veterans battle disease from chemical exposure at burn pits while deployed, 25 Republicans, such as Senator Ted Cruz and Pat Toomey, blocked the PACT Act that would help them.@jonstewart and @Burnpit360 are fighting for our vets.#PACTAct#PassThePACTAct#FireWatch pic.twitter.com/qOUxIFvI22

— StandForBetter.org (@StandForBetter) July 30, 2022
Jon Stewart is Katie Portering Ted Cruz on Twitter and that's a great thing for the civilization.

— Exploding Bottle of Ketchup Singh, MD 🌊 (@labyrinthweaver) July 30, 2022
This thread by Jon Stewart is a brilliant takedown of Ted Cruz, who is cravenly lying to defend his vote to deny toxin-exposed veterans the care they need.

This is how you expose the lies. https://t.co/glO9xHVIMT

— MeidasTouch (@MeidasTouch) July 30, 2022