[WATCH] Final Jan 6th Hearing Until September Reveals Trump's Dereliction of Duty
From the taped opening statement from Chairman Bennie Thompson, who was out sick with COVID, to the closing statement from Vice-Chair Liz Cheney, Thursday night's January 6th House Select Committee Hearing was dedicated to showcasing Donald Trump's lack of action for a full 187 minutes while he knew a violent mob was attacking the Capitol.
The Committee humiliated Trump repeatedly by playing never-before-seen footage of Trump struggling to tape both his January 6th message for the crowd to go home as well as a taped message to the country a day after the riot. The outtakes show Trump having a hard time with using the word "yesterday" and refusing to say that the "election is over."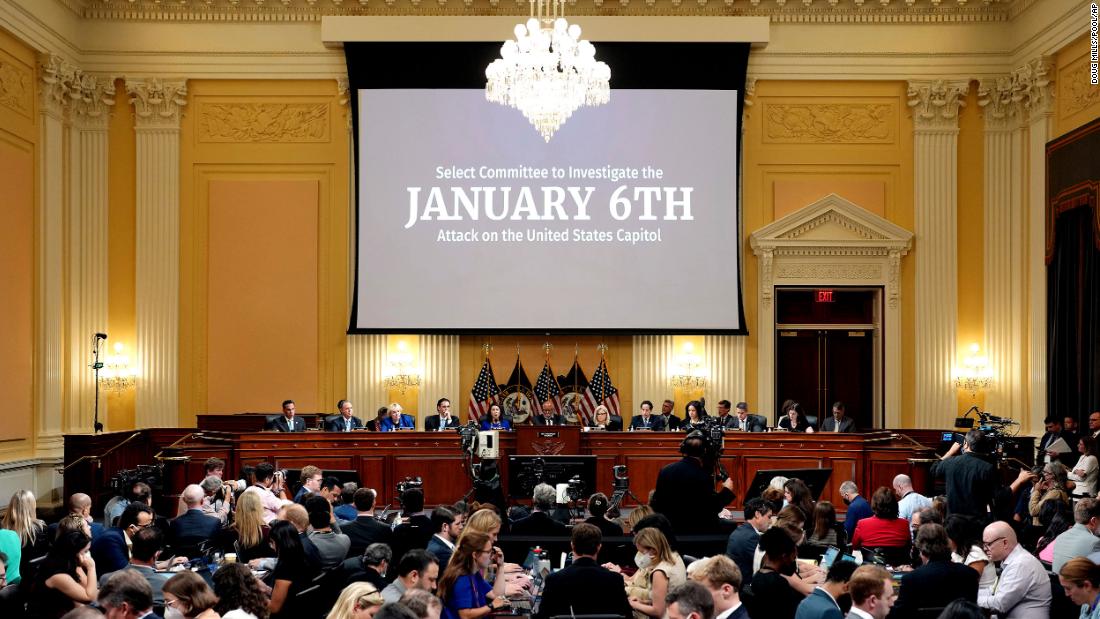 Former White House aide Sarah Matthews and Matthew Pottinger, a former deputy national security adviser, both testified in person and spoke about their personal experiences on January 6th, which would be their last day working for Trump.
Former NSC member Matthew Pottinger on Pres. Trump's tweet about Mike Pence: "That was the moment that I decided that I was going to resign…I simply didn't want to be associated with the events that were unfolding on the Capitol." https://t.co/owxAGW2Qhw pic.twitter.com/jCvccSdJ0T

— ABC News (@ABC) July 22, 2022
The Committee also shared footage from within the Capitol showing just how close the mob had come to Vice President Mike Pence's Secret Service detail, many of whom were so afraid for their personal safety after the rioters breached that they began calling their families to say their last goodbyes.
The Secret Service agents guarding the Vice President called loved ones to say goodbye, thinking they would die.

Let that sink in.

— Clara Jeffery (@ClaraJeffery) July 22, 2022
Led by Committee members Elaine Luria and Adam Kinzinger, the hearing also provided evidence that Trump spent those 187 making phone calls not to the National Guard or the military, but to Rudy Giuliani and Republican Senators to convince them to stick to their obstruction of the vote. Viewers also saw new footage of members of Congress having a call with Acting Secretary of Defense Christopher Miller as to when they might be able to return to the Senate chamber to finish counting the Electoral College votes.
The walls of mar-a-lago are getting a new coat of Heinz right about now.

— Adam Parkhomenko (@AdamParkhomenko) July 22, 2022
There were also two moments of levity amid the otherwise serious hearing: first, when a clip of Josh Hawley running from the mob was shown just before the brief recess, and then again moments later when a clip of Donald Trump Jr's testimony referenced "The Godfather."
Seven seconds of Josh Hawley cowardice (forgive my loud AC) #January6thHearings pic.twitter.com/3mPkZSCs7O

— Tara Dublin (@taradublinrocks) July 22, 2022
Josh Hawley running away to a variety of soundtracks.

Pt. 1: Chariots of Fire #January6thCommitteeHearing pic.twitter.com/tVCf2R5tUD

— Mallory Nees (@The_Mal_Gallery) July 22, 2022
DON JR testified that when he said "this is a go to the mattresses moment" he meant "go all in. It's a godfather reference." The room laughed mockingly at his answer.

— Mueller, She Wrote (@MuellerSheWrote) July 22, 2022
But the main focus was Trump's inaction during those 187 minutes and his lack of remorse once the day was finally over.
Whew, that part!#LizCheney pic.twitter.com/xeYEa6kjWZ

— Christopher Webb🇺🇸 Pro-Choice (@cwebbonline) July 22, 2022
The Committee plans to release a written report in September, when their hearings will also resume.