[WATCH] Dems Race to Codify Roe As Millions Face Loss of Abortion Rights
The New York Times released a new study on Sunday that depicted just how many lives will be impacted should the Supreme Court remove all abortion protections at the federal level, leaving the individual states to enact new laws severely limiting or fully outlawing abortion. More than half of the women and girls of reproductive age in the United States live in the 28 states that could seek to ban or further restrict access to abortion if the Supreme Court were to overturn Roe v. Wade, the Times study found.
Now Democrats will hold a vote on Wednesday to make sure that doesn't happen.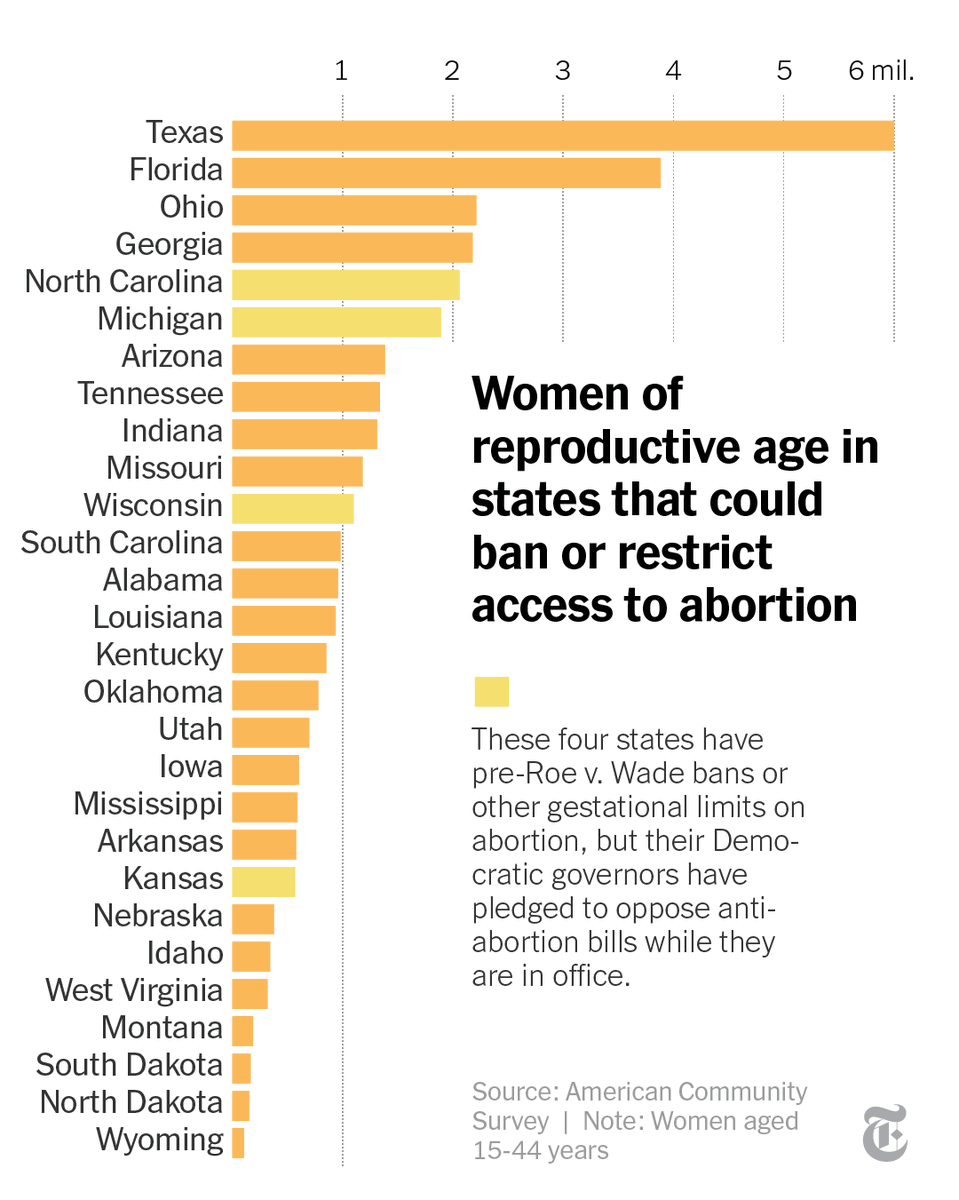 The study also broke down the statistics by race and income disparities, but as in most Red states, the population is mostly white in the same states which have either already enacted stricter abortion access or threatened to once the Supreme Court "struck down" Roe.
States where women risk losing abortion access have a higher level of women and girls living in poverty than in other states. And most women getting abortions are living in poverty or on lower incomes. https://t.co/nizBKoXEcV pic.twitter.com/IZT8znzlb5

— The New York Times (@nytimes) May 8, 2022
But Congressional Democrats, who hold on to a very thin majority, are hoping Wednesday's vote will finally codify Roe, which has been accepted as settled law. Pointing to the unprecedented removal of a Constitutional right, Senate Majority Leader Chuck Schumer (D-NY) called the leaked ruling "an abomination" and promised to finally get the votes on Wednesday to get Roe codified. "Every American will see how every senator stands," Schumer said during a news conference with state leaders in New York. Republicans "can't duck it anymore. Republicans have tried to duck it."
Thirteen deep-red states already have so-called "trigger laws" that would ban abortion almost immediately if Roe is overturned, but the future of abortion access is less certain across several other more moderate states with Republican-controlled legislatures: Arizona, Georgia, Florida, Michigan, Ohio, Texas, and Wisconsin, among them. "We are fighting the fight to preserve women's rights," Sen. Schumer said on Sunday.
Polling shows relatively few Americans want to see Roe overturned. In 2020, AP VoteCast found that 69% of voters in the presidential election said the Supreme Court should leave the Roe v. Wade decision as is; just 29% said the court should overturn the decision. In general, AP-NORC polling finds a majority of the public favors abortion being legal in most or all cases, and a recent Gallup poll showed 80% of Americans were supportive of first-trimester abortions with no limits.
.@margbrennan: Should Democrats have fought harder for abortion rights in 2009?

Speaker Pelosi: "In 2009 we did not have a pro-choice Democratic party…Right now we do have a pro-choice Democratic Congress and we passed the law months ago" pic.twitter.com/almjExDMBt

— Face The Nation (@FaceTheNation) May 8, 2022
The New York Times full report is behind a paywall, but you can read their full Twitter thread starting below.
More than half of the women and girls of reproductive age in the U.S. live in 28 states that could seek to ban or further restrict access to abortion if the Supreme Court were to overturn Roe v. Wade. See our analysis of those states. https://t.co/360gbAvSXT

— The New York Times (@nytimes) May 8, 2022