[WATCH] Capitol Rioter Gets 5 Years In Prison, One of the Longest Terms For Jan 6th Attack
A man who attacked police officers with poles during the January 6th riot at the U.S. Capitol was sentenced on Tuesday to more than five years in prison, matching the longest term of incarceration so far among the hundreds of Capitol riot prosecutions.
Mark Ponder, a resident of Washington DC, was sentenced to 63 months, which edges out the sentence for fellow Capitol rioter Robert Palmer by three months. Of the more than 200 other Capitol riot defendants who have been sentenced so far, none have received a longer prison sentence than Ponder or Palmer.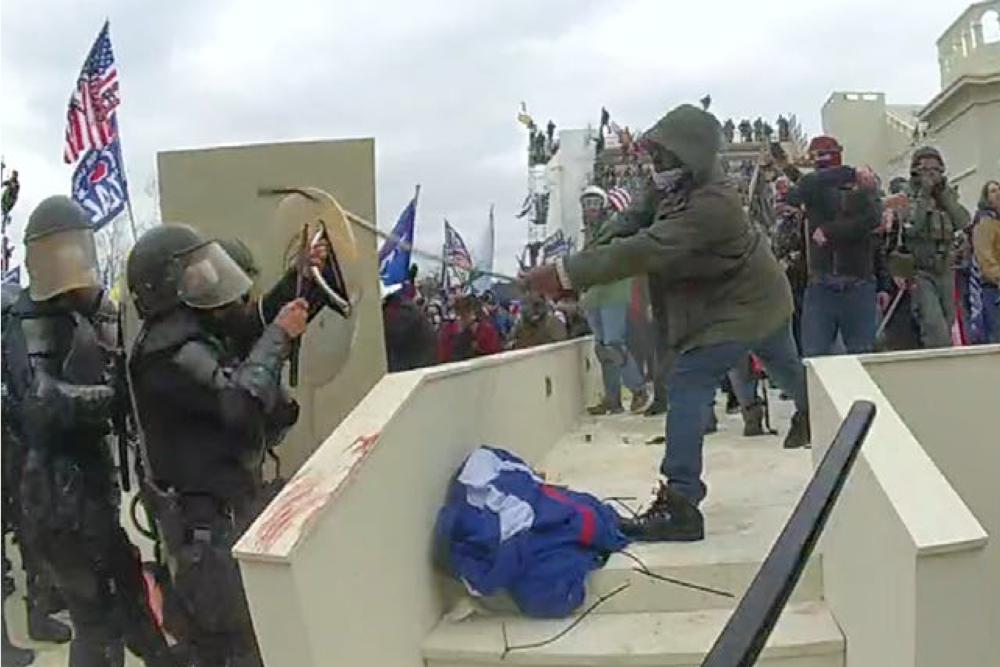 Ponder pleaded guilty in April to an assault charge punishable by a maximum sentence of 20 years in prison. Federal sentencing guidelines called for a prison term ranging from nearly five years to just under six years, and prosecutors had recommended a five-year prison sentence for Ponder, who has been jailed since his arrest in March 2021, but Judge Chutkan wasn't bound by those recommendations.
JUST IN: Judge Tanya Chutkan has sentenced Jan. 6 defendant Mark PONDER to 63 months in prison for assault, one of the stiffest sentences handed down yet, and steeper than DOJ's request for five years.

— Kyle Cheney (@kyledcheney) July 26, 2022
At his sentencing, Ponder claimed he "got caught up" in the movement to storm the Capitol. "I wasn't thinking that day," Ponder told U.S. District Judge Tanya Chutkan, asking her for mercy before she sentenced him to five years and three months. Judge Chutkan said Ponder was "leading the charge" against police officers trying to hold off the mob that disrupted Congress from certifying President Joe Biden's electoral victory. "This is not 'caught up,' Mr. Ponder," she said. "He was intent on attacking and injuring police officers. This was not a protest."
"You have to kill me today," Mark Ponder told police moments before fighting them. Ponder was quickly tackled and arrested by officers. https://t.co/zsthjq8pkG pic.twitter.com/AspTaeycmM

— Emily Molli (@emilymolli) July 19, 2022
There have been 846 people charged with offenses related to the attack on the U.S. Capitol thus far, with more expected as the January 6th House Select Committee and the Department of Justice each continue their separate, but collaborative, investigations.