[WATCH] Bernie Sanders Yells At Lindsey Graham During Debate On Fox News
What if Bernie Sanders debated Lindsey Graham on Fox News but not enough people heard about it because we're living in a constant tsunami of a crazy ridiculous news cycle?
Because that happened on Monday, right around the time the January 6th House Select Committee had finished wrapping up its second televised hearing of compelling testimony from several people close to Donald Trump. Sanders, the Democratic Socialist from Vermont, agreed to a debate with Graham, the South Carolina Trumpublican who's facing very real and serious charges in Georgia in connection with Trump's efforts to overturn the 2020 Presidential election results. Why Graham would agree to face the notoriously blunt Sanders on State TV is another question he'd probably evade answering, so who even knows what to think of this whole thing?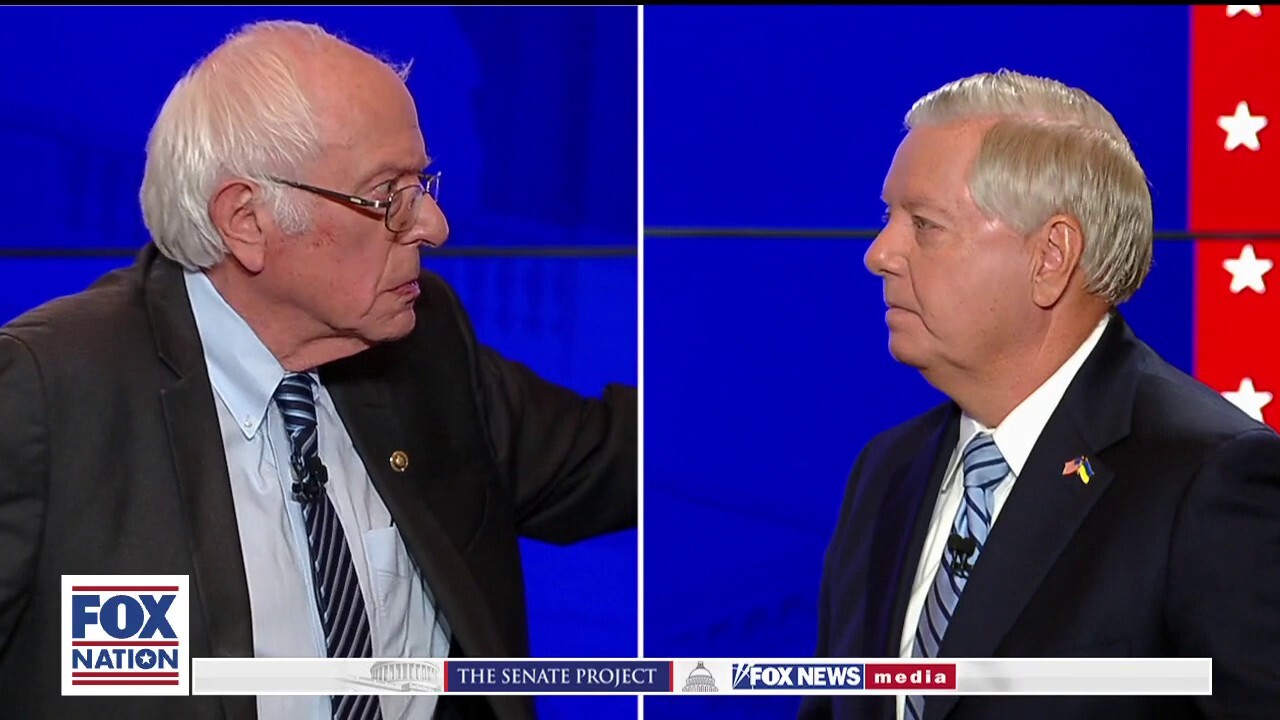 Hosted by Bret Baier, who's occasionally emerged from the Fox News Propaganda Kool Aid Stupor to speak occasion bits of actual truth live on camera before the guys down in the lab can be alerted to replenish his fluids, the debate included such highlights as Sanders dragging Graham from the outset over real issues, then later scolding Graham for only backing candidates within his own party who are still pushing Trump's big election lie.
Bernie Sanders, at age 80, utterly destroying Lindsey Graham in this opening debate statement is a sight to behold. pic.twitter.com/UZcfZ4yXLn

— Kumar Rao (@KumarRaoNYC) June 14, 2022
"I think many leading political scientists will tell you that right now, we're looking, for the first time in my lifetime and yours, at a real threat to the existence of democracy in America," Sanders explained. "And you know why? Because we have a former, his name is Donald Trump, who goes around the country telling people, 'Hey, I won the election. In fact, I probably won it by a landslide but they stole it, they took it away from me.'"
Lindsey Graham lacks any substance, so of course he routinely leaned on red scare tactics in his debate against Bernie Sanders. pic.twitter.com/ZnZrfjNyJG

— Alex 🍥 (@azbro33) June 14, 2022
"That happens to be what we call a Big Lie," he continued. "And yet, many of the Republicans that Sen. Graham is asking you to vote for are maintaining that Big Lie. What does that mean? It goes beyond Trump, it goes beyond the 2020 election."
Graham responded by agreeing that Trump lost the election. "What about all of the candidates out there that are trying to say that he didn't?" Sanders asked. "Your Republican candidates that you want people to vote for." Graham, out of answers because he never had any to begin with, then diverted in typical Republican fashion. "Well, what about the people saying defund the police," Graham shot back. "You talk to them. I'll talk to that crowd."
At a debate today, Lindsey Graham laughed off a warning from Bernie Sanders about the danger of "authoritarianism" brought on by Trump's "Big Lie." pic.twitter.com/pDzNhhW3K6

— David Edwards (@DavidEdwards) June 13, 2022