[WATCH] AOC & Maxine Waters Join Protesters Gathered Outside SCOTUS After Roe Reversal
The crowd that had gathered Friday to protest the Supreme Court's decision to remove the Constitutional right to privacy from the majority of Americans was joined by members of Congress who stood with them against the ruling.
Reps. Alexandria Ocasio-Cortez (D-NY) and Maxine Waters (D-NY) were among those who called for all Americans to protest in their cities against the ruling, which effectively ends legal and safe abortions in at least half of the states. "Overturning Roe and outlawing abortions will never make them go away, " AOC tweeted earlier in the day. "It only makes them more dangerous, especially for the poor + marginalized. People will die because of this decision. And we will never stop until abortion rights are restored in the United States of America."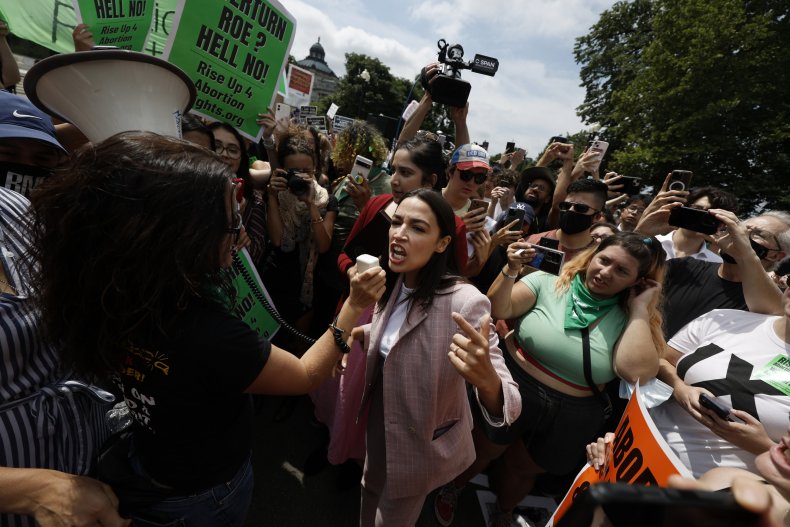 After the ruling, AOC gave a passionate speech on the House floor regarding the dangerous new precedent being set by the imbalanced Supreme Court.
AOC: We are talking about a court with the majority of justices appointed by a party that has not won a popular presidential election more than once in 30 years ruling against the majority of Americans. pic.twitter.com/X7wd2HV0ei

— Acyn (@Acyn) June 24, 2022
Ocasio-Cortez, never once to mince words, laid it out.
Rep. Waters was equally fiery in her own comments. "The hell with the Supreme Court!" she said while outside the Court.
"The hell with the Supreme Court!" Maxine Waters is all of us. pic.twitter.com/XiDVZnw7LH

— Mike Sington (@MikeSington) June 24, 2022
Waters also tweeted her support for abortion rights.
Today, I stand in solidarity with the 36 MILLION women being stripped of their right to decide what is best for themselves. We WILL keep fighting! #BansOffOurBodies

— Maxine Waters (@RepMaxineWaters) June 24, 2022
Protests were popping up nationwide Friday afternoon as Missouri rushed to become the first state to negate all women's bodily autonomy with the same glee of being first to get through the gates at a truck pull.
LIVE: Los Angeles abortion-rights activists stage a protest https://t.co/XOcYGK9xW8

— Reuters (@Reuters) June 24, 2022
Right-wing Twitter accounts seized upon their calls to action and tried to twist the message into calls to violence, but liberal Twitter wasn't having any of that.
Our democracy is under attack from Republicans.

AOC is calling for Americans to keep exercising their First Amendment rights while we still have them #LouderThanMAGA #GetInTheStreets @AOC https://t.co/etySBnxYiP

— Tara Dublin ☮️🇺🇦🌻 (@taradublinrocks) June 24, 2022
The Governors of Blue states have already begun implementing their plans to be sanctuaries for those seeking reproductive care, with the entire West Coast already deemed a "Sanctuary Zone" by the three state Governors.
After SCOTUS issued a decision to overturn Roe v. Wade on Friday morning, Gavin Newsom, Jay Inslee, & Kate Brown—the Democratic governors of California, Washington, & Oregon, respectively—issued a joint video pledging to band together to protect abortion access in their states. pic.twitter.com/DMWmGdYJEq

— NowThis (@nowthisnews) June 24, 2022
Abortion rights activists have promised to make Roe their number one issue for the November midterms.