[WATCH] A Fist Bump, Then An Accusation: President Biden Speaks His Mind During Meeting With MBS in Saudi Arabia
President Joe Biden was well aware his trip to the Middle East this week would be fraught with controversy, particularly when he touched down in Saudi Arabia for a meeting with Crown Prince Mohammed bin Salman. While he shook hands with the other leaders he met–breaking COVID protocols–President Biden kept it to a fist bump with MBS,  whom U.S. intelligence believes likely approved the killing four years ago of American-based journalist Jamal Khashoggi.
While the President is seeking a relationship that could reshape security partnerships in the Middle East and the flow of oil worldwide, he made it very clear he rejected the idea that he was ignoring the kingdom's human rights abuses. "I said, very straightforwardly, for an American president to be silent on an issue of human rights is inconsistent with who we are and who I am," President Biden said. "I'll always stand up for our values."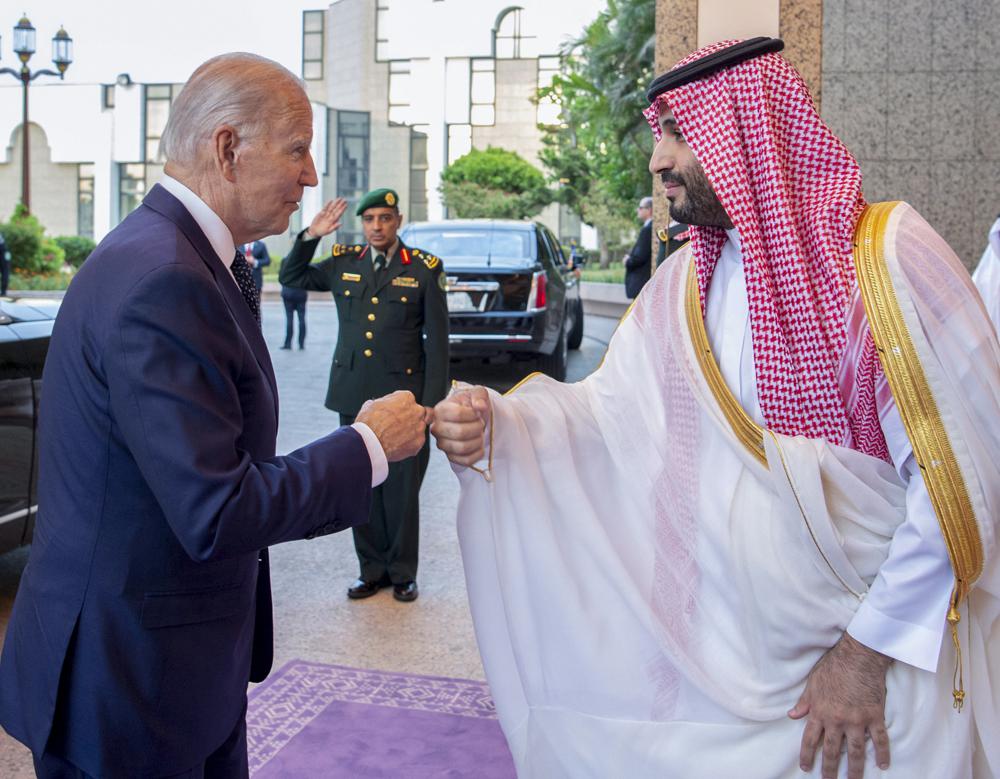 Despite it being their first encounter, President Biden seemed to approach it as a necessary yet subtextually distasteful step to improve relations with the world's top oil exporter at a time of rising gas prices and concern about Iran's nuclear ambitions. Ever the diplomat, President Biden was tactful but didn't hold back, telling the press that Prince Mohammed, who still enjoys a close relationship with Donald Trump, claimed that he was "not personally responsible" for the death. "I indicated I thought he was," the President said he replied.
As POTUS Trump defended MBS post Kashoggi's murder, the 🇸🇦 tyrant bragged Kushner gave him classified intel, which MBS used to purge foes & consolidate power. In turn Jared got $2Bil & Trump's resort will host a $100Mil Saudi Golf Tourney.
The Trumps LITERALLY are in MBS' pocket. https://t.co/8NZ7XBM9vK

— Rula Jebreal (@rulajebreal) July 14, 2022
After the three-hour meeting, it appeared that the two leaders were making tentative steps forward together. President Biden announced that U.S. peacekeepers would leave the Red Sea island of Tiran by the end of the year. Saudi Arabia hopes to develop tourist attractions there, part of the kingdom's effort to expand its economy beyond oil.
Join me as I deliver remarks in Jeddah, Saudi Arabia. https://t.co/aeZgDhQ9aU

— President Biden (@POTUS) July 15, 2022
Because of a complex diplomatic arrangement governing control of the strategically located island, America's departure required Israel's assent, and the deal was the latest reflection of warmer relations between the Israelis and Saudis.