VP Harris Meets With Experts to Discuss National Ramifications of SCOTUS Overturning Roe v Wade
Vice President Kamala Harris led a roundtable discussion on Tuesday with experts in the fields of constitutional law, privacy, and technology to discuss the legal and everyday implications of the Supreme Court potentially overturning Roe v. Wade.
The White House has been bracing for the conservative-led high court to overturn the landmark case, which allows for a constitutional right to an abortion. The court is nearing the end of its term and could issue a decision before the end of this month, and significantly, before Justice Ketanji Brown Jackson is sworn in. The expected move would follow last month's publication of a leaked draft majority opinion written by Justice Samuel Alito that showed the court is poised to strike down the more than 50-year-old decision.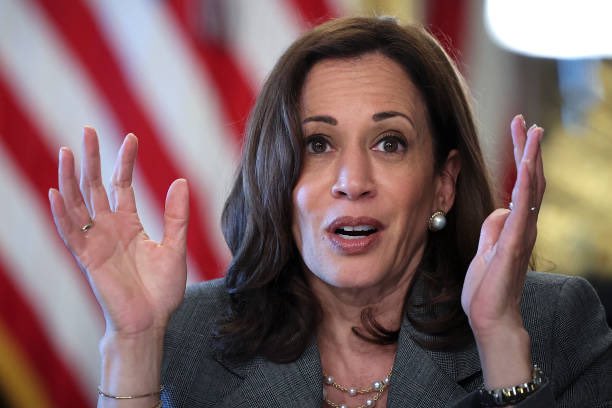 In the wake of the draft opinion's leak, VP Harris has focused on the issue of privacy rights in an effort to explain the far-reaching implications Americans could face should the abortion ruling be overturned.
Today is the anniversary of the Supreme Court's decision in Griswold v. Connecticut, recognizing that the right to privacy protects the right to access and use contraception. The right to privacy in Griswold is what underlies Roe v. Wade. Here's what it all means. pic.twitter.com/Opge7xS1Jq

— Vice President Kamala Harris (@VP) June 7, 2022
She was joined on Tuesday by Jennifer Klein, White House Gender Policy Council Director, and Julie Chavez Rodriguez, White House Intergovernmental Affairs Director, who convened a meeting with state legislative leaders from Colorado, New Mexico, and Nevada on reproductive rights, among others.
Excited to join @LeahLitman, @michelebgoodwin, @CohenProf, @jweisswolf, and my @nyulaw colleague Peggy Cooper Davis tomorrow @WhiteHouse as we brief @VP on the repro rights landscape.https://t.co/FhQW8QkpfK

— Melissa Murray (@ProfMMurray) June 14, 2022
VP Kamala Harris lists her privacy concerns if Roe v. Wade is overturned:

"The vulnerability of women who are using menstrual tracking apps, those who use a search engine … States with abortion bans could potentially restrict IVF." pic.twitter.com/JzeKDUx8e6

— The Recount (@therecount) June 14, 2022
Legislators from all three states discussed specific policy measures that would advance women's reproductive health, including expanding coverage of abortion care and protecting the safety and security of doctors and clinics. They also discussed the need to prepare for an anticipated surge in out-of-state patients seeking abortion care; after Texas's six-week abortion ban went into effect last September, some clinics in the region experienced a 500% increase in patients.
'I do believe that we should prepare for the right to privacy to be attacked' — VP Kamala Harris shares her concerns if Roe v. Wade is overturned, including the issue of data privacy when it comes to people who are seeking information on their reproductive health pic.twitter.com/ufk40vOmK3

— NowThis (@nowthisnews) June 14, 2022