US Warns Russian Invasion of Ukraine Could Come 'Any Day'
The Biden administration escalated its dire warnings about a possible Russian invasion of Ukraine on Friday, saying it could take place within days, even as diplomatic efforts to resolve the crisis continued. President Joe Biden spoke to a number of European leaders on Friday to underscore the concerns raised by U.S. intelligence about the potential imminence of a Russian invasion.
Continuing its military buildup near Ukraine, Russia has moved six amphibious assault vessels into the Black Sea, augmenting its capability to land marines on the coast. Moscow has announced sweeping drills in the Black and Azov seas in the coming days and closed large areas for commercial shipping, drawing a strong protest from Ukraine on Thursday.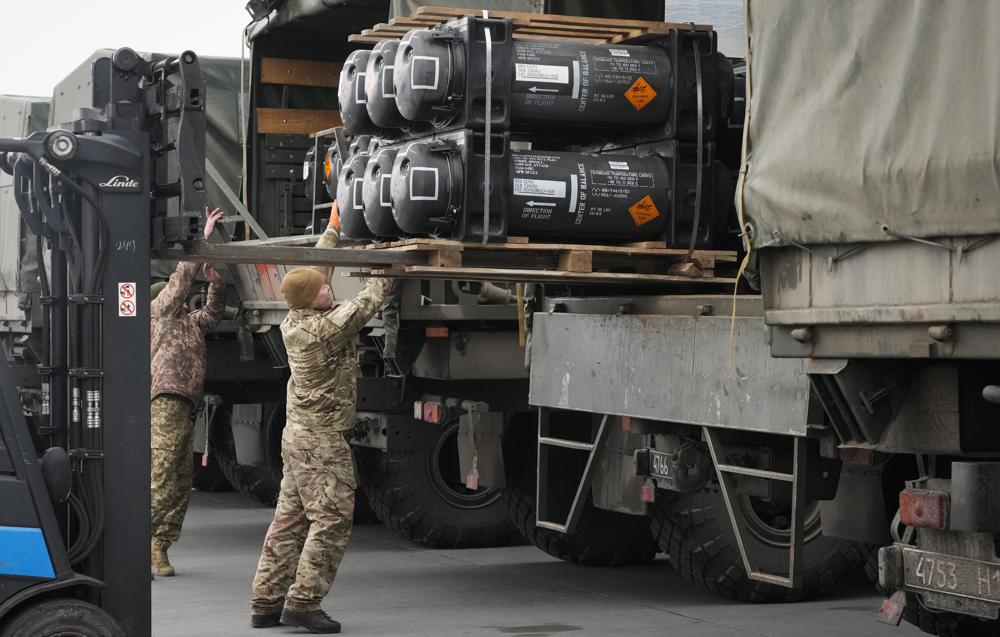 The White House said it still didn't know if Russian President Vladimir Putin had made a decision to invade, but it said Putin has assembled all the elements to do so quickly and told Americans in Ukraine to leave within the next 48 hours.
So, in a weeks time, we'll know who was telling the truth. America's intelligence services or the Russian government, which keeps insisting it has no intention of invading Ukraine. https://t.co/YUdyacAVGT

— Bryan MacDonald (@27khv) February 11, 2022
The stark warning accelerated the projected timeframe for a potential invasion, which many analysts believed was unlikely to start until after the Winter Olympics in China end on February 20th. But Secretary of State Antony Blinken, who is currently in Australia, was the first senior U.S. official to say publicly that an invasion could come before the end of the Olympics. The heightened U.S. rhetoric followed new intelligence that showed another increase in Russian troops near the Ukrainian border and the start of a major Russian military exercise in neighboring Belarus.
The United States, our allies, and our partners stand united with Ukraine. Together, we urge Russia to de-escalate and resolve this situation diplomatically. The territorial integrity and sovereignty of Ukraine must be protected. pic.twitter.com/eJSE3J0BFM

— Secretary Antony Blinken (@SecBlinken) February 4, 2022
"We can't pinpoint the day at this point, and we can't pinpoint the hour, but that is a very, very distinct possibility, National Security Adviser Jake Sullivan said. "The strong possibility of action, the distinct possibility of action, in a relatively near term time frame … is backed up by our view of what's happening on the ground." Sullivan said the Western leaders were completely united and would respond harshly to a Russian invasion with devastating economic and trade sanctions. Repeating Blinken's earlier caution to U.S. citizens in Ukraine, Sullivan said: "The risk is high enough and the threat is now immediate enough that prudence demands that it is the time to leave now."
Jake Sullivan urges US citizens to leave Ukraine, says a Russian invasion, if it happens, "is likely to begin with aerial bombing and missile attacks that could obviously kill civilians without regard for their nationality." pic.twitter.com/NsDbeNdCFR

— Aaron Rupar (@atrupar) February 11, 2022
Sullivan would not discuss the details of the intelligence behind the new U.S. assessment and denied a report that American officials believe Putin has made the decision to invade. But he said the situation is increasingly fragile and that the U.S. and its allies "must be prepared."
National Security Advisor Jake Sullivan urges Americans to leave Ukraine before possible Russia invasion:

"The president will not be putting the lives of our men and women in uniform at risk by sending them into a warzone to rescue people who could've left now but chose not to." pic.twitter.com/rhxgCfG2BK

— The Recount (@therecount) February 11, 2022
[This is a developing story, please check back for updates]