US Expelling 12 Russian Diplomats from UN Mission
Vladimir Putin has menaced Ukraine for months, positioning military forces along the border and resisting the diplomatic overtures of the West aimed at de-escalating tensions. President Joe Biden had been warning of an invasion, but until this week there had been a sense — including in Russia and Ukraine, where life had been going on mostly as normal until Thursday's pre-dawn attack–that Putin was bluffing. But then the siege began.
Now the United States is expelling 12 Russian diplomats at the United Nations for engaging in activities not in accordance with their responsibilities and obligations as diplomats. They have all been declared "persona non grata" by U.S. authorities and were instructed to leave the country by March 7th.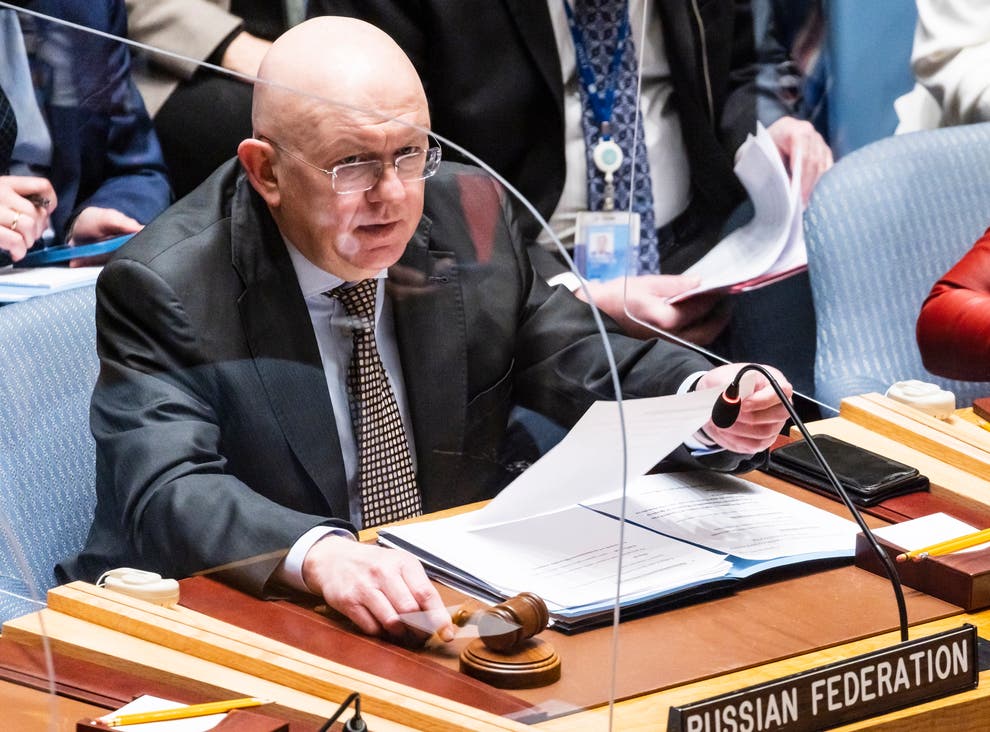 U.S. Deputy Ambassador Richard Mills confirmed the expulsions after Russia's UN Ambassador Vassily Nebenzia told the Security Council on Monday afternoon that he had just been informed. Nebenzia described the move as "yet another hostile step undertaken by the host country" against the Russian Mission. He called the expulsions a "gross violation" of the UN agreement with the U.S. as the host of the United Nations and of the Vienna Convention governing diplomatic relations.
We are taking this action in accordance with the headquarters agreement. Today's action has been in the works for several months.

— Olivia Dalton (@USUNSpox) February 28, 2022
The announcement comes as the world continues to criticize Putin's unsupported invasion of Ukraine. Last week, President Joe Biden announced directed sanctions at Putin and his foreign minister, Sergei Lavrov, after the U.S. and its European allies announced their original round of sanctions against Russia. In a move that surprised many, Putin has agreed to end strikes against civilian targets.
BREAKING: Vladimir Putin told French Pres. Emmanuel Macron he'll stop strikes against civilian targets, according to the Elysée, and that he'll preserve civilian infrastructure to secure main roads, including the road south of Kyiv. https://t.co/WklsBKILKo

— ABC News (@ABC) February 28, 2022
Russian troops had breached the Ukrainian capital of Kyiv over the weekend, but the Ukrainian Army and ordinary citizens stood their ground to hold them off.
Ukrainian woman confronts Russian soldiers in Henychesk, Kherson region. Asks them why they came to our land and urges to put sunflower seeds in their pockets [so that flowers would grow when they die on the Ukrainian land] pic.twitter.com/ztTx2qK7kB

— UkraineWorld (@ukraine_world) February 24, 2022
The Ukrainian Ambassador to the United Nations made it abundantly clear where he and his people stand on the Russian dictator's unilateral decision to invade.
"If [Putin] wants to kill himself, he doesn't need to use nuclear arsenal. He has to do what the guy in Berlin did in a bunker in May 1945."

— Sergiy Kyslytsya, Ukrainian Ambassador to the United Nations pic.twitter.com/KaN9NgZyP3

— The Recount (@therecount) February 28, 2022
Putin's war has been met with protests from Russian citizens who took to the streets under threat of arrest.
Sitting alone in a wartime city in the night, sipping iced whiskey, listening to the sound of air raid sirens roar, looking into the dark of the street.
I will never forgive them for what they did to the Kyiv we love.

— Illia Ponomarenko (@IAPonomarenko) February 28, 2022
[This is a continuing and developing story, please check back for updates]