Unsupported In His Invasion, Putin Faces Increased Direct Sanctions From US and Europe
The United States and its European allies said on Friday they were stepping up sanctions over Russia's invasion of Ukraine by adding measures directly targeting Vladimir Putin and his foreign minister, putting diplomatic appeals to one side as Russia's forces closed on Ukraine's capital. The US and Europe had already announced sweeping asset freezes and other penalties Thursday against Russia's banks, state-owned enterprises and elites, but they spared Russia's leader and foreign minister in that round.
The move by the U.S., the European Union, and Britain sends "a clear message about the strength of the opposition to the actions" by Putin, said White House Press Secretary Jen Psaki, who said the U.S. was preparing individual sanctions on Putin and Foreign Minister Sergey Lavrov, likely to include travel bans. The announcement came hours after the European Union announced it intended to freeze Putin's assets, and British Prime Minister Boris Johnson told NATO leaders his country would also sanction Putin and Lavrov.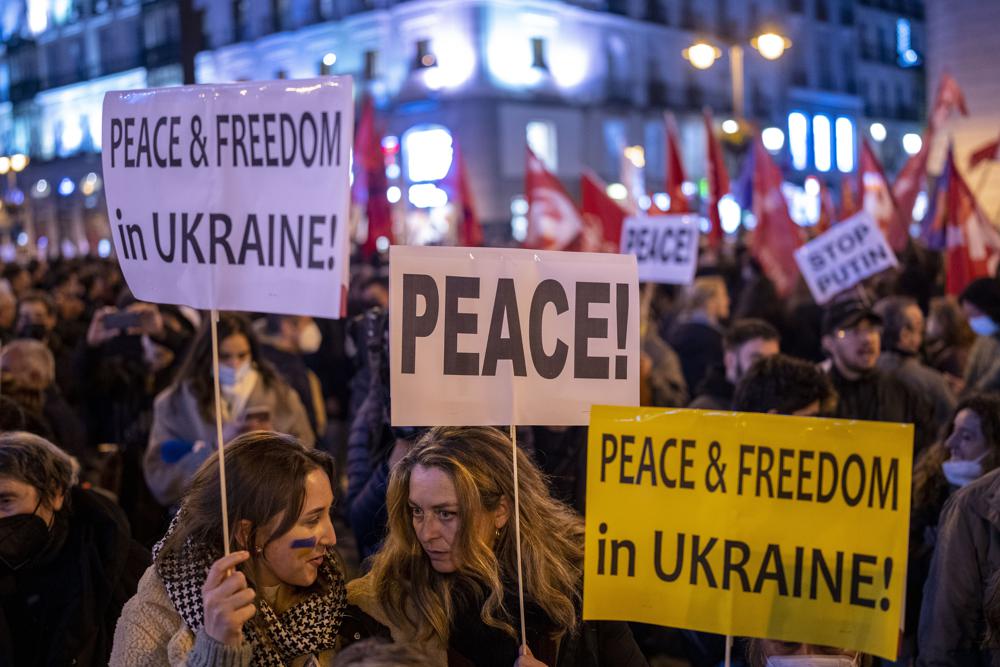 Asked by reporters if U.S. President Joe Biden had planned any more direct diplomatic overtures toward Putin, whose ground, air, and amphibious forces are all pushing an offensive on Ukraine's key cities, Psaki said no. "I would say that a moment where a leader is … in the middle of invading a sovereign country is not the moment where diplomacy feels appropriate," Psaki told reporters at a White House briefing. "It does not mean we have ruled out diplomacy forever." Psaki also said the U.S. would also newly sanction the Russian Direct Investment Fund, which functions as a sovereign wealth fund meant to draw capital into the Russian economy.
The Secretary of Treasury will also be imposing full blocking sanctions on the Russian Direct Investment Fund–a state owned financial entity that functions as a sovereign wealth fund, which is supposed to attract capital into the Russian economy in high-growth sectors.

— Jen Psaki (@PressSec) February 25, 2022
While the sanctions to be imposed would not ban contact between, for example, Putin and President Biden, or U.S. Secretary of State Antony Blinken and Lavrov, they put a new chill on what had been weeks of repeated diplomatic efforts with Russia as Putin built up forces on Ukraine's borders. The debate on including Lavrov was one of the reasons the individual sanctions were not announced with Thursday's other measures.
Held talks with 🇬🇧 PM @BorisJohnson. Reported on the course of 🇺🇦's defense and insidious attacks on Kyiv by the aggressor. Today 🇺🇦 needs the support of partners more than ever. We demand effective counteraction to the Russian Federation. Sanctions must be further strengthened.

— Володимир Зеленський (@ZelenskyyUa) February 25, 2022
As explosions and gunfire were sounding in Kyiv's capital, the sanctions were part of growing global condemnation of the offensive. In a peacemaking effort, Pope Francis went to Russia's embassy in Rome to personally make a diplomatic appeal for an end. In Moscow, Russian citizens who overwhelmingly do not support Putin's invasion took to the streets to protest the violence in Ukraine. Police arrested several protestors who had assembled en masse despite multiple government warnings that anyone speaking out against Putin would face serious consequences.
#UPDATE In a video released by the Ukrainian president's office Friday night, Zelensky says "Special attention on Kyiv –- we cannot lose the capital … Tonight they (Russia) will attempt a storm" pic.twitter.com/UX3n6o1bRo

— AFP News Agency (@AFP) February 25, 2022
Admonishing Russia further, the Council of Europe suspended Russia from the continent's foremost human rights organization. The 47-nation council said Russia remained a member and continued to be bound by the relevant human rights conventions.
The Council of Europe has suspended Russia's rights of representation.https://t.co/V8uUfjBkm3 pic.twitter.com/LfVLnNfvDz

— Council of Europe (@coe) February 25, 2022