Unholy Alliance? Xi and Putin Urge NATO to Rule Out Expansion Amid Ukraine Invasion Rumors
China's Xi Jinping and Vladimir Putin of Russia have signed a joint statement calling on the west to "abandon the ideologized approaches of the Cold War", as the two leaders showcased their warming relationship in Beijing at the start of the Winter Olympics.
The two leaders, who were meeting for the 38th time since 2013, pledged to step up cooperation to thwart "color revolutions" and external interference, vowed to further deepen "back-to-back" strategic coordination. They also said the "bonds between the two countries" had "no limits". "There are no 'forbidden' areas of cooperation," they declared. Friday's meeting was Xi's first face-to-face engagement with a foreign leader in nearly two years. The Chinese leader has not left the country since January 2020, when it was grappling with its initial Covid-19 outbreak and locked down the central city of Wuhan where the virus was first reported.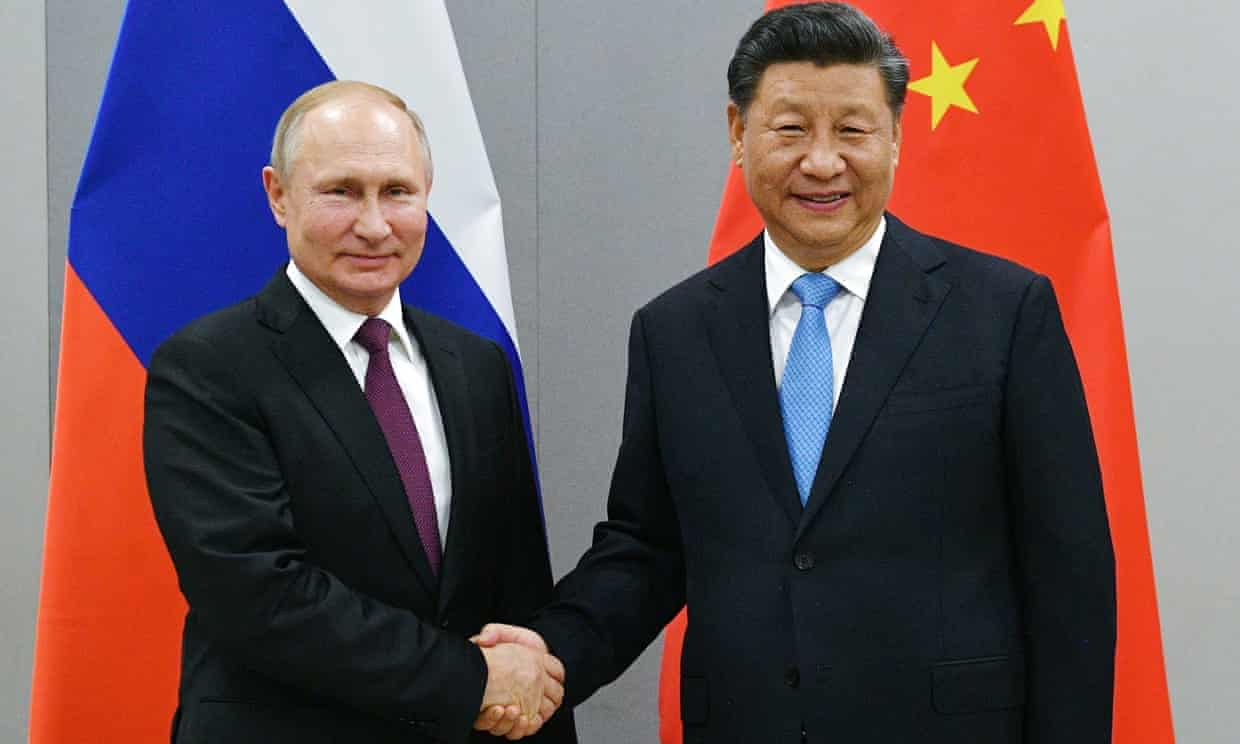 In a joint statement released by the Kremlin, Putin, and Xi called on NATO to rule out expansion in eastern Europe, denounced the formation of security blocs in the Asia Pacific region, and criticized the AUKUS trilateral security pact between the US, the UK, and Australia.
Russian President Vladimir Putin and Chinese President Xi Jinping unveiled a global alliance with an anti-Western tilt, just hours before the grand opening of the Olympics in Beijing https://t.co/QkYaKi98MY pic.twitter.com/GblHVGFW8v

— Reuters (@Reuters) February 4, 2022
The statement declared that the new Sino-Russia relations were "superior to political and military alliances of the cold war era". It shows the ambitions and anxieties China and Russia both share, and how they have increasingly found common interest in their respective disagreements with western powers, analysts say.
President Vladimir Putin of Russia met with President Xi Jinping of China in Beijing in a move to strengthen ties between the two countries. The meeting is the first that Xi has held in person with a foreign counterpart in nearly two years. https://t.co/ToMMEms37z pic.twitter.com/hkalwRYaiG

— The New York Times (@nytimes) February 4, 2022
The leaders of both France and Germany have said they plan to travel to Moscow in the coming weeks to continue talks with Putin and head off a potential invasion of Ukraine. The French president, Emmanuel Macron, is expected to visit Moscow on Monday and then travel on to Kyiv on Tuesday, as he practices shuttle diplomacy between Putin and the Ukrainian president, Volodymyr Zelenskiy. Germany's Olaf Scholz will travel to Kyiv on February 14th and head on to Moscow the next day.
Putin meets with Chinese President Xi. @IanPannell breaks down what this means amid rising tensions with Ukraine. https://t.co/xG3RZA6mWt pic.twitter.com/Ghjnps1P6B

— Good Morning America (@GMA) February 4, 2022
Speaking to Russia's "interests" in Ukraine, China said it "understands and supports the proposals put forward by the Russian Federation on the formation of long-term legally binding security guarantees in Europe."
"Here are the two largest autocrats, apparently in sync," says Bill Taylor, fmr. US Amb. to Ukraine, of Russia's Vladimir Putin and China's Xi Jinping.

For China, however, Taylor notes that when it comes to "their economic benefits, their economic equities, it may be different." pic.twitter.com/GwcsEzpkLn

— The Lead CNN (@TheLeadCNN) February 4, 2022