Ukraine Braces for Russian Push Towards Capital As World Criticizes Putin's Invasion
Kyiv residents braced Saturday for another night sheltering underground, as Russian troops closed in on Ukraine's capital and skirmishes were reported on the outskirts. Ukraine's Infrastructure Ministry said a Russian missile was shot down before dawn Saturday as it headed for the dam of the sprawling water reservoir that serves Kyiv, and Ukraine said a Russian military convoy was destroyed near the city early Saturday.
Ukraine's leader, meanwhile, vowed to continue fighting the Russian assault as he appealed for more outside help. "The real fighting for Kyiv is ongoing," President Volodymyr Zelenskyy said in a video message in which he accused Russia of hitting infrastructure and civilian targets. "We will win," he said.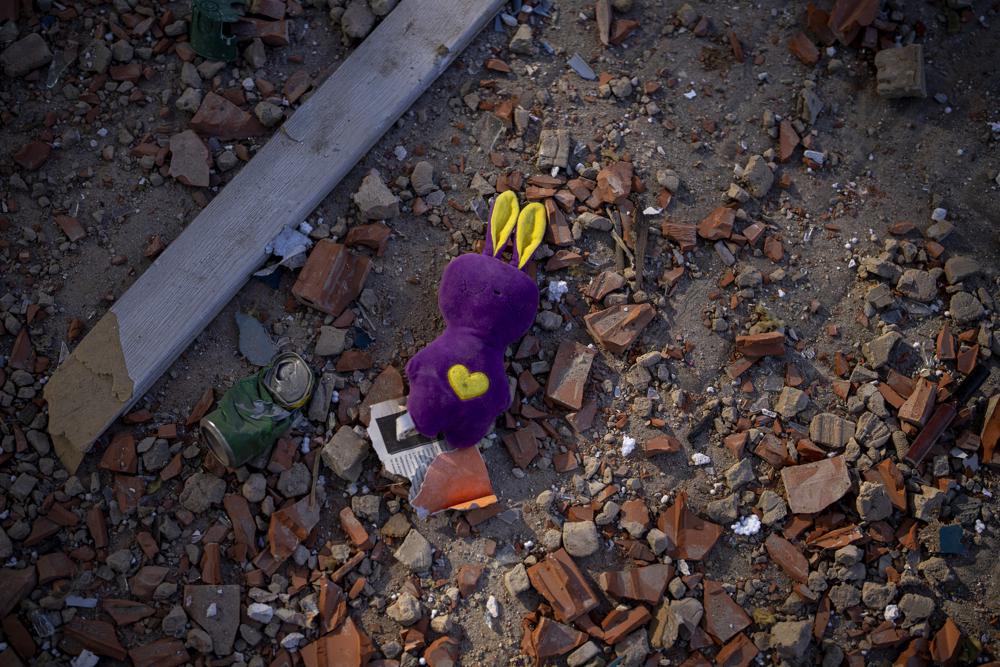 Putin sent his troops into Ukraine after he spent weeks denying that's what he intended, all the while building up a force of almost 200,000 troops along the countries' borders. He claims the West has failed to take seriously Russia's security concerns about NATO, the Western military alliance that Ukraine aspires to join. But he has also expressed scorn about Ukraine's right to exist as an independent state.
Anybody claiming that what Putin is doing to Ukraine is due to Biden's "weakness" should just go on ahead and admit that to you, "strength" means kissing Putin's behind snd letting him break up NATO and take Ukraine without American opposition. Because THAT was Trump's policy.

— Joy-Ann (Pro-Democracy) Reid 😷 (@JoyAnnReid) February 26, 2022
Central Kyiv appeared quiet on Saturday, though sporadic gunfire could be heard. And fighting on the city's outskirts suggested that small Russian units were trying to clear a path for the main forces. Britain and the U.S. said the bulk of Russian forces were 19 miles (30 kilometers) from the center of the city.
Zelensky drinking coffee and chatting with his fellow Kyiv defenders this morning.

Imagine what a moral boost it must be for these troops to have the freakin' president literally fighting next to you.

What a badass. pic.twitter.com/PQPTkoC5bX

— Nick Knudsen (@NickKnudsenUS) February 26, 2022
Ukraine's health minister reported Saturday that 198 people, including three children, had been killed and more than 1,000 others had been wounded during Europe's largest land war since World War II. It was unclear whether those figures included both military and civilian casualties.
This is what you're supporting when you support Putin, #PutinsGOP #StandWithUkraine #PutinIsAWarCriminal #PutinHitler https://t.co/DLaxHfQZZk

— Tara Dublin (@taradublinrocks) February 26, 2022
Putin claims his assault on Ukraine is aimed only at military targets, but bridges, schools, and residential neighborhoods have been hit since the invasion began Thursday with air and missile strikes and Russian troops entering Ukraine from the north, east, and south. The conflict has driven thousands of Ukrainians from their homes in search of safety. U.N. officials said more than 120,000 Ukrainians had left the country for Poland, Moldova, and other neighboring nations.
aside from harming russias global partnerships and making nations like finland and sweden reconsider neutralization and nato membership, putin has also turned zelensky from a somewhat unpopular figure into an absolute hero. really failing on all fronts here. pic.twitter.com/BnNPxHCByo

— hasanabi (@hasanthehun) February 26, 2022
If the Russian troops succeed, Ukraine would be cut off from access to all of its sea ports, which are vital for its economy. In Mariupol, Ukrainian soldiers guarded bridges and blocked people from the shoreline amid concerns the Russian navy could launch an assault from the sea.
Ukrainian President Volodymyr Zelensky vows to stay and fight the Russian invaders.
"I am here. We will not lay down any weapons. We will defend our state, because our weapons are our truth," #Ukraine #Russia #Putin #NATO #Kyiv pic.twitter.com/SuNs2hMTsU

— Russia-Ukraine Latest News (@RussiaUkraineNs) February 26, 2022
The United States and other NATO allies have sent weapons and other aid to Ukraine and beefed up their troops on NATO's eastern flank, but ruled out deploying troops to fight Russia. Instead, the U.S., the European Union, and other countries have slapped wide-raging sanctions on Russia, freezing the assets of Russian businesses and individuals including Putin and his foreign minister.
Truth – Biden has made hard intelligence public -transparently – and it turned out true & it boxed Putin in – he's rallied nato and world community – and handled this crisis with a sure even hand .
JUST imagine if trump were still president.

— John Cusack (@johncusack) February 26, 2022
[This is a continuing and developing story, please check back for updates]