U.S. Speeds Up Entry For Ukrainians Crossing at Mexican Border
The United States has sharply increased the number of Ukrainians admitted to the country at the Mexican border as even more refugees fleeing the Russian invasion are following the same circuitous route from eastern Europe to America.
According to the Associated Press, Tijuana has suddenly become a final stop for Ukrainians seeking refuge in the United States, where they are drawn by friends and families ready to host them and are convinced the U.S. will be a more suitable haven than Europe. A government-run recreation center in the Mexican border city of Tijuana grew to about 1,000 refugees Thursday as a canopy under which children played soccer only two days earlier was packed with people in rows of chairs and lined with bunk beds.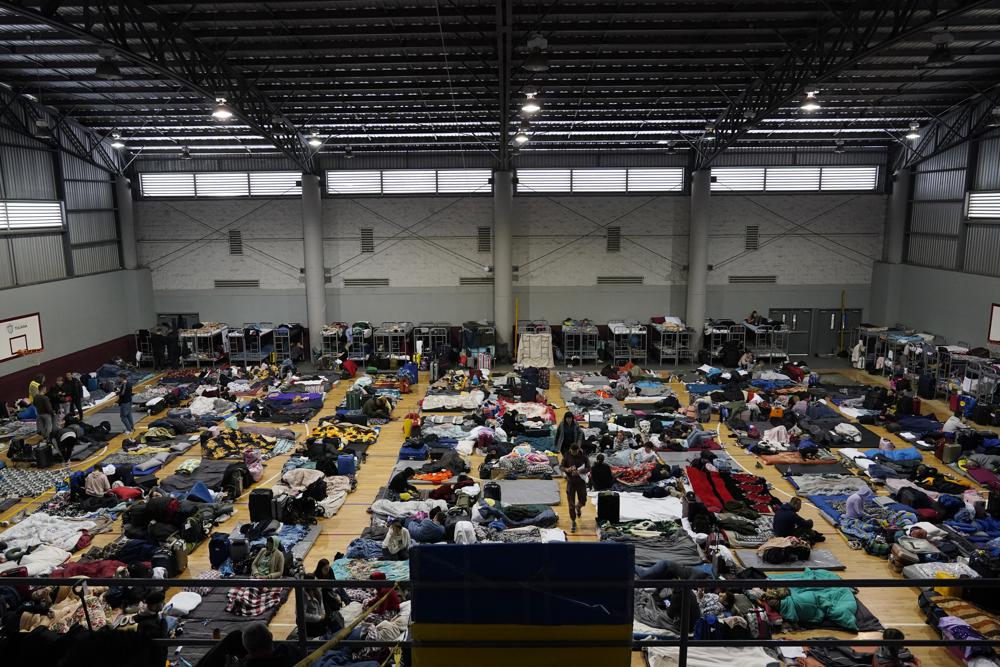 A volunteer coalition, largely from Slavic churches in the western United States, is guiding hundreds of refugees daily from the Tijuana airport to temporary shelters, where they wait two to four days for U.S officials to admit them on humanitarian parole. In less than two weeks, volunteers worked with U.S. and Mexican officials to build a remarkably efficient and expanding network to provide food, security, transportation, and shelter.
Right now, the Ukrainian shelter in Tijuana. It's not perfect. These things rarely are. Notice the lack of cages. Freedom of movement. Families staying together. We can do this for Black & Brown asylum seekers too! @POTUS @VP pic.twitter.com/eFul82g8CX

— Jenn Budd (@BuddJenn) April 4, 2022
The volunteers, who wear blue and yellow badges to represent the Ukrainian flag but have no group name or leader, started a waiting list on notepads and later switched to a mobile app normally used to track church attendance. Ukrainians are told to report to a U.S. border crossing as their numbers approach, a system that organizers compare to waiting for a restaurant table.
More than 1,000 Ukrainians are estimated to be waiting in Tijuana, just a bus ride away from the U.S. border.

It is the same location where asylum-seekers from the Caribbean and Latin America have previously gathered — and they say they still need help, too. pic.twitter.com/9h0HykC4yJ

— CBS Mornings (@CBSMornings) April 4, 2022
U.S. officials began sending the Ukrainian refugees to a pedestrian crossing in San Diego on Wednesday which is temporarily closed to the public, hoping to process 578 people a day there with 24 officers, Enrique Lucero, the city of Tijuana's director of migrant affairs, told the AP.
From our @WCKitchen team in Tijuana…Over 2,000 Ukrainians are now on the US border seeking asylum, many at Benito Juarez shelter we serve. Today we brought water & fruit—mandarins & bananas! 🍊🍌 We will also bring fresh vegetables as they are cooking here… #ChefsForUkraine 🇺🇦 pic.twitter.com/nA780CfOOm

— José Andrés (@chefjoseandres) April 4, 2022
The Biden administration has said it will accept up to 100,000 Ukrainians, but Mexico is the only route producing big numbers. Appointments at U.S. consulates in Europe are scarce, and refugee resettlement takes time. The administration set a refugee resettlement cap of 125,000 in the 12-month period that ends Sept. 30 but accepted only 8,758 by March 31, including 704 Ukrainians. In the previous year, it capped refugee resettlement at 62,500 but took only 11,411, including 803 Ukrainians.