Two Weeks Into Ukraine Invasion, Russia Attacks Hospitals and Other Civilian Targets Despite Denials
Two weeks into Putin's war in Ukraine, Russia has achieved less and struggled more than even military experts anticipated at the outset of the biggest land conflict in Europe since World War II. But Putin's invading army of more than 150,000 troops still retains large and possibly decisive advantages in firepower as they bear down on key cities, with the Russian dictator bragging he could "take out Kyiv" in a matter of minutes. In the time that has elapsed since the invasion began, the humanitarian crisis in Ukraine has accelerated in recent days. The United Nations estimates that 2 million Ukrainians have fled their country, and the number is expected to grow.
Ukrainian officials said on Wednesday that a Russian strike has hit a children's hospital and maternity facility in the besieged southeastern port city of Mariupol. A statement on the city council's social media account said the hospital suffered "colossal" damage, and Ukrainian President Volodymyr Zelenskyy tweeted that there were "people, children under the wreckage." He called the strike an "atrocity."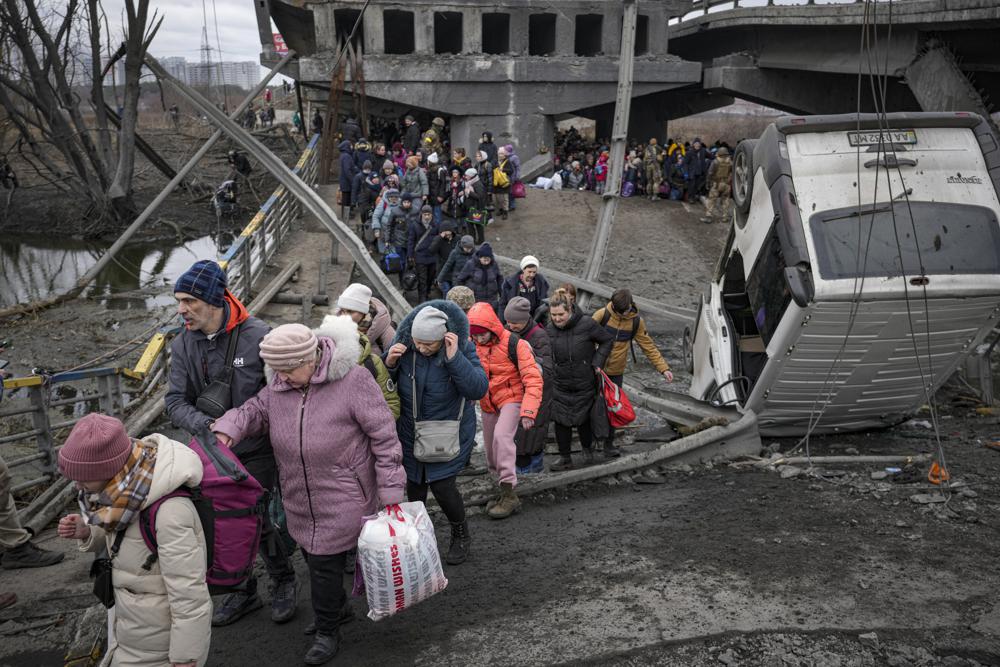 The Pentagon estimated that Russia retains about 95% of the combat power it has deployed in Ukraine, accounting for weapons and vehicles destroyed or made inoperable as well as troops killed and wounded. Those losses, while modest at first glance, are significant for two weeks of fighting.
⚡️ Russian airstrike destroys maternity, children's hospital in Mariupol.

According to President Volodymyr Zelensky, there are still adults and kids under the rubble. The number of victims is yet unknown, local authorities report.

Video: Mariupol City Council pic.twitter.com/dBGWRzEQrw

— The Kyiv Independent (@KyivIndependent) March 9, 2022
Putin reportedly discussed the situation in Ukraine in a Wednesday phone call with German Chancellor Olaf Scholz, where it's said a "special emphasis" was given to "the humanitarian aspects." The Russian dictator told Scholz about his army's "efforts to organize humanitarian corridors for civilians to exit areas of fighting and attempts by militants from nationalist units to hamper safe evacuation of people." But  Ukrainian officials said that the continuous Russian shelling has derailed efforts to evacuate civilians from areas affected by fighting.
CIA Director William Burns: Vladimir Putin has been stewing in a "combustible combination of grievance and ambition for many years." He went to war on the basis of a number of assumptions that led him to believe Russia faced a favorable landscape… "he's been proven wrong"

— Olivia Gazis (@Olivia_Gazis) March 8, 2022
CIA Director William Burns told a congressional panel Tuesday that Putin is frustrated and likely to "double down" in Ukraine. He said that could mean "an ugly next few weeks" as the fighting intensifies.
BREAKING: Ukrainian MP Dmitry Gurin tells me a maternity complex has been bombed in the southern port city of Mariupol "It's all one complex — a maternity and children's hospital. A lot of dead and wounded women. We don't know about children and newborn yet"

— Yalda Hakim (@BBCYaldaHakim) March 9, 2022