Twitter Users Are Calling Out CPAC, Hyatt For Its Use of "Nazi Imagery"
As CPAC 2021 continues through the weekend in Orlando, Florida, Twitter users are having their usual fun dragging the speakers and attendees for literally everything. But this year, the convention now trending as "#QPAC" for its QAnon members not even two full months after the Capitol Insurrection, seems to be leaning into its reputation for deliberately trying to push the Left's buttons while proclaiming their innocence. Aside from naming the convention "Uncancelling America" despite that its keynote speaker famously blocked any and all of his critics on Twitter, photos of the stage inside the Hyatt Hotel are sparking intense discussion and controversy for its unusual shape.
Sharp-eyed Twitter users almost immediately began pointing out that the stage design seemed a little too similar to images used by the Nazis in the 1940s. By Saturday afternoon there had been nearly 100,000 tweets that compared the CPAC stage to the ODAL Rune, which was used by a unit of the insidious Waffen SS, the initially named the SS-Volunteer Division Prinz Eugen (SS-Freiwilligen-Division "Prinz Eugen"), later known as the 7th Volunteer Mountain Division. That unit was formed in 1941 and took part exclusively in action against the communist-led Yugoslavian partisans during the Second World War.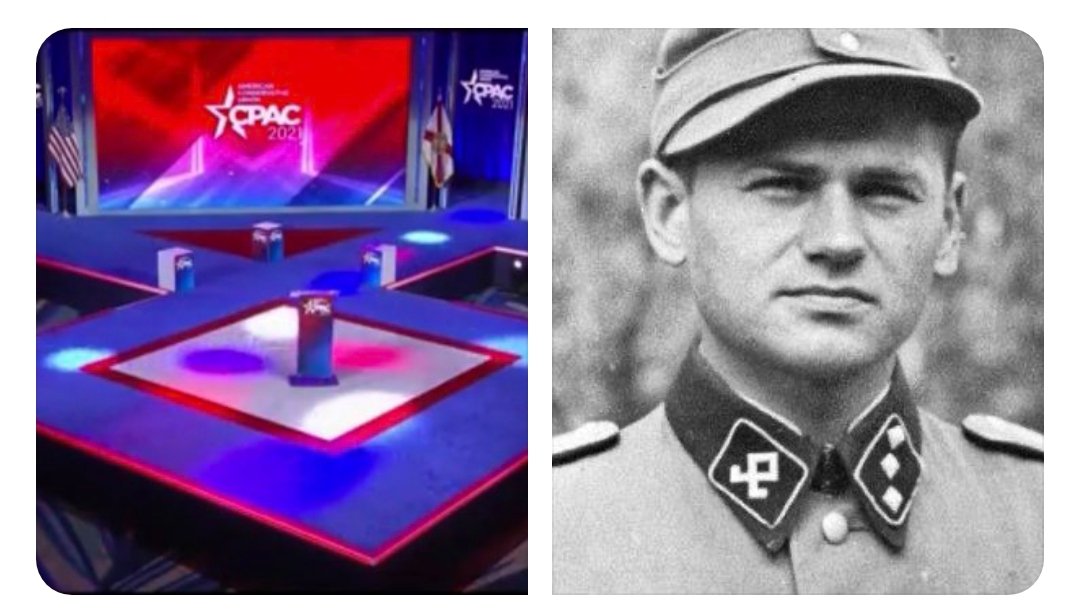 Here is a well known Nazi symbol and the stage design at the 2021 #CPAC Convention. What a wacky coincidence! #CPAC2021 pic.twitter.com/ZM5Q38XoBQ

— Daylin Leach (@daylinleach) February 27, 2021
Anti-Semitism has been on the rise on social media ever since the inauguration of Donald Trump in 2017. Jews in the United States suffered the largest number of anti-Semitic incidents last year since the Anti-Defamation League began collecting records 40 years ago; 2,107 anti-Semitic incidents were recorded in 2019 in America, including deadly attacks by gunmen at a California Synagogue and a New Jersey kosher grocery store, and a fatal stabbing at a rabbi's home in New York.
WTF!!! This CPAC stage design was not an accident. Everything this group of nazi misfits does is intentional and all about the message. https://t.co/vbMEkywhzE

— Fred Guttenberg (@fred_guttenberg) February 27, 2021
Calls for a boycott of Hyatt Hotels also began circulating, especially after journalist Nancy Levine tweeted a screenshot of an email she received in response to her inquiry regarding the imagery at CPAC.
NEW: @Hyatt spokesperson emailed me this statement about Hyatt Regency Orlando hosting CPAC 2021. #CPAC2021 pic.twitter.com/OLNeDHrKpv

— Nancy Levine (@nancylevine) February 26, 2021
Dear @Hyatt

Are you okay with Nazi symbols being used on your properties?

Because if you fail to speak out & do something about this immediately, I'll be sure to no longer patronize any of your properties ever again. #CPAC2021 #CPACstage #CPACNazi pic.twitter.com/beFauYAMwO

— Sari Beth Rosenberg (@saribethrose) February 27, 2021
CPAC's chairman, Matt Schlapp, is shutting down the idea that the stage design is in any way a nod to Nazi history, saying, "Stage design conspiracies are outrageous and slanderous. We have a long standing commitment to the Jewish community. Cancel culture extremists must address antisemitism within their own ranks. CPAC proudly stands with our Jewish allies, including those speaking from this stage."
Twitter wasn't buying any of that, of course.
A short thread on #CPAC2021's unusual stage, which is clearly in the shape of a well known Nazi symbol.

It is also a symbol in use today by American extremists.

Matt Schlapp and the CPAC leadership need to explain how this could have happened. https://t.co/TW9r8JXY9q

— Simon Rosenberg (@SimonWDC) February 27, 2021
It's unlikely any changes will be made to the shape of the stage, because Republicans enjoy being awful more than anything else in life, except perhaps making money off of the American peoples' misery.
This Jew says you're a lying traitorous anti-Semitic rat bastard who invited other lying traitorous anti-Semitic rat basatards to speak at your hatefest & you need to change that Nazi stage design NOW #SlapSchlapp #QPAC pic.twitter.com/QeFBpg9fd8

— T👻r👻 D🐈‍⬛bl💀n 🎃🧙🏻‍♀️ (@taradublinrocks) February 27, 2021