Twitter Drags Sinema For McCain-Like "Thumbs Down" Against Relief Bill
Eight Democrats voted against the bill that would increase the federal minimum wage to $15 an hour, stunning Democratic voters and political insiders alike. Why wouldn't these eight Democrats support their own party's relief bill, especially after four years of suffering at the hands of the previous administration, and this last year in particular? But despite the obvious need for the increase in wages, Chris Coons (D-DE), Tom Carper (D-DE), Angus King (I-ME), Joe Manchin (D-WV), Jeanne Shaheen (D-NH), Maggie Hassan (D-NH), Jon Tester (D-MT), and Kyrsten Sinema (D-AZ) all voted against the bill on Friday. While all of them are being taken to task, Sinema, in particular, has earned the ire of Twitter users who remember her brazen attitude at her swearing-in ceremony where the openly bisexual Sinema made Mike Pence visibly nervous.
But something has happened to Sinema since that day, as she slowly revealed herself to be more like her counterpart from the other side of the country, Joe Manchin. Democrats perhaps in name only, worried about the majority of Republicans in their respective states.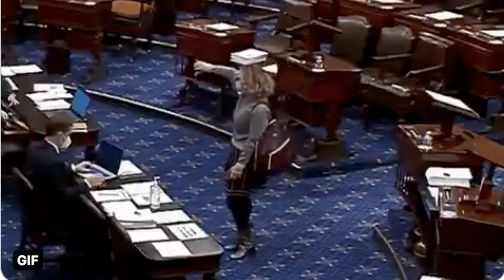 Mike Pence had to swear in bisexual Senator @kyrstensinema on a lawbook without another woman present. I think she just won Anti-Pence Bingo! #BlueWave #OurHouse https://t.co/KTHMmbVq1z

— Dan Emerson 🎃 (@dscapp) January 3, 2019
"Maybe Kyrsten Sinema Could Vote Against a Living Wage With a Little Less Enthusiasm?" trumpeted a headline from Esquire after Sinema all but skipped in and out of the proceedings dressed not unlike a college student rushing off to class.
No matter what you think of @kyrstensinema's vote, these optics are horrible.

There's no rule that requires Senators to vote the way she did (a la John McCain healthcare vote in 2017).

You may think people don't deserve to be paid more, but you don't need to make a show of it. pic.twitter.com/Cj0iYcoDPH

— Yashar Ali 🐘 (@yashar) March 5, 2021
According to a new poll just released by Morning Consult, 60 percent of the American public supports the hike to $15. Just 32 percent opposed it in that survey. Twitter was 100 percent not having any of Sinema's behavior and had no problem telling her she's aligning with the wrong people at work.
Senator Sinema a little too happy for poverty wages to remain pic.twitter.com/ze2T2CGtML

— RootsAction (@Roots_Action) March 5, 2021
krysten sinema gets $174,000 a year and spends it on spirit halloween wigs and modcloth skater dresses but thinks her constituents are the ones who don't deserve nice things if that doesn't make u sick idk what to say

— sextina acab-fina (@giltcomplex) March 6, 2021
And since the internet is forever, sharp-eyed users were able to find old tweets from Sinema where she supported an increase in the federal minimum wage.
Who bought your conscience since this tweet, @kyrstensinema ? https://t.co/OXV3MeTVJ2

— Sally Kohn (@sallykohn) March 6, 2021