Twitter Drags Shapiro For Sporting Tiny Wood at Home Depot
The Daily Wire's Ben Shapiro, aka Twitter's favorite punching bag not named Ted Cruz or Jim Jordan, decided to show his support for Home Depot by doing what looked like the least amount of shopping possible while also demonstrating he's neither shopped at Home Depot before nor has he ever held a piece of wood in his delicate hands.
This isn't the first time Shapiro's taken an obtuse flex and been ridiculed for it (this week, even). A little backstory behind this latest self-own that has Twitter users reminding him of that time he tried it with Cardi B and Megan Thee Stallion when they released "WAP," a song that celebrates female sexuality. Shapiro shared a quote from his "doctor wife" that had the internet feeling very sad for Mrs. Dr. Shapiro.
Georgia's controversial new voting law has faced major pushback, and not just from activists, but from corporations based in the state seeking positive media exposure, such as Coca-Cola and Delta. Home Depot, on the other hand, has stayed silent and is facing calls for a boycott after choosing to stay out of the controversy. So of course Shapiro went right to Home Depot to show his support by dropping maybe a whole two dollars. Shapiro released an Instagram story encouraging his "fans" (who are you people?) to shop at Home Depot. But Shapiro can't do anything without it turning into a self-own, as he emerged from Home Depot carrying nothing but a single plank of wood. In the world's smallest plastic bag.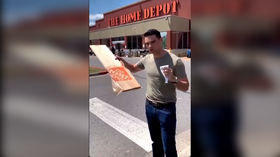 Twitter users had so much material to work with, they were still going well into Thursday evening. Takes ranged from "what is Ben Shapiro going to do with that one piece of wood" to references to his marriage. Herewith, a roundup of some of the best tweets about one of the worst people ever.
Ben Shapiro: "I would like a piece of wood."

Home Depot: "OK. What size?"

BS: "I don't know… Instagram size?"

HD: "What?… What are you building?"

BS: "A case against me?" https://t.co/etu09tEmNv

— W. Kamau Bell (@wkamaubell) April 22, 2021
the funniest part to me is they bagged that piece of wood like "oh he's gonna need that" lmaooooooooooo https://t.co/tPyoC7T9PK

— Jenny Yang's touring the Northeast Oct 20-23 (@jennyyangtv) April 22, 2021
*Ben Shapiro goes to Home Depot*

Shapiro: "Yes, I'll have one wood please."pic.twitter.com/q5Pvuk8eLy

— Brett Meiselas (@BMeiselas) April 22, 2021
Tell me you've never satisfied a woman without telling me you've never satisfied a woman #benshapiro pic.twitter.com/7TgZs8CnaQ

— T👻r👻 D🐈‍⬛bl💀n 🎃🧙🏻‍♀️ (@taradublinrocks) April 22, 2021
Ben Shapiro "I always buy my wood at Home Depot when I'm making sex toys for my wife Sahara." pic.twitter.com/9zBQ1ChsPU

— Hoodlum 🇺🇸 (@NotHoodlum) April 22, 2021
can you imagine how good it would feel to just deck him with that plank https://t.co/gYw7uPxYbK

— 🐛crunchy leaf🦎 (@rat_king_mcgee) April 22, 2021