Trump's January 6th Schedule Reveals He Had No Plans to Join Crowd to March to Capitol
"We're all gonna march to the Capitol! And I'll be with you!"–Donald Trump to the "Stop the Steal" rally crowd, January 6, 2021
But he was never going to be with them, as revealed by his private schedule from the day released by the House Select Committee investigating the Capitol attack in a filing on Wednesday. Its lack of inclusion on Trump's schedule indicated he must have known that there were no plans for him to join such a march, as he knew he would be taken back to the White House after his speech. Trump made the false promises that led the crowd to go to the Capitol in spite of being told by the Secret Service days before the situation was too volatile for them to guarantee his security if he joined them, according to a source familiar with the matter.
The newly-released private schedule indicates Trump deliberately lied to his supporters, raising the crowd's expectations by making a promise he had no intention of honoring (as he had done so many times before to wind up his base) so that they would descend on the Capitol and disrupt Congress from certifying Joe Biden as President.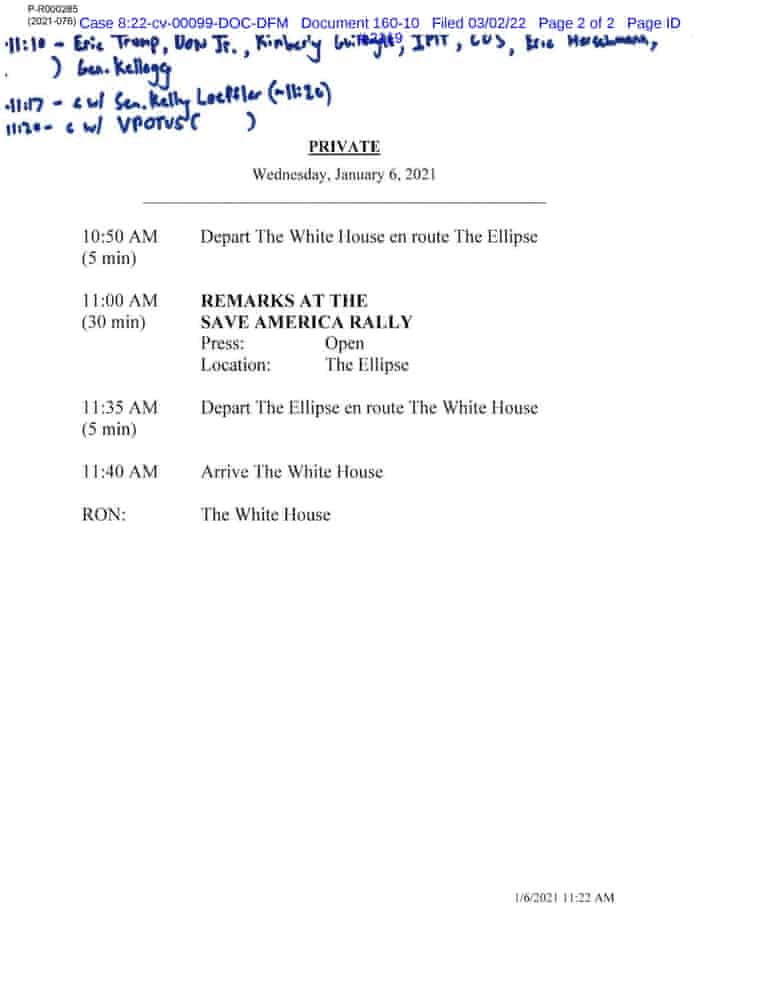 It's a significant detail that could strengthen the Select Committee's claim in the filing that Trump knew he hadn't won the election and therefore, engaged in a criminal conspiracy to defraud the United States by seeking to obstruct a lawful function of the government by deceitful or dishonest means.
Trump told them to stand by. Told them to fight. Told them to come to DC. Told them to stop the steal. Told them to go to the capitol. Told them to make pence stay strong and stop certification of trump's loss. Waited to send national guard to stop them. Told them he loved them.

— Luke Zaleski (@ZaleskiLuke) March 3, 2022
Trump's private schedule may also be significant in the lawsuit brought against him by Rep. Eric Swalwell (D-CA), which alleges Trump prompted the Capitol attack through his comments in his speech: "Trump directly incited the violence at the Capitol that followed and then watched approvingly as the building was overrun," the lawsuit said. "The horrific events of January 6th were a direct and foreseeable consequence of the Defendants' unlawful actions."
"This is about accountability. And for too long, accountability has been a stranger that Donald Trump has never encountered and today in a courtroom, he met it." – Rep. Eric Swalwell on the January 6th lawsuit against the former president. pic.twitter.com/muaBmvBgG0

— Anderson Cooper 360° (@AC360) January 11, 2022
Trump's private schedule came as part of court filings submitted by the Select Committee seeking to challenge former Trump lawyer John Eastman's claim that thousands of emails demanded by the panel are protected by the attorney-client privilege. The Select Committee said in its filing that it believed the privilege asserted over the records was not applicable because of the so-called crime-fraud exception, arguing Eastman was involved in potentially illegal efforts by Trump to overturn the 2020 election.
New revelations about Trump's January 6 schedule confirm that the WH was indispensable to the armed assault on the U.S. Capitol. Alex Jones (Stop the Steal) said he was asked by the WH to lead the march to the Capitol after "Trump's speech at the Ellipse".https://t.co/6b2EGIrdKq

— ✨Harry Potter Resists✨ (Commentary) (@HarryPotterMAGE) February 8, 2021