Trump Takes On Puppetmaster Role As He Orchestrates Races to Remove 'Disloyal' Republicans
On Labor Day, your intrepid contributor here got what I thought was a pretty big scoop out of Joe Kent, the primary challenger to the Republican incumbent, Rep. Jaime Herrera-Beutler, in Washington State's 3rd district. Kent, who was chosen by Donald Trump himself to challenge the "RINO" Herrera-Beutler (who voted against the second impeachment), told me on camera that he was already prepared to call for a "forensic audit" of not just their primary, but every race in 2022.
In the two and half months since that interview, I've written about other Trump-anointed candidates who were specifically chosen to primary those incumbents Trump pegged as disloyal to him. And his Congressional lackeys are now getting on the gig as well, so it's only going to get worse, is what I've been writing and tweeting for the last two months, not that the mainstream media has picked up what's going on. Until now, that is.
Not to say I TOLD YOU SO, but I did, which is fairly gratifying despite no one really knowing I did it. Now
CNN
is hip to this, and it's almost like I'm the guy who found The Wonders in Pittsburgh and now they're Mr. White-ing them away from me, but whatever gets people to pay attention to this snappy news, I guess my bird-dogging here is done?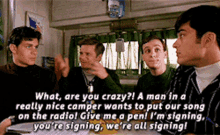 But ANYWAY, now CNN knows what's up, reporting that the Former Guy "has taken his involvement in 2022 Republican primaries to a new level as he works to permanently mold the GOP in his image. Beyond Trump's public efforts to oust Republican incumbents he considers disloyal, he has quietly tried to clear potential GOP threats to his endorsed candidates and encouraged others to run against his enemies". YOU DON'T SAY!
Two days after Republican Jovan Pulitzer accused the Michigan GOP of selling Trump endorsements, Trump today endorses two Michigan candidates in state elections. Probably no connection … pic.twitter.com/pBJPHLTLZO

— Ron Filipkowski (@RonFilipkowski) November 25, 2021
Earlier this month, Dear Leader enlisted the help of Rep. Madison Cawthorn (Q-NC) to persuade former Rep. Mark Walker to end his campaign for Senate and instead run for the House, which could help Trump's preferred candidate in the GOP Senate primary, Rep. Ted Budd, according to people familiar with the matter. And as I've written, Trump has also had conversations in recent weeks with MAGA-aligned Republicans who are considering challenging GOP governors with whom he has grown disillusioned. He's currently pressuring Alabama Senate GOP candidate Lynda Blanchard to challenge Alabama Gov. Kay Ivey instead.
Four GOP Senate candidates face accusations of domestic violence, sexual abuse and other inappropriate behavior. Some Republicans privately admit they're not happy about it — but they point to Trump as an example of how these men could still win.@byamberphillips reports: pic.twitter.com/7JBPVoMLVj

— CBS News (@CBSNews) November 17, 2021
Aside from those mentioned, he's also been working on former Georgia Sen. David Perdue to run against incumbent Gov. Brian Kemp, who resisted Trump's efforts to overturn his 2020 loss in the state. Keep forgetting that everything Trump touches dies, David, that's fine.
I've said it before and I'll say it again: if you want to stop Trump 2024, start with denying the Republicans a majority in 2022. https://t.co/W1RpqoTf2E

— Eric Garcia for Congress (@EricG1247) November 26, 2021
So when you're watching the 2022 midterm campaigns, just remember that Trump's MAGA candidates don't care about winning, they care about dismantling the American voting system from within. And it's fine if you don't remember if you read it here first, as long as it's something you remember when you're voting next November. Don't make me say I told you so (again)!
I can't stress enough what we're up against in the next election cycle. Republicans are just not going to accept any elections they don't win. MAGA is trying to dismantle our voting system from within & we can't let that happen #ElectionIntegrity https://t.co/rEdq72PnKo

— Tara Dublin (Taylor's Version) (@taradublinrocks) September 13, 2021