Trump Is So Big Mad at Doug Ducey, He'd 'Consider' Backing A Dem
Nobody holds a grudge quite like the Former Guy, and he's got a huge one going right now against Arizona Governor Doug Ducey for not helping him overturn the results of the 2020 Presidential election. Expecting others to commit election fraud along with you or on your behalf is a federal crime, which Trump found out thanks to doing just that in Georgia, but staying on the right side of the law has never been Donald's strongest suit.
The twice-impeached two-time loser of the Popular Vote is still furious that Ducey declined to throw out Democratic votes in Arizona, and Trump is so intent on wrecking the governor's political career that he has told his inner circle that he'd consider campaigning for a Democratic opponent. Ducey, a former CEO for ice cream chain Coldstone Creamery, is prohibited from seeking a third term, and he has denied rumors that he's seeking to challenge Senator Mark Kelly in the midterm elections. But that hasn't stopped the talk that he'll be seeking a higher office.
No one really believes Trump would publicly campaign for Senator Kelly if Ducey decides to challenge him, as he's prone to making statements simply to stir the political pot. But his latest rant shows just how much the Florida retiree would enjoy ruining the Governor's future political prospects.
Sources say the former guy has been fixated on Ducey, a strong ally before the election, and other GOP elected officials who were "shockingly of zero help" after his election — which he lost in Arizona by fewer than 11,000 votes.
https://twitter.com/Dragonfly_Drama/status/1386078293879787522
Trump is so petty, he went out of his way on Monday to release a statement about Ducey, calling him the "second-worst Republican Governor in America". This is what he was doing on his wife's 51st birthday.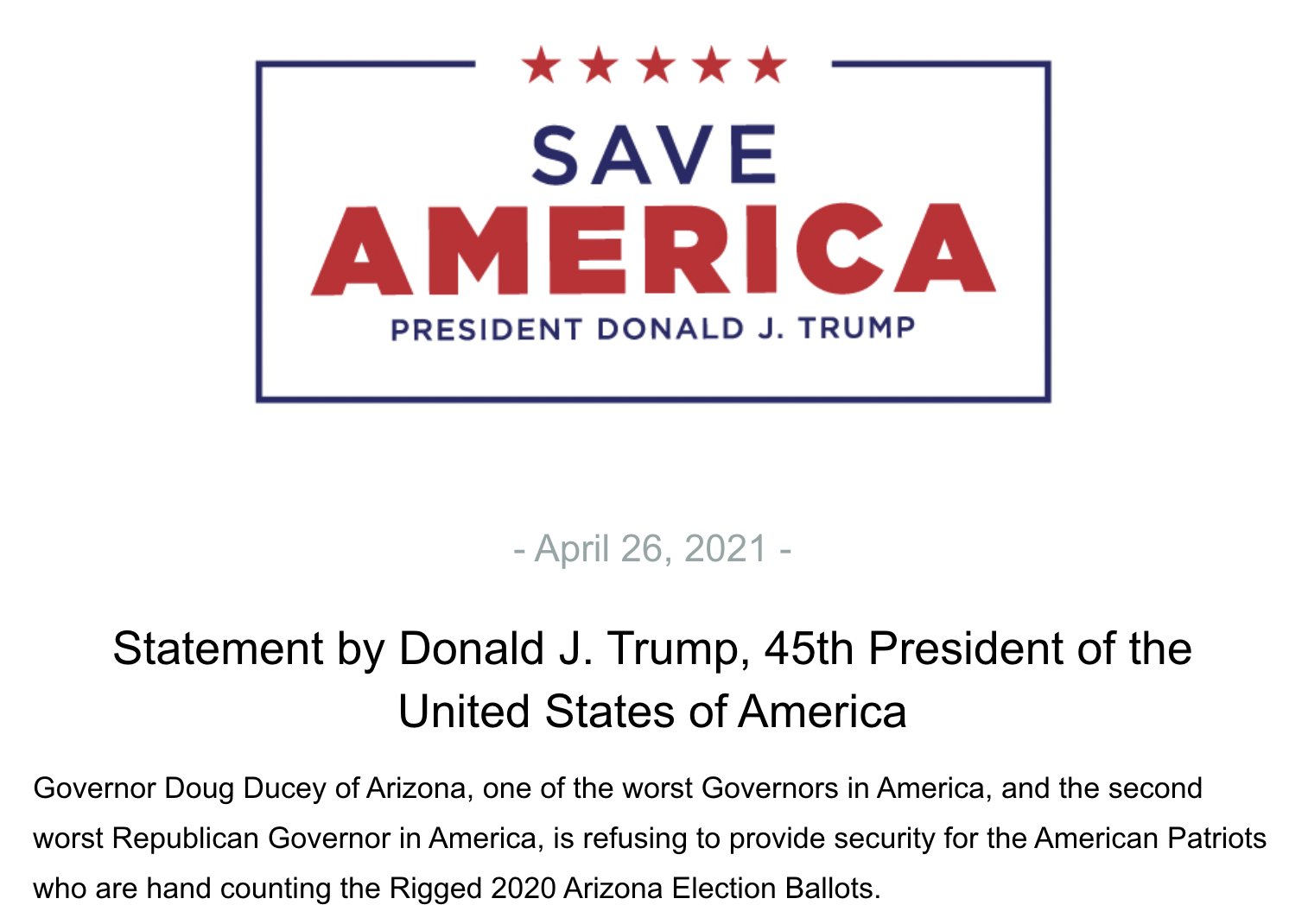 The Arizona Republican Party formally censured Ducey in January over his failure to overturn Trump's loss, and they also reprimanded former Senator Jeff Flake and Cindy McCain for defending the results as fair and accurate.