'This Is Insane!' OAN Employees Push Back on The Big Lie
More than a few employees at One America News Network (OAN) are unhappy with the network's insistence on still pushing the narrative that Donald Trump is the legitimate president of the United States. The online news network, which became a favorite of the former guy after he turned on Fox News for not blindly supporting him and for being the first to call Arizona for opponent Joe Biden on election night, is currently dealing with the dissent from employees unhappy with the post-election coverage.
As recently as March 28 the network was running a report alleging that there were "still serious doubts about who's actually president," which is surprisingly not a view shared by all the employees.
In interviews with 18 current and former OAN newsroom employees, 16 said the channel had broadcast reports that they considered misleading, inaccurate, or untrue," the report states, adding that one producer did admit that the direction the network has taken is concerning, according to a new piece in The New York Times.
NEW: Staffers at One America News, the misinformation-peddling outlet favored by Trump, don't think their own stories are true, & are cheering on lawsuits against the owners. One producer, re the Capitol riot: "That's what happens when people listen to us" https://t.co/2ZL234P4aP

— Rachel C. Abrams (@RachelAbramsNY) April 18, 2021
Marty Golingan, a producer at the channel since 2016, said OAN had changed in recent years. At the start of his employment, he said, it concentrated more on neutral coverage based on reports from The Associated Press or Reuters. During the Trump presidency, it moved further to the right, Golingan said. And when he was watching coverage of the pro-Trump mob breaking into the Capitol, he said, he worried that his work might have helped inspire the attack.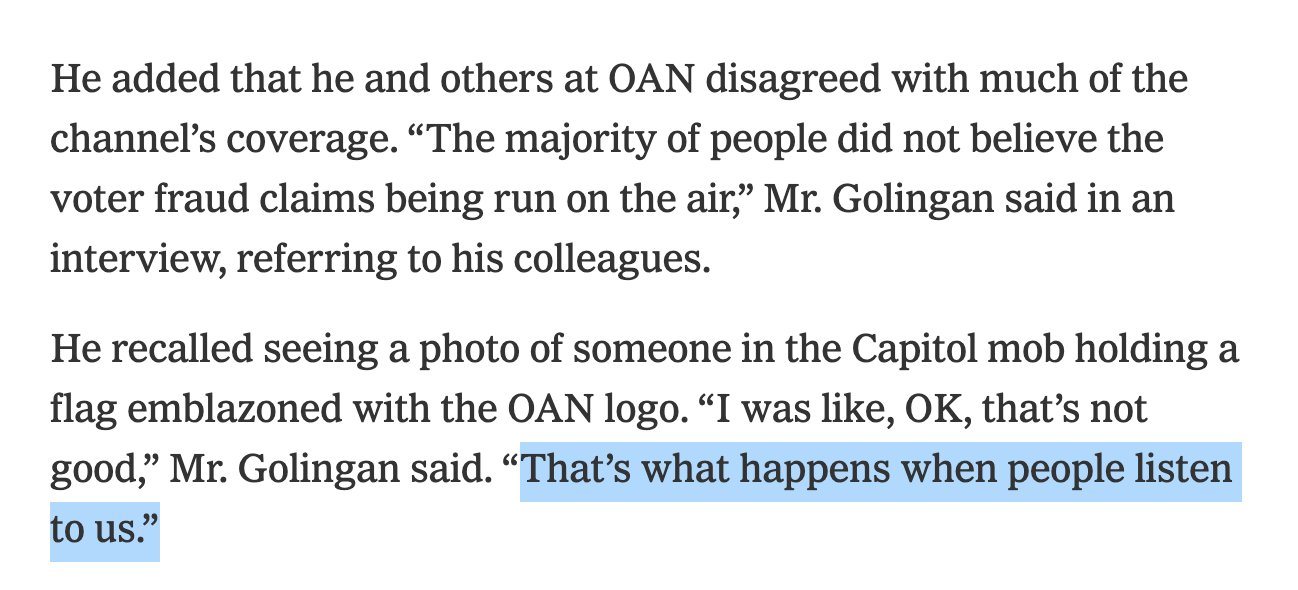 News producer Allysia Britton said she was one of more than a dozen employees who had left OAN in the wake of the Capitol riot. She criticized some of what the channel had reported, saying it was "not up to journalistic standards," the Times report states with Britton confessing, "Many people have raised concerns. And the thing is, when people speak up about anything, you will get in trouble."
W/ the OAN wapo story going around this am, another distinction between OAN & Newsmax/Fox is that while the latter 2 are effectively on Team Trump, OAN has the unique distinction of 1 of their on-air hosts actually, secretly working on the Rudy-led legal team to cancel democracy https://t.co/DsABDjCWjJ

— Asawin Suebsaeng (@swin24) April 18, 2021
While OAN has so far avoided a lawsuit from Dominion Voting Systems over defamatory comments about election fraud, some employees wish one was forthcoming to change the culture at the network. "A lot of people said, 'This is insane, and maybe if they sue us, we'll stop putting stories like this out,'" he said.
What @dominionvoting libel lawyers are reading this morning: @RachelAbramsNY's story. pic.twitter.com/3hpOveGcpD

— Nick Confessore (@nickconfessore) April 18, 2021