The U.S. is Blocking Russian Asylum Seekers at the Border, But Ukrainians Are Welcome to Enter the Country
About three dozen would-be asylum seekers from Russia found themselves blocked from entering the United States via Mexico on Friday while a group of Ukrainians who simply flashed their passports were escorted across the border. Just a few days earlier, some Russians were being admitted to the U.S. at the San Ysidro crossing, while some Ukrainians were blocked. But by Friday, Russians were denied while Ukrainians were admitted after short waits.
It's a newly quiet, but unmistakable, shift in the different ways the U.S. is treating Russians and Ukrainians who enter Mexico as tourists and fly to Tijuana seeking to enter the States for a chance at asylum.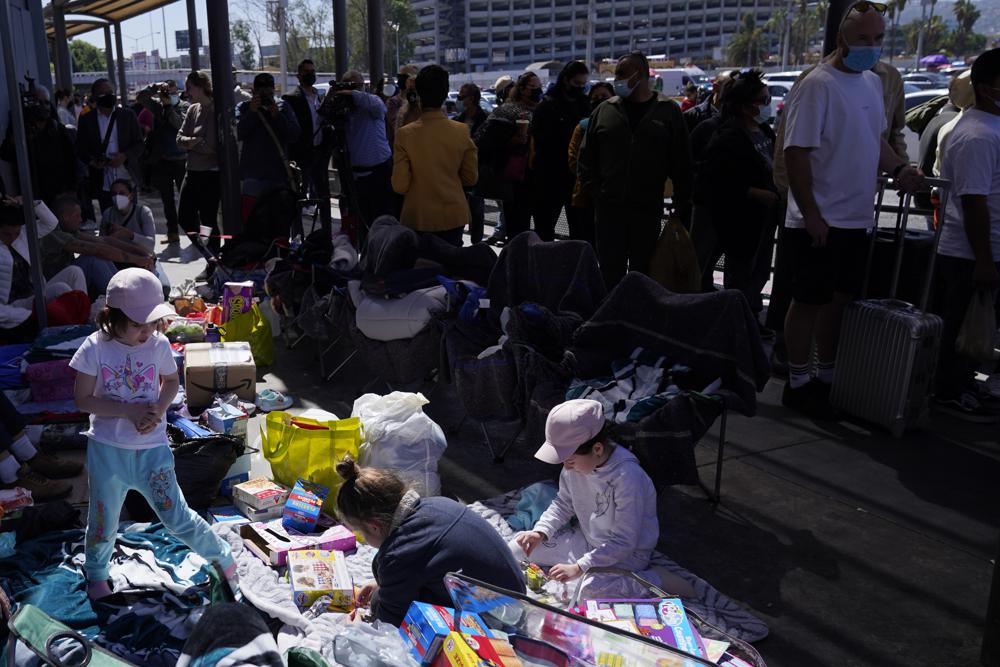 U.S. officials have expelled migrants more than 1.7 million times since March 2020 without a chance to seek asylum under sweeping authority aimed at preventing the spread of COVID-19. But the public health authority, known as Title 42, is seldom used for migrants of some nationalities who are difficult to expel for financial or diplomatic reasons. But claim asylum, migrants must be on U.S. soil, and U.S. officials are blocking passage except for those it wants to admit. As of Friday, 34 Russians, including children, had been camped several days at the busiest U.S border crossing with Mexico, two days after Tijuana city officials gently urged them to leave.
ABC News' @WillCarr reports from Tijuana, Mexico where Ukranians and Russians are coexisting as they wait to enter the United States seeking asylum. https://t.co/wobotUOmg4 pic.twitter.com/vSS91rysW2

— ABC News Live (@ABCNewsLive) March 19, 2022
A Homeland Security Department memo dated March 11 but not publicly released until Thursday told border officials that Ukrainians may be exempt from sweeping asylum limits designed to prevent the spread of COVID-19. It says decisions are to be made case-by-case for Ukrainians but makes no mention of Russians. "The Department of Homeland Security recognizes that the unjustified Russian war of aggression in Ukraine has created a humanitarian crisis," the memo states.
WATCH ➡️ Per @CBP, border officials are encountering more Russians + Ukrainians seeking asylum at the U.S.-Mexico border.

Between October-January, officials apprehended 6,400 Russians + over 1,000 Ukrainians.@NewsGirlGwen has more.

Rate this story 👉 https://t.co/3n1ukw4KyZ. pic.twitter.com/2f2OGzw0gi

— Straight Arrow News (@StraightArrow__) March 7, 2022
Ukrainians who can reach U.S. soil are virtually guaranteed a shot at asylum. Only four of the 1,553 who entered in the September-February period were barred under the public health order that lets the U.S. expel migrants without a chance at humanitarian protection. Homeland Security indicated in a statement Friday that anyone deemed "particularly vulnerable" may be admitted for humanitarian reasons on a case-by-case review, regardless of nationality.