'The Crappiest Place On Earth': Disney Now Says It Will 'Reassess' Donations After 'Don't Say Gay' Backlash
The Walt Disney Company is now facing a social media firestorm and potential boycott after the company donated to the Republican sponsors of Florida's "Don't Say Gay" bill that would prevent teachers from mentioning LGBTQ people in elementary schools.
While other corporations moved to quickly condemn the measure, Disney instead opted to skip over the bill, which is officially known as the Parental Rights in Education Bill. It says teachers cannot "encourage classroom discussion about sexual orientation or gender identity in primary grade levels or in a manner that is not age-appropriate or developmentally appropriate for students." It also says parents can sue their children's schools for failing to adhere to these rules.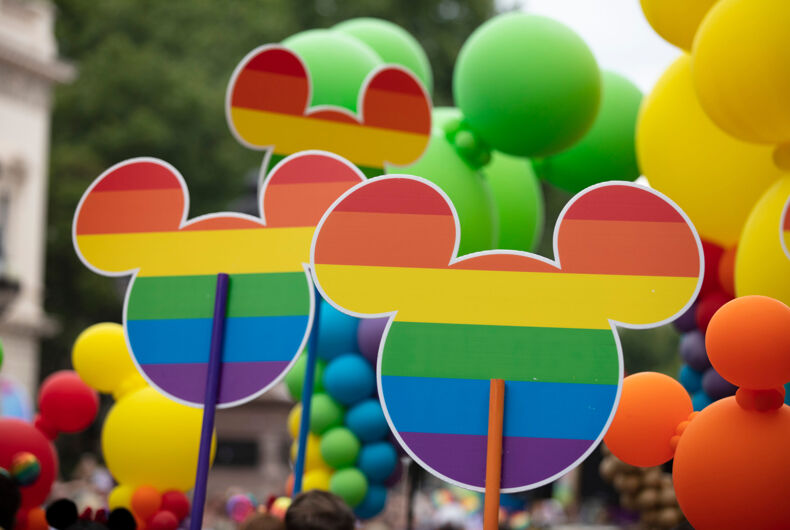 Disney released a statement in which they promised to produce more "inspiring content" instead. But it's clear the money consumers would pay to watch the content could presumably flow back to GOP politicians who are attacking the LGBTQ community if the company refuses to cut all ties. "We understand how important this issue is to our LGBTQ+ employees and many others," the company said in a statement made after an outcry from students across the state. "For nearly a century, Disney has been a unifying force that brings people together. We are determined that it remains a place where everyone is treated with dignity and respect."
As gay parents of five kids who visited @WaltDisneyWorld DOZENS of times, @RobertCooper58 and I — and our family — are TERRIBLY HURT by Disney's decision to keep donating to all the sponsors of Florida's "Don't Say Gay" bill. Disney doesn't care about its LGBTQ fans or employees.

— Jon Cooper (@joncoopertweets) March 7, 2022
Disney's relationship with the LGBTQ community has always been more about begging forgiveness than asking permission. Historically, the company would fire any actors they found out were gay and has since shied away from LGBTQ representation in their offerings. Walt Disney was openly homophobic as well as antisemitic. And while "Gay Days" at Disney theme parks have been happening for decades, the company only started to officially recognize the event after the public's acceptance had shifted on LGBTQ issues and the company was lagging far behind the rest with its standards seemingly stuck in the past, rather than in Tomorrowland.
Disney World: The Crappiest Place on Earth #BoycottDisney #SayGay #LGBTQIAOfMarch https://t.co/vbi9GV27Sr

— Tara Dublin 🇺🇦🌻 (@taradublinrocks) March 7, 2022
Disney released a statement saying they would "reassess" the donations after catching wind of the backlash, which didn't do much to quiet the criticisms of the company's history. Under the mounting pressure, Disney CEO Bob Chapek affirmed to employees that the company "unequivocally" stands with its LGBTQ+ workers and says that there's more the company needs to do in that regard. At the same time, Chapek made his case for why the company isn't speaking out more in a memo sent to Disney staff.
Disney has made it clear that they will not take action to protect the lives of LGBTQ+ youth, and will continue to fund the politicians that seek to oppress them and erase their identities

We are calling on people to #BoycottDisneyPlus until Disney decides to #StopFundingHate https://t.co/cFmTaVdbmz

— Gen-Z for Change (@genzforchange) March 5, 2022