[COMMENTARY] The '4G's of Sedition' Are Scared of the Select Committee
If you want to know what a Republican is really thinking, take Rachel Maddow's advice: ignore what they say, watch what they do.
On the same day the Select Committee will begin its questioning of witnesses in their investigation of the January 6th attack on Congress, four prominent and alliteratively named members of the "GOP Sedition Caucus" are holding a press conference under the guise of caring about how the imprisoned January 6th rioters are being treated.
The Four Horsemen of the Apocalypse have arrived in the forms of Reps. Matt Gaetz (Q-FL), Louie Gohmert (Q-TX), Paul Gosar (Q-AZ), and Marjorie Taylor Greene (Q-GA), bringing with them massive amounts of projection language in order to pull focus from the Select Committee. Also, it's pretty clear they're all very worried about getting feces thrown at them after they're incarcerated, but hey, that's getting ahead of ourselves just a tad.
Maybe they think if they hold a press conference while the Select Committee is meeting, nobody will be able to subpoena them? None of them have an IQ higher than their shoe sizes, so it's clear this is some straight-up whiny attention whoring while the real news is happening elsewhere. I mean, come on with this.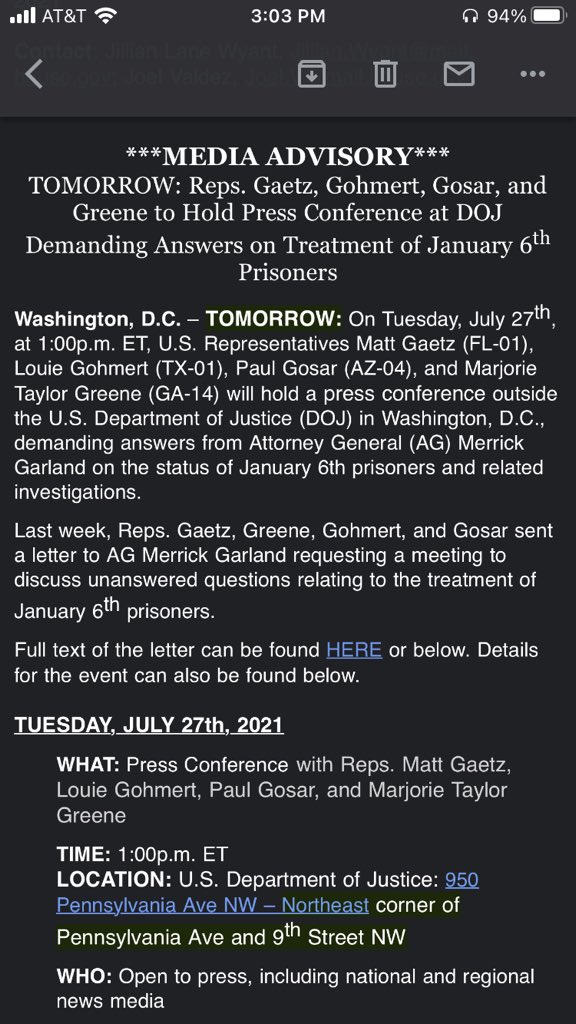 The 4G's of Sedition can whine all they want, but they can't hide from a Congressional subpoena (or they can, but it'll only be added to their sentences). Their ploy is painfully transparent, and I would call on the MSM to ignore the Sedition Caucus Sideshow and focus on the main event inside the Big Top, but that won't happen. The freak show always draws a crowd, and it doesn't get much freakier than the 4G's (although Lauren Boebert must feel left out).
At least Twitter already knows what the 4G's are up to and were dragging them mercilessly on Monday.
Gaetz, Gohmert, Gosar, & Greene will hold a press conference/clown show/treason dumpster fire/Trump tribute at the DOJ regarding the treatment of jailed insurrectionist vandal MAGA QAnon scumbag cultists.

This particular GOP clusterfuck will be brought to you by the letter G.

— The USA Singers (@TheUSASingers) July 26, 2021
Gaetz, Gohmert, Gosar, and Greene are holding a press conference tomorrow about the treatment of Jan 6th prisoners, like they're fucking prisoners of war. The treasonous G4 should be in jail with them, not in Congress!

— Amy Lynn👣❤ (@AmyAThatcher) July 26, 2021
Holy shit.

As the Jan 6th hearings begin tomorrow, Matt Gaetz, Marjorie Taylor Greene, Paul Gosar & Louie Gohmert will have a press event, "demanding answers on the treatment of Jan. 6th prisoners."

Tell us you're a fucking traitor without telling us you're a fucking traitor 🖕

— Jake Lobin (@JakeLobin) July 26, 2021
In other news, "Bipartisan Jan 6 Committee to subpoena reps, gaetz, gohmert, gosar and greene on 28 July regarding their roles in leading the insurrection."

— Thomas Wolfe (@ThomasW75634076) July 26, 2021