Tennessee School Board Bans Holocaust Graphic Novel 'Maus'
Art Spiegelman won the Pulitzer Prize in 1992 for "Maus," which tells the story of his Jewish parents living in 1940s Poland and depicts him interviewing his father about his experiences as a Holocaust survivor. Now a Tennessee school district has voted to ban the legendary graphic novel about the Holocaust due to "inappropriate language" and an illustration of a nude woman, according to minutes from a board meeting.
The McMinn County School Board decided on January 10th to remove "Maus" from its curriculum, news outlets reported. And as the country marks Holocaust Remembrance Day on Thursday, users on social media began calling out the board's anti-Semitism.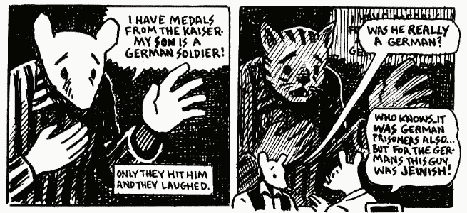 The minutes from the school board meeting indicate objections over some of the language used in "Maus." At first, Director of Schools Lee Parkison suggested redacting it "to get rid of the eight curse words and the picture of the woman that was objected to." The nude woman is drawn as a mouse. In the graphic novel, Jews are drawn as mice and the Nazis are drawn as cats. "It shows people hanging, it shows them killing kids, why does the educational system promote this kind of stuff? It is not wise or healthy," School Board Member Tony Allman said about the book, which was part of the district's eighth-grade English language arts curriculum.
I'd like to note here that this is what the "nudity" in "Maus" looks like. pic.twitter.com/JrJfDKEpxx

— Jane Coaston (@janecoaston) January 26, 2022
More and more schools have been contributing to a rise in censorship in the last year. Conservative officials across the country have increasingly tried to limit the type of books that children are exposed to, including books that address structural racism, anti-Semitism, and LGBTQ issues. The Republican governors in South Carolina and Texas have called on superintendents to perform a systemic review of "inappropriate" materials in their states' schools.
I looked at the @HouseGOP page. Republicans are using #HolocaustMemorialDay for political convenience. Have any Republicans denounced the McMinn County School Board in Tennessee for banning MAUS, about the Holocaust? These were my Jewish relatives who were killed. #NeverAgain pic.twitter.com/2Vv7ubCIXC

— Nancy Levine (@nancylevine) January 27, 2022
Spiegelman says he was "baffled" by the school board's decision and called the action "Orwellian." The author made the TV cable news rounds on Thursday, telling one host, "It's leaving me with my jaw open, like, 'What?'" he said.
Art Spiegelman on his reaction to Tennessee school board banning his Pulitzer-winning Holocaust book "Maus."

"I moved past total bafflement to trying to be tolerant of people who may possibly not be Nazis, maybe." pic.twitter.com/kuwN2RLOZE

— The Recount (@therecount) January 27, 2022
Twitter users began a social media boycott of the school board.
For anyone in Athens affected by @McMinnCountySch's decision decreeing naughty words & naked cartoon mice worse than mass human extermination, #MAUS is now available free online:https://t.co/SA4KlMUiFk#McMinnCountySchoolBoard #HolocaustRemembranceDay #HolocaustMemorialDay https://t.co/fF88LvsrMr

— Tim Peacock (@TimAPeacock) January 27, 2022
Anyone in Mcminn County need a copy of the Pulitzer Prize-winning graphic novel about the holocaust, MAUS? I'd love to send out a few.

Kids, you're the future, not these backwater olds. Don't stand for it. #McMinnCountySchoolBoard #TN https://t.co/qKnNic5FMV

— Mitch Gerads (@MitchGerads) January 27, 2022
This is the message I will be sending to every single member of the #McMinnCountySchoolBoard 🤬 #NeverForget #HolocaustRemembranceDay pic.twitter.com/YUx3xh3YMZ

— Tara Dublin (@taradublinrocks) January 27, 2022