Some Members of GOP Want Ballots Counted By Hand, Not Machines
Growing suspicion about the security of voting systems has kindled an old-school movement among conservatives in some parts of the United States.
Republican lawmakers in at least six states have introduced legislation that would require all election ballots to be counted by hand instead of electronic tabulators. Similar proposals have been floated within some local governments, including about a dozen New Hampshire towns and Washoe County in the presidential battleground state of Nevada.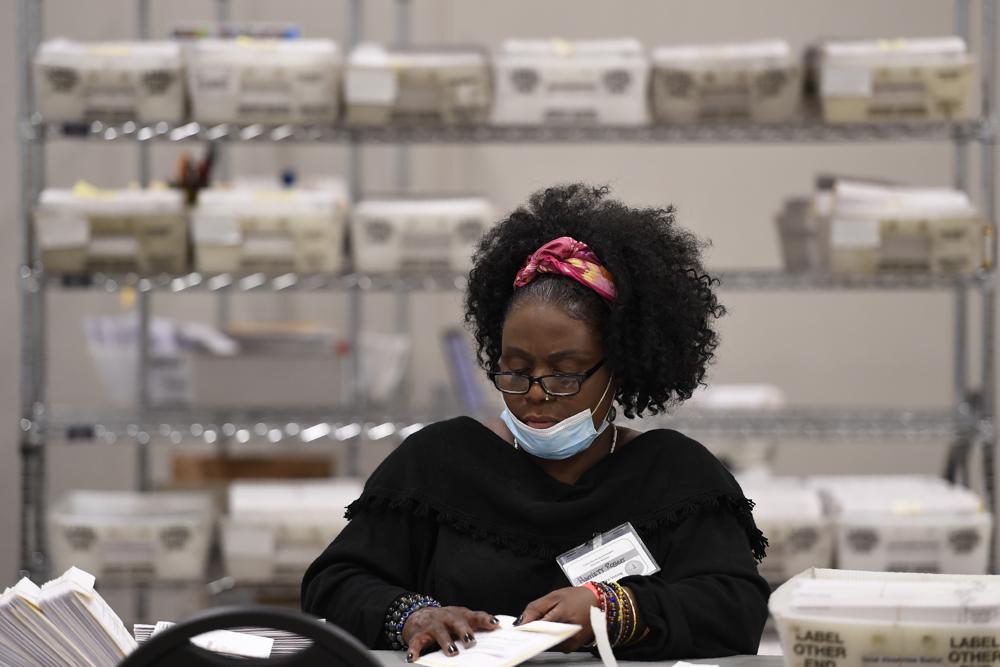 The push for hand-counting ballots comes amid mistrust of elections among many Republicans who still believe the false narrative that widespread fraud cost Donald Trump reelection in the 2020 presidential contest. Despite no evidence of widespread fraud or major irregularities, conspiracy theories have proliferated among his allies that voting systems were somehow manipulated to favor Democrat Joe Biden. That has prompted calls to ban electronic tabulators used to scan ballots, record votes and compile race tallies. Most states also conduct post-election audits that are designed to identify any irregularities with ballot-scanning and counting. But with many Republicans believing President Biden wasn't legitimately elected, election machines have become a popular target.
Tina Peters, GOP candidate for secretary of state, has been indicted on state criminal charges following an investigation into her alleged efforts to secretly copy hard drives from Dominion Voting Systems equipment.
She's accused of violating the law she is running to administer

— Duty To Warn 🔉 (@duty2warn) March 9, 2022
But some of the bill's supporters reference the 2020 election to explain why they feel his hand-count legislation is needed. They cite a belief that Trump actually won a landslide victory and that cheating is the only way to explain how New Hampshire voters elected a Republican governor and GOP majorities in the Legislature, but then backed Democrats for federal office.
Retweet if you are want to see Fox 'News' sued out of existence by Dominion #FoxRuse pic.twitter.com/aFz5RHdxCP 03

— save DEMOCRACY (@VippusaO) March 12, 2022
Critics of the proposals to ditch electronic ballot tabulators and return to hand-counting are blunt about what they see as the motivation. As one example, Cobb County, Georgia, performed a hand tally ordered by the state after the 2020 election. It took hundreds of people five days to count just the votes for president on roughly 397,000 ballots, said Janine Eveler, elections director for the county in metro Atlanta. She estimates it would have taken 100 days to count every race on each ballot using the same procedures.
Unfortunately, my experience physically counting votes by hand confirms the difficulty an accurate count. Three counting teams are required to accurately count a single batch of ballots. There's no magic bullet, proper; planning, training, resources, and audits are the key!

— Ion V. Sancho (@Ionsancho1) March 12, 2022
But counting by machine isn't just faster. Multiple studies have shown it's also more accurate, said Charles Stewart, professor of political science at The Massachusetts Institute of Technology. The first research on the topic was done almost two decades ago comparing recounts of New Hampshire races that were originally tabulated by hand to those tabulated by machines. In that study and subsequent research, the machines won, he said. "Counting votes is very tedious. Human beings are bad at doing tedious things, and computers are very good at doing tedious things," Stewart said.
Mike Lindell announces today that "hopefully next week" (😂) he will be filing "the most important class action lawsuit in world history" to ban all voting machines in America. pic.twitter.com/gg4PDY2ZpS

— Ron Filipkowski (@RonFilipkowski) March 5, 2022