Shooting at Portland Protest Over Police Violence Leaves One Dead
Police in Portland, Oregon, said they believe a shooting that left one woman dead and five people wounded at a protest over police violence on Saturday night was triggered by a clash between an armed homeowner and armed demonstrators.
The shooting took place as people gathered in northeast Portland on Saturday to protest the death of Amir Locke, the 22-year-old fatally shot earlier this month by law enforcement in Minneapolis during a no-knock apartment raid.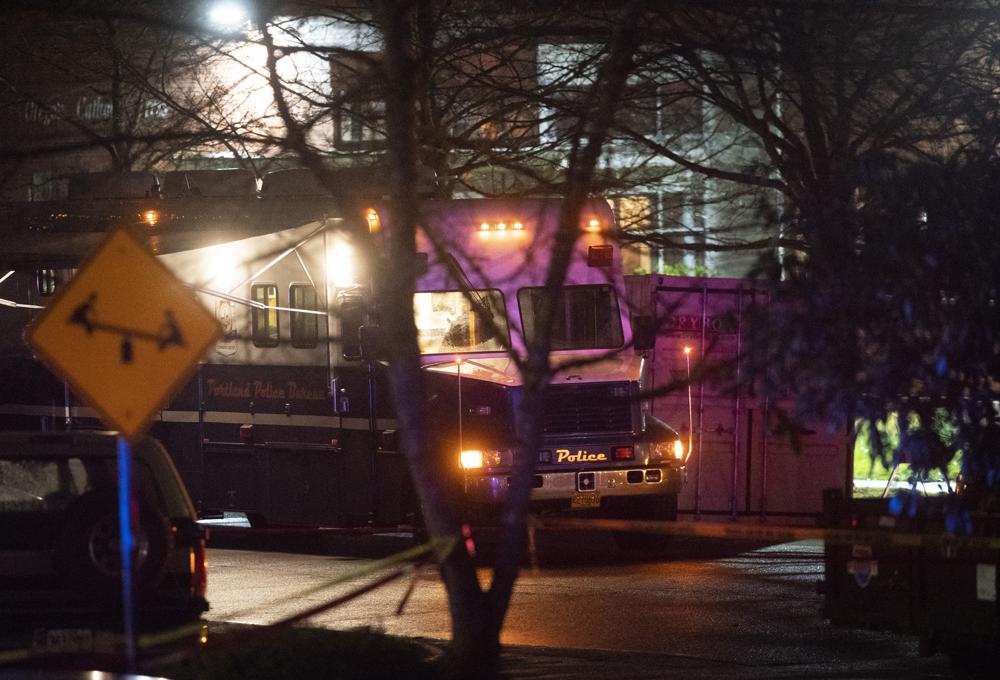 Protesters at Normandale Park were getting ready to march when a man who lives close by confronted them and later opened fire, striking multiple people, the Oregonian reported on Sunday, citing a source with direct knowledge of the investigation. The Portland Police Bureau said in a statement on Sunday that a preliminary investigation indicated the incident "started with a confrontation between an armed homeowner and armed protesters" but that detectives were still struggling to gather evidence.
was just confirmed that at least 4 people were shot and one person is dead. Medics were providing aid and got pushed away by portland police, one medic was even briefly detained. FOR ADMINISTERING MEDICAL AID.

— alissa azar (@AlissaAzar) February 20, 2022
At least one protester shot back at the man who had opened fire. Of the five wounded in the incident, the man is one of three people who suffered life-threatening injuries.
Scenes from Portland where protesters disrupted a police press conference and questioned the city's response to last night's deadly shooting at a march for Amir Locke

A small crowd held a vigil later in the day at the site of the shooting that killed 1 person and wounded 5 pic.twitter.com/BULw6MSRfr

— Nathan Howard (@SmileItsNathan) February 20, 2022
Although last year was marked by record-high numbers of gun violence in Portland, the number of shooting incidents during the first month of 2022 has outpaced January 2021, according to police data. During January alone, police recorded 127 shootings. Police and city officials say the increase in violence, which disproportionally affects Portland's Black community, is fueled by gang-related arguments, drug deals gone wrong, and disputes among homeless people. The situation was exacerbated by the pandemic, economic hardships, and mental health crises.
Police are investigating a shooting scene in the area in & around Normandale Park in NE Portland. #koin6news #pdx #pnw #portland #oregon #shootings #GunViolence pic.twitter.com/mzPoo7JIYG

— Jennifer Dowling (@JenDowlingKoin6) February 20, 2022
This past week alone, Portland police responded to six shootings within a nine-hour span between Thursday night and early Friday. Shortly before Saturday night's shooting at Normandale Park, police called to a separate disturbance in Southwest Portland were involved in a shooting that left one person dead by police gunfire, but they were not identified at press time.
A woman was killed and five other people were wounded in a shooting Saturday night in Portland.

Police say the status of the wounded is unknown.

The shooting happened after demonstrators gathered at Normandale Park for a march seeking justice for Amir Locke pic.twitter.com/Du0SY4FYPB

— Zane Sparling (@PDXzane) February 20, 2022
The number of homicides in Portland last year surpassed more populous cities such as San Francisco and Boston — and was more than double the number of slayings in its larger Pacific Northwest neighbor Seattle. Portland recorded 90 homicides in 2021 amid a surge in gun violence, shattering the city's previous high of 66 set more than three decades ago.
1. I'm deeply concerned over last night's mass shooting in Portland's Normandale Park. Mayor @tedwheeler & @PortlandPolice have an urgent responsibility to determine what political motivations, if any, fueled this attack where anti-racism protesters gathered.

— Rev. Dr. Chuck Currie (@RevChuckCurrie) February 20, 2022