Sec. Cardona Reminds Florida Gov. Ron DeSantis That Federal Law Can Crush His State's 'Don't Say Gay' Bill
In the fight to keep the private lives of LGBTQIA students in Florida private, Education Secretary Miguel Cardona took to Twitter to publicly excoriate Florida Governor Ron DeSantis for his state's "Don't Say Gay" bill.
The bill, officially known as the Parental Rights in Education Bill, prohibits teachers from encouraging "classroom discussion about sexual orientation or gender identity in primary grade levels or in a manner that is not age-appropriate or developmentally appropriate for students." DeSantis is expected to sign the bill into law, and previously said he believes it is "entirely inappropriate" for teachers to talk to their students about gender identity. Educators and mental health experts alike have widely criticized the bill, which contains dangerous precedents regarding students coming out at school, such as notifying the student's parents or guardians against the student's wishes.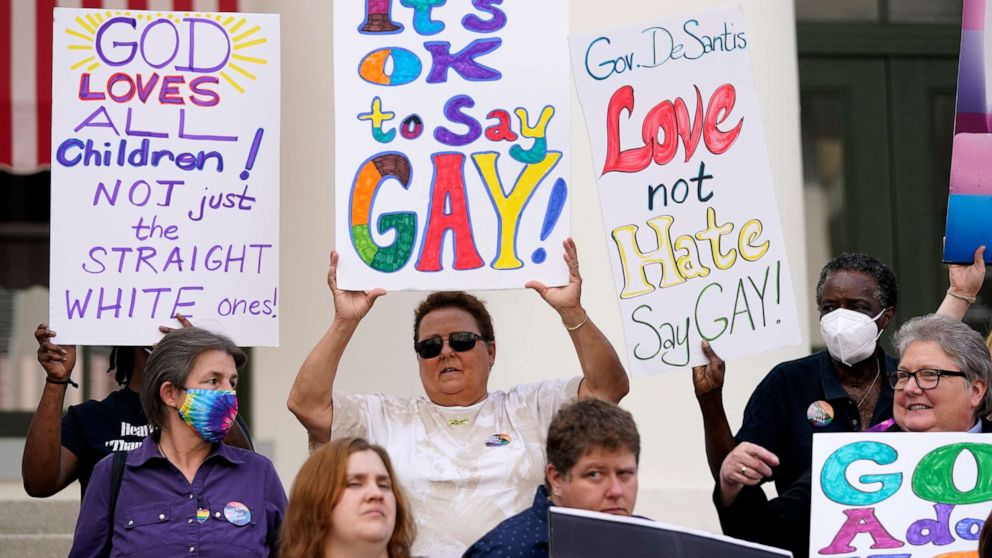 In response, schools staged massive walkouts statewide, which led to the organizer, Jack Petocz, getting "indefinitely suspended" simply for being openly gay at school and protesting the bill.
Lead organizer of today's #DSGWalkout @Jack_Petocz has been suspended indefinitely for distributing Pride flags.

Don't Say Gay censorship has arrived. Will you stand with Jack, @WiltonSimpson @Kathleen4SWFL @JoeGruters @JeffreyBrandes @EdEhooper1 ?https://t.co/KSSxQJTfvp

— Equality Florida (@equalityfl) March 3, 2022
Secretary Cardona wrote a Twitter thread laying out just why the bill is damaging to LGBTQIA kids, reminding the Governor of Florida that the federal government can step in when it comes to their protection. "Parents across the country are looking to national, state, and district leaders to support our nation's students, help them recover from the pandemic, and provide them the academic and mental health supports they need," Sec. Cardona's statement begins. "Instead, leaders in Florida are prioritizing hateful bills that hurt some of the students most in need. The Department of Education has made clear that all schools receiving federal funding must follow federal civil rights law, including Title IX's protections against discrimination based on sexual orientation and gender identity. We stand with our LGBTQ+ students in Florida and across the country, and urge Florida leaders to make sure all their students are protected and supported."
Read my full statement here: https://t.co/lVFAj4JjFI pic.twitter.com/5HypPIv3HC

— Secretary Miguel Cardona (@SecCardona) March 8, 2022