Satellite Images Show Another Mass Grave in Mariupol
As Vladimir Putin's troops continue their siege on Ukraine and the Russian government denies war crimes, new satellite images show the construction of another mass grave site in Vynohradne, Ukraine near Mariupol, which remains under constant attack. The discovery follows previous satellite imagery showing the construction of mass grave sites in Bucha and Manhush.
The new images reveal that a cemetery located at the site has been "expanded" over the past month and now includes several long parallel trenches that will likely become new gravesites, according to Maxar Technologies.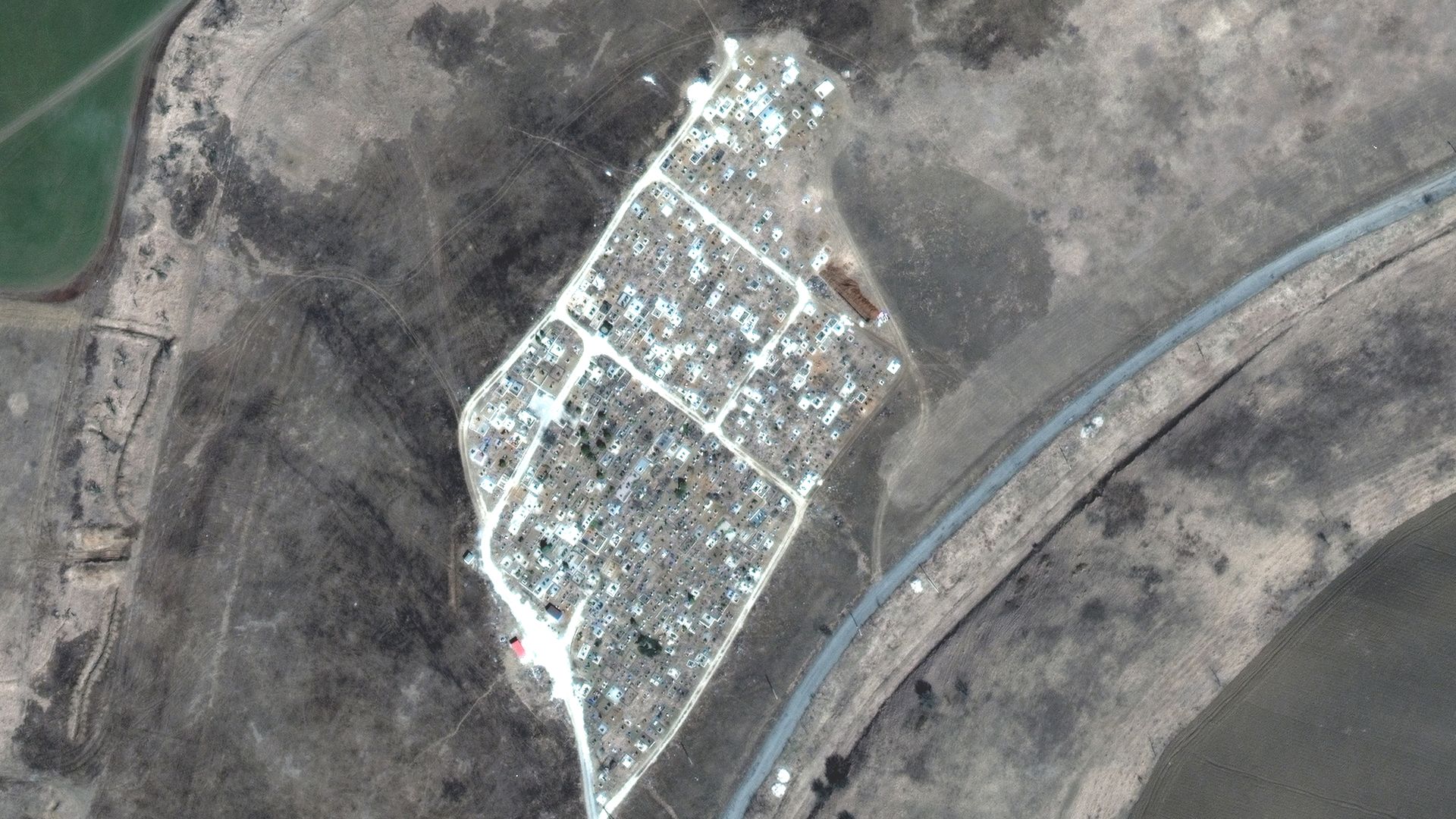 United Nations human rights chief Michelle Bachelet said Friday that the UN is seeing growing evidence of war crimes in Ukraine as it catalogs a "horror story" of violations perpetrated against civilians. Since launching its unprovoked invasion on February 24th, Russian forces have "indiscriminately shelled and bombed populated areas, killing civilians and wrecking hospitals, schools and other civilian infrastructure, actions that may amount to war crimes," the UN said.
Tetiana Kushnir, doctor with the National Guards of Ukraine, died in #Mariupol #Azovstal. 40 days ago her husband was killed. They have a baby son left (he's safe).
Rest in peace, Tetiana. We will avenge you.#ArmUkraineNow pic.twitter.com/aDdxKVeagD

— Anton Gerashchenko (@Gerashchenko_en) April 23, 2022
The UN Human Rights Monitoring Mission in Ukraine has documented and verified 5,264 civilian casualties — 2,345 killed and 2,919 injured.
"We know the actual numbers are going to be much higher as the horrors inflicted in areas of intense fighting, such as Mariupol, come to light," the UN's Bachelet said.
⚡️ Zelensky: Ukraine will pull out of peace talks if Russia kills Ukrainian troops in Mariupol.

Ukraine will also halt the talks if Russia holds pseudo-referendums in occupied territories, he said on April 23.

— The Kyiv Independent (@KyivIndependent) April 23, 2022
Russia said it took control of several villages elsewhere in the eastern Donbas region and destroyed 11 Ukrainian military targets overnight, including three artillery warehouses. Russian attacks also struck populated areas. Associated Press journalists observed shelling in residential areas of Kharkiv, Ukraine's second-largest city.
I'm grateful to @POTUS & 🇺🇸 people for the leadership in supporting the people of Ukraine in the fight against Russian aggression. This help is needed today more than ever! It saves the lives of our defenders of democracy and freedom and brings us closer to restoring peace in 🇺🇦.

— Володимир Зеленський (@ZelenskyyUa) April 21, 2022
President Joe Biden announced additional assistance to Ukraine earlier this week, with $800 million in military aid being added to almost $2.6 billion already sent to Ukraine.
Yesterday, I announced additional support for Ukraine in the face of Russian aggression. pic.twitter.com/ty8cAWK9xT

— President Biden (@POTUS) April 22, 2022
President Volodymyr Zelenskyy announced he would meet Sunday in Kyiv with the U.S. secretary of state, Antony Blinken, and with the U.S. Secretary of Defense, Lloyd Austin.
Russian forces are proving ruthless in Ukraine. There is evidence virtually every day of WW2-level war crimes here. Please don't turn your gaze away.

— Jim Sciutto (@jimsciutto) April 23, 2022